I've been seeing us pop up more and more lately; contributors that is. From the large website type blogs that post multiple times a day, to the brands that want to be a part of the community, to the smaller to mid-size level "mom" blogs, it seems that there are a lot of blogs looking for contributors to help grow, or sustain growth. For both the host blog and the contributor, these opportunities can be very worthwhile and lead to amazing opportunities and great working relationships. But as a blogger looking to contribute, how do you know if this is the right avenue for you to take? And once you do decide to jump in, how can you make sure the venture continues to be a healthy and prosperous one for both sides?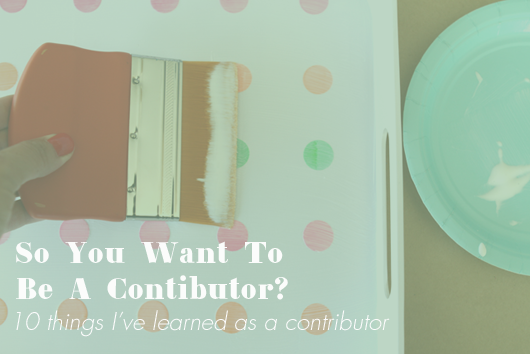 I thought I'd share with you some of the things I've learned this year from contributing for a few different sites. And to clarify, contributing is different than guest posting because you are getting paid for your content. If you are a blogger, I hope you'll find this information helpful. If you don't blog but just enjoy reading blogs, I'll be back tomorrow with a style post featuring sequins that I'd love for you to come back and check out 🙂
Establishing the relationship: I get asked quite a lot how I started contributing for sites like Disney Baby and Making It Lovely, and for both answers it's plain and simple; I established a relationship. I met one of the editors for Babble at Blissdom earlier in the year and I kept in contact with her, letting her know on a regular basis, that I was interested in writing for Babble. I didn't annoy her or stalk her, I just followed her Twitter feed and when I saw that a writing position opened up, I showed my interest. When Disney bought Babble, and the Disney Baby Blog was to be started, she contacted me and asked if I was still interested. I met and roomed with Nicole of Making It Lovely at Camp Mighty last year. We got to know each other and I think one night when I had a few drinks I started throwing some ideas her way. We kept in touch as friends, and a few months later we started working together. Now keep in mind that my writing and work were a good fit for these sites. Let me be real honest though and say that had my work been sub-par I'm sure no matter how many relationships I built, it wouldn't lead to a contributors position. I don't say that to be a boastful jerk but to simply say that each post you put out there should be the best reflection of you and your work that you can present. Unique and creative projects, good pictures, good writing, etc.  Last year I worked my tail off trying to post the best content I could manage and I got really frustrated for a long time that I wasn't growing, but then all of a sudden it seemed like my hard work paid off when I was given the opportunity to work with these 2 amazing sites.
R-E-S-P-E-C-T: Once you have been presented with an opportunity to write for another site, ask yourself this: do you like the site or the brand you'll be writing for?  Do you respect the blogger and the content they put out?  But it's a working relationship, why do we have to get all personal?  Well because unlike a lot of other jobs where it's almost a given that you won't like your boss, you have to like who you're writing for or else you'll start to feel resentful.  Why?  Because you're putting your content on their site, for them to essentially benefit from.  Yes, of course you will benefit as well with monetary payment, residual traffic, increased exposure, but at the end of the day your work is now their content and it's their site that will get "pinned" and linked to if your work is a hit.  I respect the Disney brand and am proud to have my writing on their site, and I really, really like Nicole and her work, and was really just appreciative to get the opportunity to contribute to her site.  Like who you're working with, bottom line.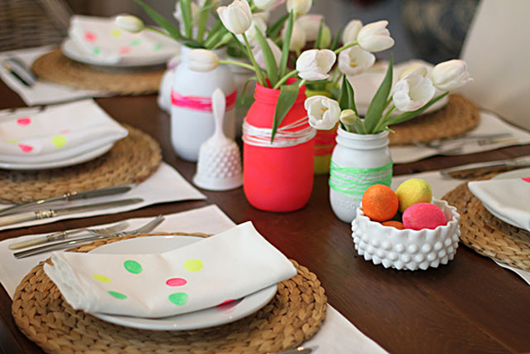 The First Post Is The Hardest: So you like who you're working with, so now it's time to put out some content.  If you're nothing like me you'll effortlessly come up with a post and hit publish like it ain't no thang.  But if you're like me, you'll lose sleep over what project to create or what to write for the first week leading up to your due date, pick a project and then change your mind a million times, and once you finally settle on something, you'll sweat bullets until it's finally published and the first comment is posted determining your fate.  But rest assured, the first post (or 2 or 3) are the hardest.  After that, your confidence will grow and you'll sweat a lot less, I promise.
Communicate: To help establish your groove and gain some sort of comfort level, it's essential that you and the person/brand you're contributing for communicate.  Ask questions to get a feel for what they're looking for, pass ideas by them, brainstorm with them if necessary.  Nicole told me multiple times that she trusted me and my work, but I still ran my ideas by her, and sometimes even sent her picture of the projects first, before I wrote my post.  At times I worried I would annoy her but asking questions and getting feedback helped me put out the best work that would fit the audience.  After a while I stopped running everything by her but initially those check-ins were very important.
Remember, You're There To Contribute: What do I mean by this?  Well, keep in mind that you have something unique to bring to the table, that's why you were brought on board, so don't feel like you have to produce content that will strictly fit into the same niche of the blog you're writing for.  When I think of Disney I think of over the rainbow and fairytales, but some of my best received work there has been when I've written about honest and open, yet encouraging struggles of being a mom.  Making It Lovely is essentially a design blog, so I was crazy nervous to put my first jewelry tutorial up on the site.  But wouldn't you know, it was by far the most well received project I've ever done, being pinned over 25,000 times now!  Your unique voice and content is what their looking for, remember that!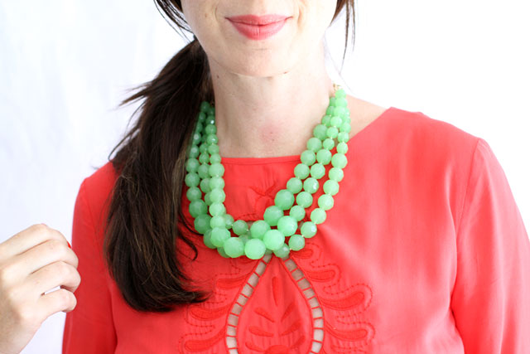 Be Honest With Yourself About Why You're Contributing & What You Hope To Gain From It: Are you doing it for some extra cash, for exposure, to build your blog "resume"?  This will help you determine your success versus your goals.  Perhaps the extra income isn't much to make a dent toward your mortgage, but the increase in stats will help you garner higher sponsor rates and lead to other opportunities.  If that's the case, then it is worth it to put your time into it.  But if exposure isn't your main goal, income is, then perhaps your time is better spent developing content on your own site, or trying to find other more permanent contributing opportunities that may pay more.
Track Your Stats: If exposure is what is driving you to contribute, then analyze your stats on a regular basis to see if your referral traffic generated from your posts is enough to justify your time and commitment spent.
Cost Analysis: If you are posting DIY's, it is very important to keep your costs of supplies low so that you're not losing money on the deal.  Only once did I spend more money on supplies for a project I did for someone than what I was paid.  After that I learned my lesson and stuck to creating projects using supplies I already had, or projects that needed very low cost supplies.
Best Foot Forward: This is something contributors struggle with a lot.  We all want to save our best content for ourselves and our own blog, but we also want to put our best foot forward and turn in quality work when contributing for someone else.  This is especially true for craft or recipe projects where the creativity well sometimes runs dry.  While this is something to of course consider, I always tried to look at it this way; I am being paid for my work, therefore I want to do my best bottom line.  Sure there are some projects I could save for my own site, but at the end of the day if the site I'm contributing for is quite larger than mine, the chance of getting referral traffic and more readers is much better if I put really quality work out there.  If I only put my "average" projects out there, what is the likelihood of attracting new readers and getting them to click over to me?  Not very high, so therefore I've used up a project that could have been content for my own site, AND I haven't gained any new readers.  It's a lose-lose situation.  So I suggest putting your best foot forward when contributing. 
Keep It Simple: The last thing I'll say is this; just keep it simple.  No matter how big or well known the blog that you're contributing for is, remember to trust yourself and your talents and keep your projects or writing simple, and keep it true to you.  I know that sounds like a lot more than just keeping it simple, but bottom line, don't over think your writing or projects or ideas.  When you try to over complicate things, you'll end up frustrated and the readers won't get a true sense of you and your work.
If you got this far, I applaud you.  These are the best and most stand-out lessons I've learned by contributing for other sites.  I'm sure there are more that may come up with questions or over time.  If you have any questions or anything to add, please feel free to.  I can talk blog all day long so would love to get a conversation going in the comments.  Thanks for reading!