I saw these star hair clips months ago and pinned them under my DIY ideas board, knowing that eventually I'd get around to making them.  I'm so glad I finally followed through with the project because they ended up being relatively easy to make and the results are quite pretty, if I do say so myself.  I can see myself wearing these above a pony tail, or to sweep back my bangs as I did in the picture below.  I'm quite smitten with everything <ahref="http://www.fortheloveof.net/?p=1273″>barrette related right now in fact.  My biggest problem will be keeping Taylor from getting a hold of them.  Here's the how to so you can make your own.
You'll need a small can of gold metallic spray paint, some gold jewelry wire (mine was 20 gauge), E600 Epoxy, acrylic craft stars in various sizes (the package contained different sizes and colors and cost $3.49), and hair clips or bobby pins.  I found these great flat and wide bobby pins at Michael's for $1.79 for a pack of 8 and they are very strong and took the spray paint beautifully.
Start off by spray painting your clips and stars and letting them dry completely before handling.
Once dry, start applying your stars by dabbing a small amount of the epoxy on the back of each star and affixing to the clip.
With a pair of nippers or wire cutters, snip off small pieces of the jewelry wire, about 1/4″-1/2″ long, and attach the smaller stars t the wire with your epoxy.  Let dry, then attach to the stars/barrette itself.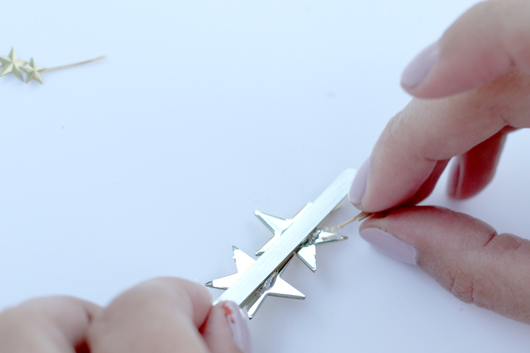 Once you have enough bits of stars on your barrette, let dry for a good 12 hours before wearing.  A note about the epoxy, it does dry fast when you're working with it, so dab small amounts on your work surface so you don't waste big globs of it before it dries out.  If you glob on too much, simply scrape off a bit with a toothpick or something similar before it dries.  The back of your stars will show dabs of the epoxy, but as long as you use it sparingly, you won't be able to see it at all on the right side of the barrette.
I'm in love with how they came out, and the total project time took under an hour, not counting drying time.  I can't wait to use these to make even a simple pony tail feel a bit more special. Enjoy, and let me know if you try it!