I met Spencer 10 years ago when he first started as a PR Assistant.  I had just began my career at the same company as a Sales Rep that worked out in the field.  As our careers grew we began to work together more and more until, at the end, we touched base on an almost daily basis on various projects we were working on.  Spencer has always had an opinion and you know where he stands on things.  This to me was always the trait I appreciated most about him.  His boldness at times may have struck a nerve with people, but in a world where many people learn to become yes men/women to please the boss and save face, Spencer was never afraid to give his opinion when it mattered most.
Spencer has the taste level to back up his opinions and his career has continued to grow and flourish as a Director of Advertising at one of the largest fashion companies in America.  Because of the complexities of publicity, we aren't going to say which company he does in fact work for, but it's been compared to great fashion houses such as Escada and Chanel, and it has the sales revenue to stand behind those comparisons.  Spencer and I sat down in his Long Beach loft a few weeks back and chatted about his job, trends and his love of home decor.  
Tell us about your job as Advertising Director
Anything that is basically branded or creative comes across my desk, then I pass it on to the CEO for final approval.  I oversee the art department and the multimedia department, the casting of models, anything along those lines.
Because you deal with so many different responsibilities in your job, what is one of your favorite things to do?
I love the production of events or photo shoots, runway shows or our fashion week presentations.  I really love photo shoots because it's so detailed and you're managing everything from art direction of the shoot to the collection of shots.  You're working with the Creative Director, you're working with the CEO, you're booking the travel, you're booking the models.  Everything from ground transportation to creative implementation, you're involved in all of it and I like being able to start something and being able to be involved in it from start to finish.  I'm kind of OCD control freak that way.  Not that I'm a micro manager though…
So have you always been in Advertising?
I actually started in PR really.  And then I kind of went into advertising.  I started as a PR/Advertising intern, and then I worked my way up to a PR/Advertising Assistant, then Coordinator.  Then after that they made me pick a department and since I'm not really a person for small talk, I went with Advertising.  As you know, I'm very real.  We've worked together and I am straight up.  I will tell you what I think and I'm not the type of person to create this bubble of what it should sound like.  That's just not me.  I don't like cocktail chatter.  No, I just want to work.
So since you started in PR, did you always see yourself eventually getting into Advertising, or did it just sort of happen to fall into place that way?
When I went to school, I always wanted to do Fashion Advertising.  So I'm doing really, what I wanted to do.  When I was 14 living in North Dakota and I had a subscription to every fashion magazine both men's and women's known to man.  I would spend my money on fashion magazines because that's what I wanted to do.  Who knew that it would actually just fall into my lap?  Because actually it did.
So how did it happen?
When I was in college…Brooks College is where I went, which isn't really around anymore but coming from the Midwest I didn't know how good of a school it was.  I didn't even know that there was a fashion school, so I was just excited to find out that there was one.  So I did a lot of freelance runway shows, behind the scenes type of stuff just to help get my feet wet in the industry and start to learn how the process worked.  I really wanted to work in styling and runway shows when I was in college, so I did a lot of freelance and interning and then overtime I found out that was not what I wanted to do at all.  So really I did that just for networking because when I moved here I didn't know anybody.  So I didn't know the processes or even all the brands around here that I could work for.  So I ended up meeting Shelly [a mutual friend in the industry] and so lo and behold I impressed her and I got the job at my current company before I even graduated from college, when I was 19.
That is incredible!
So it was 3 months before I was graduating and they needed a PR Assistant that would split responsibilities with Advertising.  So at the time I was interning in the Wardrobe Department at the Young & the Restless handing out scripts and stuff like that.  I hated it.  I absolutely hated it.
Why did you hate it?
Because working with the celebrities, they were all assholes, they were rude.  You just did all of the terrible work that nobody wanted to do.  No one even acknowledged you.  It was terrible.  I hated it.  So I was 3 weeks into my internship there and this company offered me a paid internship, and then once I graduated a few months later they were going to hire me on as a permanent employee and I was like "SOLD!"  I just wanted to get out of there.  It was terrible.
Spencer was 19 when he received the job offer, and at the time the Director of PR was very apprehensive of his age and lack of real world experience.  But he was confident and adamant that he could make this job work, or rather, he would make the job work for him, and he impressed her.  To this day they keep in touch and she still remembers how he came across in that first interview over 10 years ago. 
After all these years, do you still feel the fashion industry is the place to be?  Can you see yourself doing something else?
Yes, I love home design and DIY and I'd love to move to San Francisco and work for West Elm in their catalog department and work on staging, but how do you even start?  I don't want to start from the bottom again.  I've got bills.  Ever since 2009 I think a lot of people have thought about it and did change careers.
Miranda and I agreed, Spencer would be perfect in the home decor world.  His home is incredible;  a rough mix of vintage, street finds, freebies from work and a bit of DIY, no detail has been left unturned.  But even at our prompting, he doesn't seem to be making a move anytime soon.  He's happy where he's at, and although he dreams of possibly switching fields, like we all do, for now he's staying put, where style and good taste need him.

What's your favorite thing about the industry?
The glamor.  The beautiful people, the models the unattainable beauty.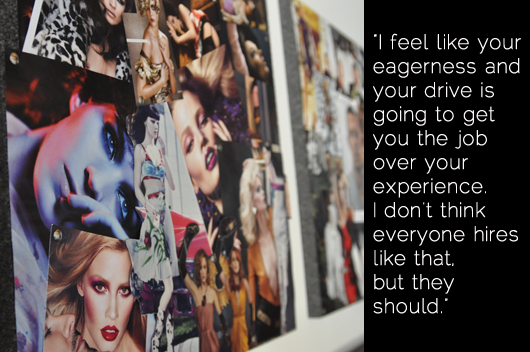 What advice would you give someone trying to get their start in the industry?
When I'm hiring someone, I don't look at someone and say "how much experience do they have."  I look for their excitement and how eager they are.  I feel like your eagerness and your drive is going to get you the job over your experience.   I don't think everyone hires like that, but they should.  Because everyone I have hired that's been very eager, they may not have the most experience but you can teach them anything you need to teach them.  As long as they're eager they're going to do a great job.
Now once they have the job, what do they need to be successful and grow in their career?
I just think you need to be involved.  You need to ask questions, you need to show initiative, bring ideas to the table.  Complete everything before deadlines.  I think if they have drive and are eager, it will come to light in their position.  I think you have to really love the fashion industry to work in it though, and survive.
Because a lot of people think it' s a lot more glamorous than it actually is.
No, it's not.  You work really hard, you're usually under paid 9 times out of 10 for what you're doing, you're wearing 15 different hats and you're running, sweating bullets trying to get things done, and you usually work with a lot of crazy personalities.  You have to truly love it to be there.
Why do you think the fashion industry attracts so many crazy personalities?
Because I think you have to be a bit eccentric to be in the industry.  We [his partner Mark] were watching A Brad Brad World the other night and he was styling for a Details shoot and they put this jacket on this one model and they were like "Oh, it's just not working, I just don't love it."  So they try it on this other model and they fell over saying "Oh My GOD it's Amaaazing, I can't believe how much better it looks on him, it's STUNNING!"  And they both look exactly the same essentially and Mark started laughing and he says to me "can you imagine if normal people were watching this they'd say it looks the fucking same."  But we both said it did look good on that second model.
Do you feel a sense of pressure even as a man to maintain a certain level of style?
Oh absolutely, ask this one, I have a meltdown on a regular basis about what to wear.  Is this too casual, is this too formal, am I showing too much skin, am I showing too much hair on my chest, do I look appropriate for where I'm going?
What are some trends you're loving for Spring for women?
A touch of tribal: I love a little tribal added to a look for an ethnic edge.  Pop of Colors like yellow, coral or orange are my faves.  Tailored shorts! Who says shorts have to be casual? Throw on a cute oxford shoe and a button down (or open with a tank under and sleeves rolled up on the button down) with a great tailored short in a more formal fabric!  For shopping high/low for women, I love Zara, J. Crew, H&M, Forever 21, American Apparel, All Saints, James Perse, Vince, Club Monaco, Theory, Rachel Zoe (love her new stuff!), Halston Heritage.  For more high end I love Alice+Olivia, Philip Lim, Elizabeth and James, Derek Lam, Balmain, Rag&Bone, Victoria Beckham.  I love girls that dress up and wear makeup and do their hair and wear heels.  I love feminine girls.
Thank you Spencer for being my first interviewee for Insiders: Behind the Lines.  It was so fun spending the morning with you and touring your amazing loft.  And thank you to Miranda of M. Shanti Photo for being the official photographer of Insiders.  Here's a peek into Spencer, and his partner Mark's home.