I have a couple of girlfriends, as well as my mom, who are quite good at sending off nice little handwritten notes and cards to loved ones. Be it a special occasion or just to say hi, receiving one of these cards via snail mail always makes my day and makes me feel quite special. I figure, us crafty ladies spend a great deal of time preparing Valentine's Day cards for our kids to take to school, only to be ripped open and tossed aside to get the candy prize, without the least bit of decency, why not take some time to make cards to send off to women I know will appreciate them. I asked for a little design help from my friend Heather Myers of River and Bridge Design, after all I've never been disappointed with her work (she created the custom invitation for Hayden's elf themed party), and I just love what she came up with. Together, we created this sweet printable, so you can make some of your own at home and send off to someone special in your address book.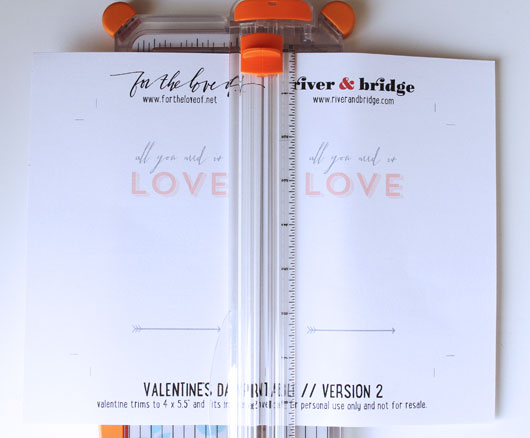 Begin by printing up the design from the link below on a nice sheet of card stock.  Heather created two different font designs, one a little more modern and one a little more sweet and traditional.  Print up just one or both, and then trim according to the marked lines.
Grab some paper, either in a solid coordinating color or a patterned one.  Dedicating an entire cabinet to crafts means you wind up hoarding a lot of supplies and sometimes, that hoarding just pays off.  I actually grabbed these circles and twine to make a banner at Alt last year, and held on to them ever since.  I believe they were from the Minted booth.  Anyhow, turns out they were the perfect color scheme to match the printable.   I punched out several hearts from the round pieces of paper, using my large heart punch last used to make the ombre heart tote bags.
Using a very small hole punch, punch an off-center hole in the top of the heart.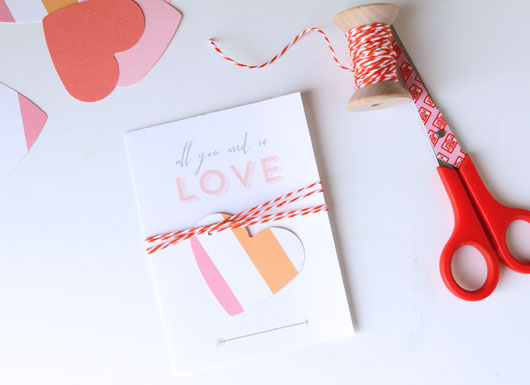 Thread the heart and wrap with twine around the card at least 2-3 times to give it some depth, and tie or tape down in back.  You can lift up the heart and write a little love note to your friend or sister.  Because all we may need is love, but a good friend who's got your back certainly never hurt.
Of course you could just attach your heart with a little tape or dab of glue, but I like being able to lift the heart up to hide a secret message to the recipient.
To download both printables, simply click on the links below.  In order to print it, you will have to download and save the file as a PDF, for best printing results.  Please let me know if you have any questions!  Happy Valentine's Day, and enjoy!
Clean & Modern Valentine <—— Click here
Sweet & Classic Valentine <—— Click here