While a bright pop of color is always a fun statement for a manicure, sometimes your mood, or an occasion, calls for you to go neutral and stick to a classic, timeless shade of beige of pale pink.  When I'm feeling like I'd rather my smile our my outfit to make the statement, not my nails, here are my top picks in polish.
Essie's Power Clutch is a newer favorite, given to me at Christmas by my friend Mary.  While it may not be neutral in the traditional sense, it's dark gray coloring goes with just about any outfit and is perfect for the days when I want my hands to stand out just a bit, but not scream "cute!" or "happy!".
Essie's Sand Tropez is the loveliest shade of beige I've ever come across.  If you don't want to go the traditional shade of pink for a subtle polish color, this is the perfect choice.  It has a beige base but isn't boring or dull, and almost seems to have a hint of shimmer to it.  Reminds me of the perfect shade of linen.
Essie's Topless & Barefoot is a pale pink but doesn't have the slightest bit of sticky sweet to it at all.  It reminds me of a shade a very dignified women would wear, which means I probably shouldn't be wearing it 😉  But nevertheless I appreciate it's subtle hint of femininity it lends to my nails whenever I wear it.
OPI's Dulce de Leche is the first polish I ever remember really being addicted to it and have worn it for at least ten years.  It's classic in it's pink and beige tones and almost blends into your skin, making it the perfect shade when you want to be subtle but still look polished.
OPI's Dinner for Two is another classic and for the paler months is my shade of choice for subtlety over Dulce de Leche because it's almost non existant in color, but in a good way.  It may be too beige for some though so test this one out first.
What are your favorite shades of neutrals?  Any I've left out here that I need to try? Linking up with Mani Monday.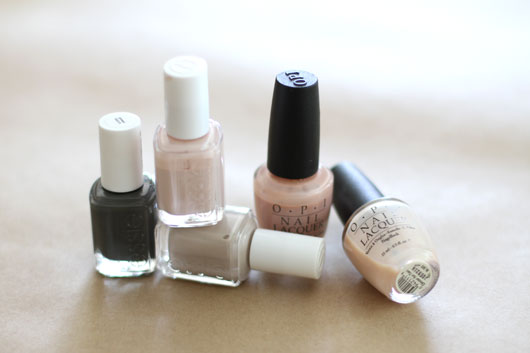 Like For the Love Of for a chance to win a set of Neon Glittery Notecards!