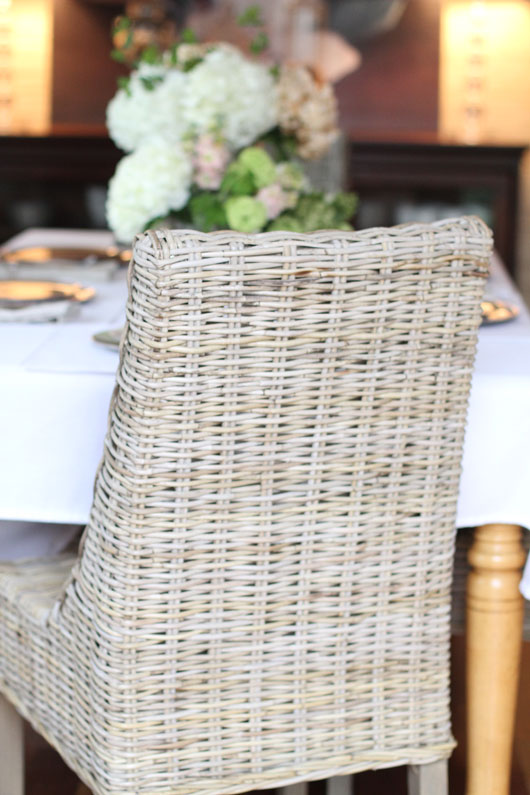 I thought since I had the pictures already taken, and the floral arrangement post has received a good number of pins, I'd share another little set up I did over the weekend just for fun.  I know what you're thinking, "how and why did she do this just for fun?"  Well the kids were swimming away so I had about 30 minutes to spare and thought it would be a nice way to enjoy our Sunday dinner, with a set table, something we never ever do.  I stripped away the pastel colored ribbon from these arrangements and quickly added this really pretty assortment of natural colored ribbon.  It took minutes guys, that's how easy this is.  I pinky swear.
The tablecloth was already in place and I just added some place mats and our melamine plates from Target (I got them about 5 years ago).  Oh, and maybe I just wanted another excuse to take pictures of our new dining room chairs.  So sue me.  Ready to take a look at this neutral place setting?  Here you go…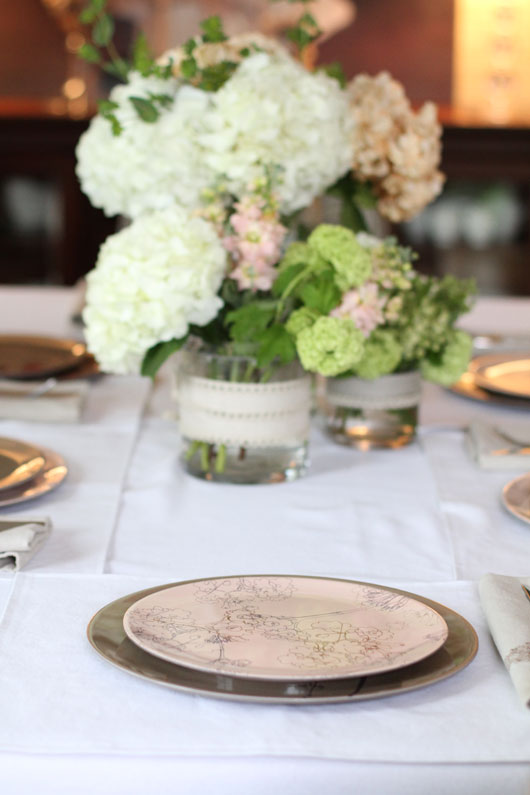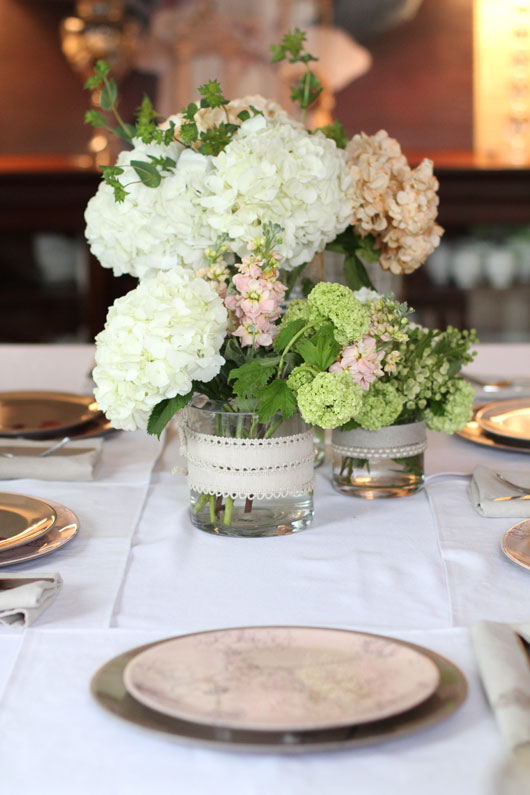 The majority of the ribbon was found at Michael Levine and is primarily meant to be trim.  It was all less than $1/yard, except for the blue and cream striped binding.  That was $8/yard but I had to have it I loved it so much.  I only bought 1/2 yard.  The pretty linen ribbon in the scalloped vase below is actually ribbon I saved from a birthday present (it's the standard wrapping ribbon Pottery Barn uses, isn't it so prety?).  It's hard to tell, but the scalloped trim is just trim, not attached to the ribbon itself.  I tied it in the back of the vase since it was too thin to add the double stick tape to.  Hot glue would have worked great as well.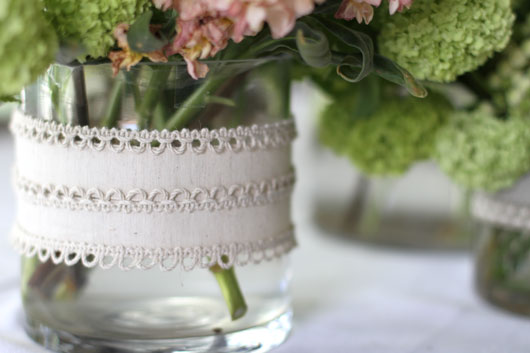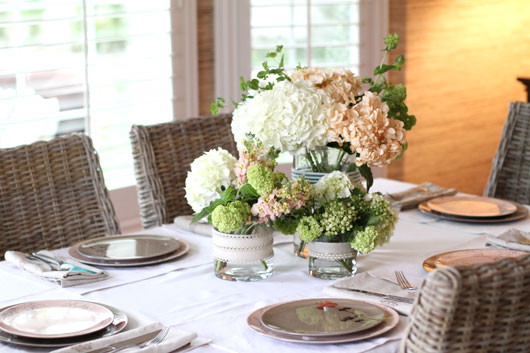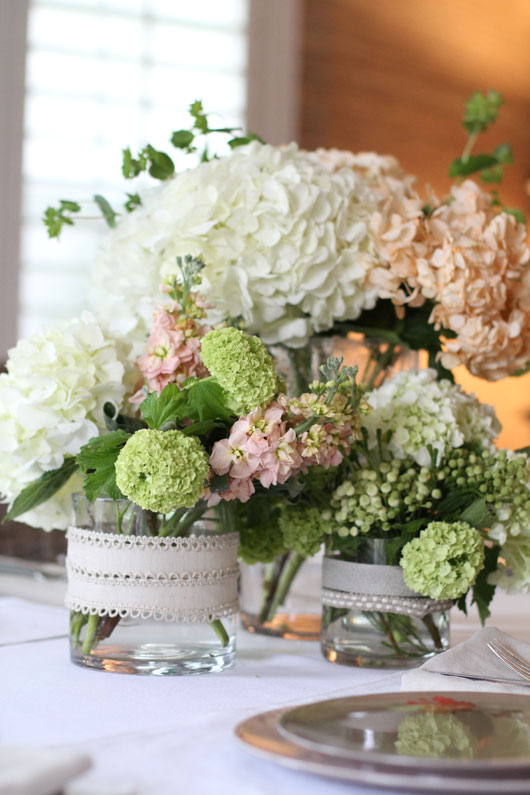 The flowers were a collection of mostly hydrangeas, both large and small variety.  The taller pink stems are just stock.  The filler is buplureum, and the cute little white button like flowers are called Brazilia.  It's noted on my receipt as that, but couldn't really find them on Google, so good luck with those 😉
I found all of these flowers at the LA Flower District located at 755 Wall Street.  I went to 2 main vendors, Villa Growers Inc. and Rios Wholesale Flowers.  Rios had better prices, but Villa Growers had a couple of extra varieties that Rios didn't have.  Both places were great though.  I recommend only visiting this flower mart if you're looking for special varieties.  In the downtown Flower District there are streets and rows of vendors galore, but after fumbling my way around for a while I figured out that this place had the greatest collection of vendors carrying the prettiest varieties.  Most of the other vendors just carried standard varieties of flowers like carnations, daisies, mums, roses, etc.  Here you can find everything from sweet peas to peonies.  Oh, and I bought all of my succulents from my terrariums at Kimura's for $2 a piece.  If you're in the need of a lot of flowers, I definitely recommend visiting the mart because the prices just can't be beat.  My local florist normally charges me $8-$10/stem for hydrangeas but here I got a whole bunch of them (4 stems) for $6!!
Take note that most of the vendors start shutting down by 11-11:30 am so get there early, but not before 8 am as it is only open to wholesale customers before 8 am.
Like For the Love Of on Facebook!  When we hit 100 likes I'll be giving away a set of the neon rhinestone bangle bracelets!