Pants – Coverse at Target; Top – Converse at Target; Bag – Lily Jade; Shoes – ShoeMint; Ring & Necklace – Prism Boutique
It's been a few months since I bought any clothes from Target. I usually love a lot of their clothes, but the past few months I just didn't find some of their items really fitting the bill of what I was looking for. I actually haven't shopped a ton the past few months, and when I have shopped, I've tried to buy really special things that I knew would last a long time or were items I couldn't find at Target. Ladies, I know places like Target and Old Navy are convenient and awesome to run in and out of with screaming kids, because everyone has screaming kids in there, but a bit of advice would be to take the time to switch it up every now and then. Most shopping excursions are now done with an active toddler in tow, but if you want to add special and unique clothes to your wardrobe, take a little time for yourself at night or when you have a sitter, and go to a cute local boutique, a vintage store or hit up the mall. Your wardrobe will be a little more well-rounded and have a hint of uniqueness because of it. Of course if you're happy with how your closet looks, by all means keep doing what you're doing!
At any rate though, Target does feel a very specific need in our lives, especially when it comes to fast, convenient and affordable shopping. Last week, on a 20 minute trip to secure a birthday gift for a 5 year old, I passed the clothing section and spotted these pants. I have similar ones from James Perse, which are very pricey. I bought them while I was still working there, so got them at cost, but even at that it was a splurge. They've lasted me for 2+ years now though, and I've worn them at least twice a week every single week since buying them. They look great with heels, with flats, with sandals and with tennies even. They are beyond comfortable and are wonderful for just living in. They also have an elastic waistband, and their forgiving cut make them quite flattering on.
So when I saw these pants which were almost identical to my beloved pair of JP's, at $29.99, I snatched them up. Hanging next to them was this cute sweatshirt too, with the mesh detail. The oversize cut is loose and comfortable without feeling boxy and overwhelming.
I was easily able to dress up this outfit by adding a cute necklace and the wedge heels. Later, when we got home from church and lunch out, I changed into my favorite sandals from Zara and added a camo jacket for hanging out with the kids at the playground. I even took Hayden for a bike ride to the grocery store in them. They are seriously that comfortable and easy to move around in.
The photo on the website shows this very severe seam at the knee, and while they do in fact have a seam, it isn't that obvious. My guess is they photographed a sample, and not the actual pair of final production pants. That happens quite often, where for the sake of time, they have to photograph the sample piece instead of the finalized production piece.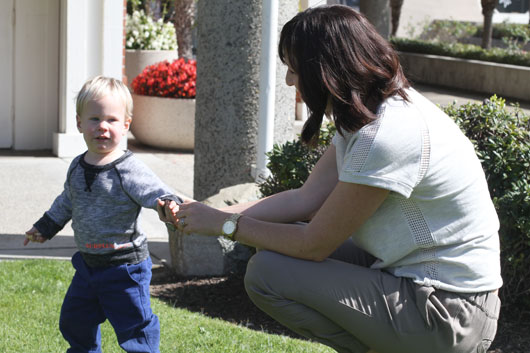 I picked up one more top as well, and showed it on Instagram over the weekend. It got a great response, so thought I'd share the link here too.  I know many of us may already have lots of stripes in our closet, but the texture and cut of this top make it another perfect piece for dressing up or down.
I'm pretty happy with these purchases and know I'll get a lot of use out of each piece. And I'm happy to have found some good things at Target again, as it's such a great place to fall back on. They have quite a few great dresses for Spring right now, perfect for work, or special events like wedding and baby showers. Do you shop at Target quite often, or only when you happen to find something you like?
I would say though that the next time we go somewhere with a body of water, I'll stick with the same outfit, but switch the shoes to flats. Chasing Hayden around the lake in wedges was not ideal, but was in the end manageable. I hope you all had a great weekend.