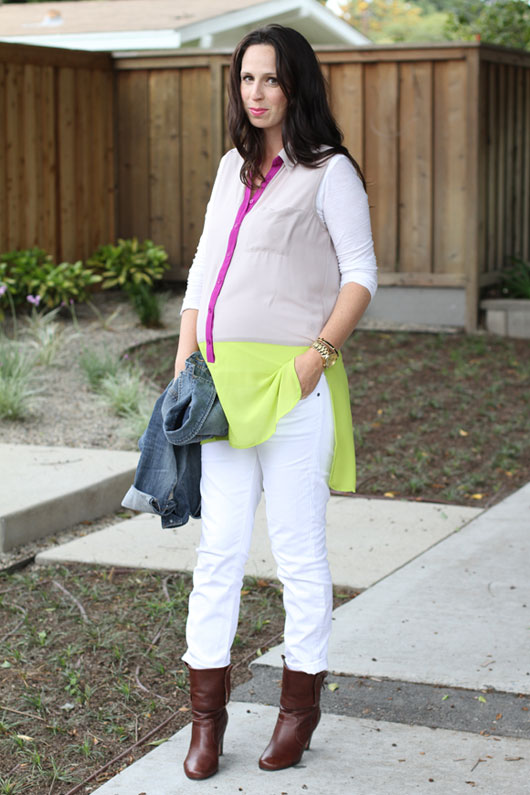 (Top – from local boutique; Long Sleeve T – James Perse; Jeans – Gap Maternity; Boots – Dolce Vita; Jacket – Nordstrom BP Dept; Gold Bangle – Kate Spade)
I'm still in the slightly delusional stage where I think I can buy myself a non-maternity item here and there and it will continue to work for me for many more months.  Really I know that's not the case, but when I found this neon top in my favorite local boutique, and saw that it was only $36, I knew I could allow myself to be delusional a bit longer.  It doesn't stretch, but it's roomy enough that I should be able to wear it for at least 5-6 more weeks, and since I'm due at the end of August, I'll still get at least another 2 months wear out of it for the end of summer.  That's lots of opportunities to increase my cost per wear (cost of item/how many times I wear it = cost per wear).
We went to the Coldplay concert last night at the Hollywood Bowl, an outside venue.  The concert by the way, was incredible.  One of the best shows I have ever seen.  Since the weather turned chilly, and I really wanted to wear my new piece, I layered it over a light gauge knit top and I think it worked out perfect.  Wedges or gladiator sandals would have probably looked better with this look, but I needed to be practical and the boots are comfortable enough to walk in and would keep me warm.  Looking forward to styling this top a few different ways though for warmer weather.
Styling Tip: Neon paired back to neutrals is a great way to wear the trend in a very updated, modern way.  Look for small doses of neon in a bit more sophisticated silhouettes, like this longer fishtail hem, and fabrics so you feel fresh and current, not like you're trying to relive your days in the 80's.
Maternity Styling Tip: Don't feel like you have to be limited to maternity wear during these 2nd trimester months.  Continue to look for elastic waistbands and flowy, loose silhouettes that will drape over, but not hide your cute bump.
Linking up with Glamamom for Monday Mingle