I'm having a lot of mixed feelings these days about my personal style posts. I'm feeling increasingly strange posing in front of the camera, and reached out to Facebook last week for suggestions on ways I could still share my outfits, in a not so aspiring-model type of way. I feel a big shift coming in the way of personal style blogs, and I guess I'm both trying to stay ahead of the curve, and feel more comfortable with these posts.
To be honest there's very few style blogs I read anymore. I do click over on sewing DIY style blogs, not because I think I'll ever refashion anything, but because I do love the ingenuity and creativity that comes along with these type of posts. I love reading what bloggers who feel like friends are up to, and Carly comes to mind. And of course I still enjoy street style blogs, and the blogs much like mine, who blog about personal style, along with a bunch of other wonderful topics. All this to say, I do think sharing personal style is fun and important in a way, but I think there may eventually be a shift in how we share that style. Don't ask me how as I can't predict, but I do predict something will be changing in the next year or so.
So for now, I've decided to scale back a bit on the style posts, until I can figure out how the heck I can share in a meaningful way that I feel comfortable doing. For now, I think I'll try to stick with posts like this one here, and other similar ones I've done in the past, where I show my style through what we do and see. Sort of style-in-action shoots. They're harder to do and in a way, even more uncomfortable to shoot, but the results are in my worth it, because the reader gets to see an outfit as it was really worn throughout the day.
Blazer – Club Monaco; Jeans – Gap Sexy Boyfriend; Shoes – ShoeMint (no longer available); Bag – c/o Lily Jade
Blah blah blah, enough of me thinking out loud. Onto the outfit. I bought this blazer during Club Monaco's amazing sale they had in January. I originally wore it to the Friday night mini parties at Alt Summit, but before I made the purchase I did a mental run through to determine if I'd be able to make it work for something other than a night out. I knew it would look great with jeans and heels, and the sales guy had a great idea of pairing it back with denim, oxfords and a gray t-shirt.  Knowing it would be a piece that could work in multiple ways, I made the plunge and so far have had no buyer's remorse. Please tell me you always think through the outfit possibilities before you buy something. It's my number one piece of advice for you all.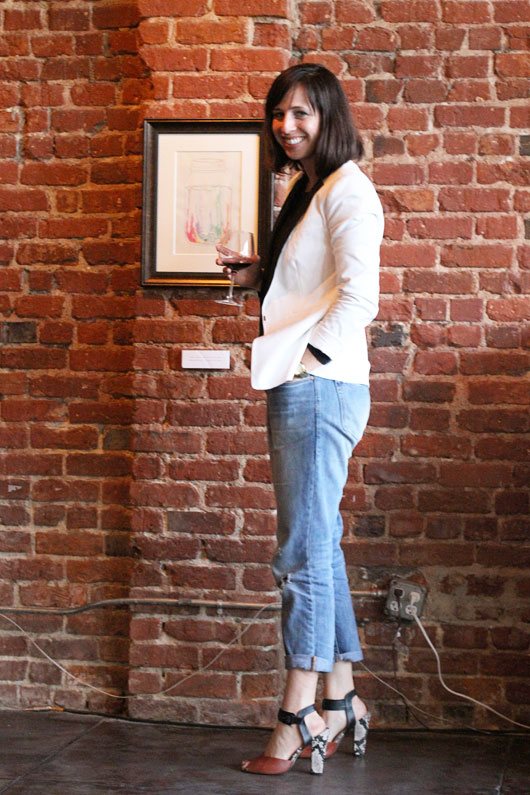 This is how I styled the blazer for date night, which started at about 4 pm. I wanted to style it in a way that would be good for day into evening, so I wore it back to a simple black shirt, my distressed boyfriend jeans, and a pair of heels. Honestly where we were going was pretty laid back and casual, as is most of Southern California, but I always like to get dressed up for dinner out.
Our night consisted of drinks at a wine bar in Long Beach, followed by dinner at a new pasta restaurant which makes their own pasts by hand each day, and then coffee at a coffee shop next door. Drinks, dinner, and coffee all within a 1 block 1– yard radius. It was a pretty nice night reconnecting with my best friend.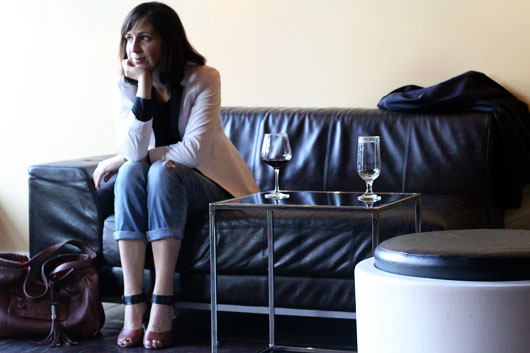 A night out in Long Beach:
4th Street Vine – A Neighborhood Wine & Beer Bar. I got the organic wine flight which featured a wines from Chile, and Art got the Dechutes IPA. Nice casual atmosphere with plenty of comfortable seating and within walking distance of lots of quirky and vintage shops.
Dinner at P3 Artisan Pasta – we got the mushroom ravioli (to die for) and the salmon with spinach fettuccine. The caprese salad was amazing.
After dinner coffee at Portfolio, right next door. A nice huge coffee shop much like the coffee shops we grew to love before Starbucks took over every street corner. Lots of college kids, and local art hung on walls. The Mexican Mocha is delicious.