Too often I hear the words "I can't wear that." or "I can't pull that off" when it comes to trends and silhouettes.  While there are definite personal style boundaries and limits that everyone is comfortable with, I also think that if there's a trend or look you want to pull off, but don't think you can or should, you need to think more optimistically. Remember that there are no rules set in stone for personal style, only the ones we set for ourselves.  When I interviewed Laura at Target a few weeks back, she picked out this Rolling Stones T from the Men's department, and talked about how she would cut off the sleeves and style it back to denim cut offs.  I loved the T for the bright pop of color and classic Rock N Roll graphic, but knew that there was no way I would feel comfortable wearing it as she would. 
Blazer – Zara, Rolling Stones T – Target Men's Department, Denim – Gap, Converse All Stars
So I thought on it a bit and even talked it over with Mandy, and it was decided that this is how I would and could pull off the look.  Back to my trusty blazer as a layering piece, and worn with my favorite boyfriend jeans and a pair of Converse.  Sort of prepster meets hipster, a suitable style for my kind of life.  Once you start focusing on what you like, rather than getting caught up with how you can't pull it off, the pieces start fitting together.  Trust your gut, if you love something at first glance, there's usually a reason.  With some inspiration and even style advice from a fellow friend, your style possibilities are endless.  Sure you might make a mistake every now and then, but things like a $12 Rock N Roll t-shirt are a perfect place to take a risk and flex your styling muscles.  You might just find a new favorite look.
And a little tip for a men's t. While I may not cut off the sleeves, I will indeed cut off the neckline, as I did here. Men's shirt necklines are designed much higher than women's necklines, and are so high that they can be a bit unflattering, and even constrictive. So take some scissors and just cut right around it. I just took the banding off, but you can do a flashdance move and take off more if you wish. I've washed the shirt and so far, so good, no shredding and unraveling.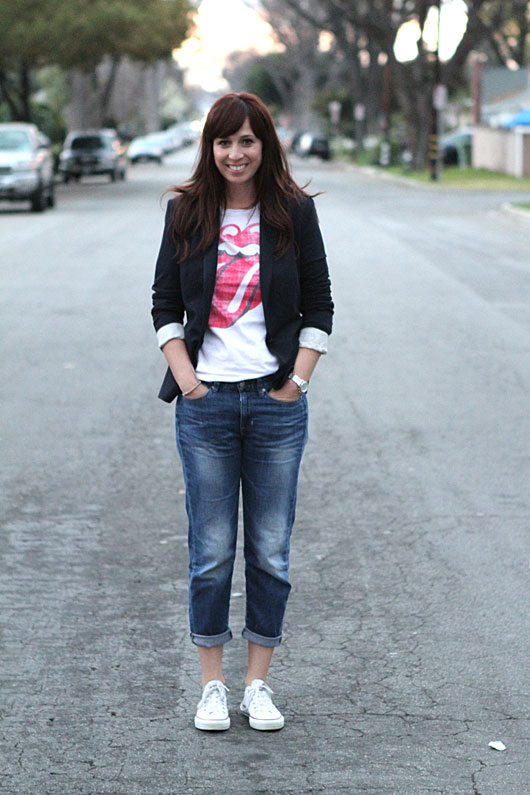 So are you good about taking fashion risks, or do you find yourself saying "I can't pull that off" quite often? Is there a style you really love, but you really don't think you can pull off, and if so, what is it? Maybe I can give you some tips or ideas for making it work for you.
For more ideas on how to style a blazer, you can visit this post where I wear my favorite mint blazer, or this post where I style my navy blazer back to neon yellow.  And want some ideas for how to style a pencil skirt?  See it dressed up here and made casual for every day wear here. 
I'm all about trying new styles and silhouettes and getting the most out of your closet by styling the same piece multiple ways.  If you'd like to get regular For the Love Of updates to your email box, subscribe over in the box in the right hand column.  And get exclusive content and conversation by subscribing to my Facebook page.  More Love is always a good thing, right?  A sincere thanks for reading!