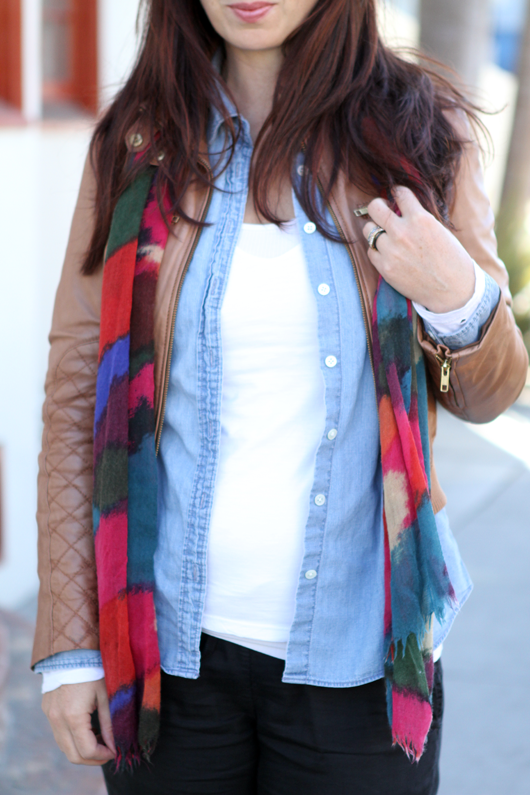 Jacket – Nordstrom; Chambray Shirt – J. Crew; Layering shirt & tank – James Perse; Pants – James Perse; Smoking flats – Boden; Scarf – Anthropologie
Tis the season for layering, especially in Southern California.  Cold mornings lead into warm afternoons, and lead back into colder evenings.  This outfit carried me through it all, starting with Sunday morning service, Syd's baseball game, and then an evening out to dinner and a movie with Art (we saw Skyfall).
So let me say that I know J. Crew is all insanely in love with layers, but in all honesty, I don't love layers.  If not done correctly, it's confining, adds weight and overall just not functional as a mom especially, let alone as a girl working in an office trying to sit at a desk to type.  But with this outfit I found a way to layer that is not only comfortable, but functional for a nursing mother.
Here's what worked about this outfit: I started out with 2 very lightweight undershirts; one long tank and a long sleeve shirt that are both almost tissue weight.  They are both super stretchy so I can easily lift them up for nursing.  I then added the very lightweight chambray shirt that is more fitted in the arms so it doesn't feel restricting in the arm, and I kept it unbuttoned so I had easy access to nursing Hayden.  The leather jacket is the key layering piece and it has the advantage of being a little roomier in the arm as well, so the 3 layers together work.

The other thing I wanted to talk about in this post is how to get your best style shots in, when you're a busy lady (and/or mom).  I try to plan ahead, so that means I try to take most of my shots on the weekend when Art is home and there's plenty of daylight.  Now that it's Fall, if I wait for him to get home we'd be shooting in the dark, so weekend is best.  I always get dressed up for church, so I know I can get at least one week's worth of outfit photos in, and if I get dressed Saturday too, well then bonus 2nd day post as well!
So now that I'm dressed up, and I have a willing photographer and good daylight, I try to find a good setting.  I often take my camera with me at all times on the weekend, wherever we go, so I can get shots of the kids and if the opportunity presents itself, outfit shots.  I keep my eyes peeled when driving around for interesting backdrops.  Because we live in a pretty suburban area, we don't have a lot of cool architecture or backdrops to use, so I have to often times settle for ivy covered walls or the shopping center, or often my backyard.  But the key is to change it up so there is a variety and it gets you comfortable with standing in different poses, with different light, different people staring at you wondering what you're doing!  If you're having to take pictures in your home, try to take them in the best light, and try to clean up the background a bit so readers focus on your outfit and not the pile of laundry in the back.
To get comfortable posing, try having a prop of some sort, or even just your handbag or a scarf to play with.  Something to hold onto because it's often your hands that end up doing weird things if you're not feeling comfortable.  Play with your hair or sunglasses and try to loosen up and move a bit in your shots instead of just standing tall and straight.  And lastly, I find a smile goes a long way.  I've never understood the style bloggers that don't smile in their outfit posts.  What's there to be all pouty about?  You're wearing a cute outfit and you feel good, so smile!  And those are my tips for taking decent style photos.  Anymore tips to share?  Leave them in the comments please!  I'd love to hear!