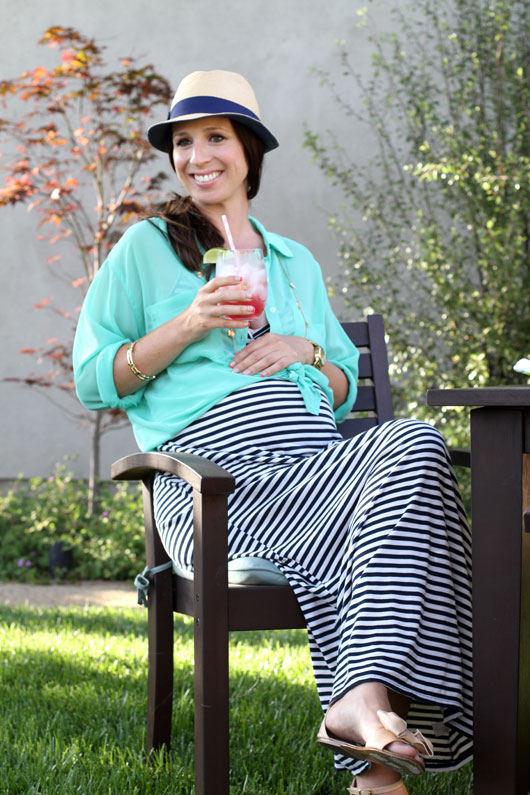 Dress – Old Navy; Blouse – American Apparel; Hat – Target; Shoes – Red Valentino; Jewelry – Premier Designs Jewelry (and there's a giveaway for these pieces on my other blog today!)
Some days I wonder why we style bloggers do what we do.  I mean, if pressed, I can of course tell you why I post outfit pics on a weekly basis.  But sometimes when I just think about it at a glance, I realize how silly it must seem to those that don't blog and get it.  And to continue to post outfit pictures while pregnant seems even stranger at times.  It's not like in my condition I can try much that's ground breaking; my outfits are pretty standard after all.
But then I stop and realize that while this outfit may not be ground breaking, the addition of a sheer blouse over it as a layering piece, instead of a cardigan, is something new for me, and in turn may give someone else an idea they may have never thought of, give them another option to get more use out of a blouse in their closet.  Or topping off my look with a hat reminds me that I feel good in hats and I should wear them more often.
I'm not really sure where I'm going with this and I realize that I may be rambling a bit, but I guess my point is that I don't post these outfit pics just to fetch compliments and "oh you look so cute!" comments (although let me tell you compliments are amazing while pregnant).  I post outfit pictures to give myself ideas, to give you ideas, whether you like it or not I guess 😉  To brainstorm out loud if you will, and figure out ways to restyle tired pieces and make them look new (this dress is 4 years old after all), to realize what looks good on you (like hats perhaps), and what looks wrong on you (like maybe just too much stuff).  It's like one big Mensa think tank, only we are trying to figure out ways to incorporate neon into our wardrobe, not solve math equations.  Works for me!  Happy Wednesday friends, and thanks for allowing me the rambly post.  I'm obviously tired and must go to bed!