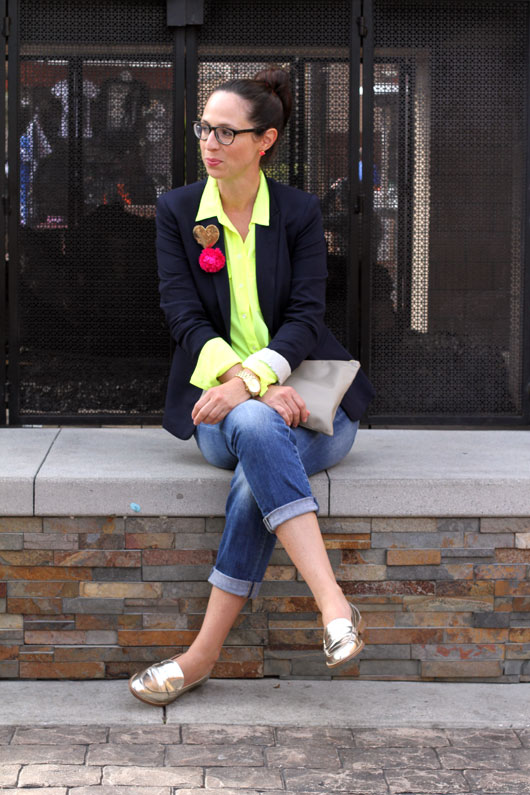 Blazer – Zara; Blouse – J. Crew; Jeans – Gap; Loafers – ShoeMint; Pins – ban.do; Earrings – Kate Spade; Clutch – American Apparel
Art and I left Hayden with a sitter, besides our mothers, for the first time on Saturday afternoon. We saw a matinee, Argo, which was excellent, and enjoyed a quick lunch afterwards. Everything went well with the sitter and we're already daydreaming of the next Saturday afternoon venture we can go on in a couple of weeks.
Because  we were just going to the movies, I ended up skipping the dress I was planning on wearing, thinking it would be a bit much for an afternoon date, and instead wore my favorite boyfriend jeans and dressed it up just a bit with a silk blouse and a blazer.  For years moms religiously fell back on the cardigan as the main layering staple, but I'm telling you,  the blazer is the new cardigan for casual-wear outside of the office.  I love the structure it gives any outfit, and its versatility to go from day to night with the right under pieces.  With the addition of this navy blazer to my wardrobe, I'm now pretty well set in the blazer category, having a great black and colored option I can fall back on.  Eventually I'll wear this blazer with a tight T-Shirt or tank, or maybe even a form fitting turtleneck in a pretty color, but for now I'm sticking with loose blouses and shirts that will hide a bit of my postpartum tummy I still have (remember 9 months on, 9 months off!).
This particular blazer is a repeat of the Mint one I already own from Zara.  You can't go wrong with its jersey fabrication and perfect weight, working from Spring through Winter.  Layering it with the right pop of color or quirky tee keeps the Navy color from being too East Coast preppy.  Although by adding the gold loafers, I'm pretty much pigeon holing myself into the prepster category, I know 😉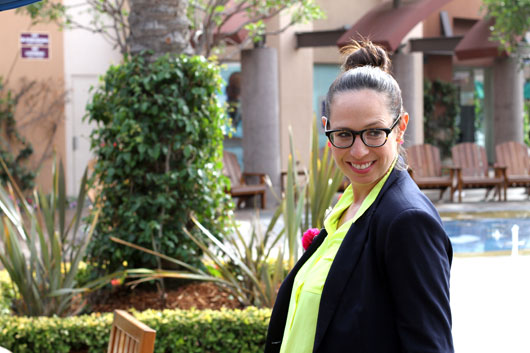 If you're looking for some options in a great Navy blazer, here are a few, in 3 different price ranges, to choose from.  The first one is the Zara blazer I own above, the middle one is from J. Crew, and the third option is if you have plenty of cash to spend, from Band of Outsiders.  Take your pick!  And a note on the (low) price range.  For a blazer, I honestly don't think you should go super cheap here.  Sure, you could possibly find a Navy blazer from H&M or Forever 21 in the $39 or less category, but a blazer is a classic staple that you can hang onto in your closet for quite some time.  You want it to last and stand the test of time, both in quality of materials and construction, but also silhouette, meaning you don't want it to be too trendy looking.  Therefor, the Zara price range is just about as low as I'd go for something as classic as a blazer. 
1. $79 Zara 2. $198  J. Crew 3. $1250 Boy by Band of Outsiders