Hello friends, Andrea here.  Today I'm excited to introduce you to my friend and fellow DIY obsessed girl, Caroline from Sew Caroline.  This is a first for me here, having a contributor, as I've always worked hard to try and maintain this space for me and my work only.  But as time goes on, my family grows, and so does my work as a blogger, I've finally realized I just can't do it alone.  So I've chosen a contributor whose work I value and respect, and I hope you do too.  I've been stubborn for too long, and am excited to share the talent of those who I appreciate.  So without further adieu, here's Caroline with her first DIY tutorial! 
Hi For The Love Of readers… I am so excited to be here today sharing a DIY tutorial with you. My name is Caroline and I have a creative lifestyle blog called
Sew Caroline
where I write about my sewing projects, DIYs, recipes, and life in Texas. I've been a long-time fan of Andrea and her style, so I was thrilled when she asked me to contribute for her blog.  Today, I am going to show you how to make an adorable braided belt, perfect to pair with your favorite Summer dress.
What you'll need:
-"Fashion Buckle" (can be found at your local craft store. there are many different styles to choose from. I went with a simple one, but the possibilities are endless.)
-Fabric scraps. (these scraps are 100% quilter's-weight cotton, but many different types of fabrics would work as well)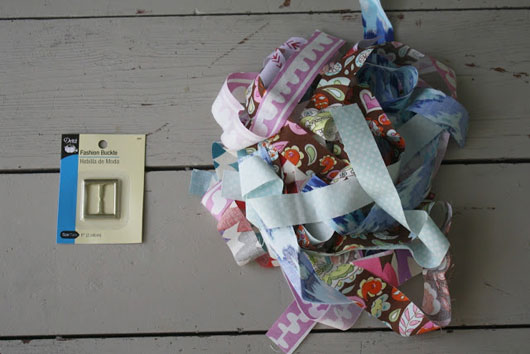 You're going to start your belt by cutting 1″ strips of your scraps. Having lots of different colors and fabrics of scraps makes for an interesting and eclectic-looking belt.  You'll need enough scraps to make five 70″ long strips. Piece your 1″ scraps together to make these five strips.  After you've got your five 1″ by 70″ strips, stack and sew them together at the very top.
Now, you'll braid these strands together.
To make a 5-strand braid, you'll start with the strand on the far left and go over the strand next to it and under the next strand.  Then, you'll grab the strand on the far right side and do the same (over the strand directly to the left of it and under the next one).  Continue this all the way down your belt.  When you have completed your braid, use a zig-zag stitch to secure the ends together. You'll want to stitch over it a couple of times.
Next, take one end and loop it through the center of the belt buckle and secure it to the back of your belt using another zig-zag stitch. You're going to want to use thread that coordinates with your fabric for this, because you'll be able to see it.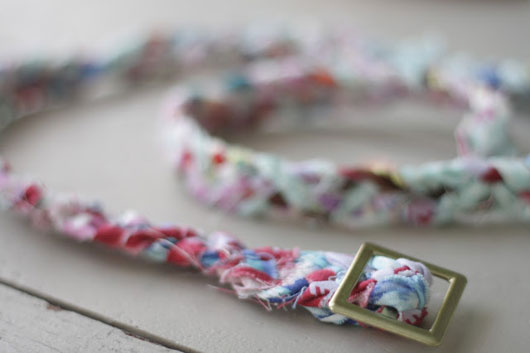 When you've got your belt buckle sewn in, you're ready to try it on!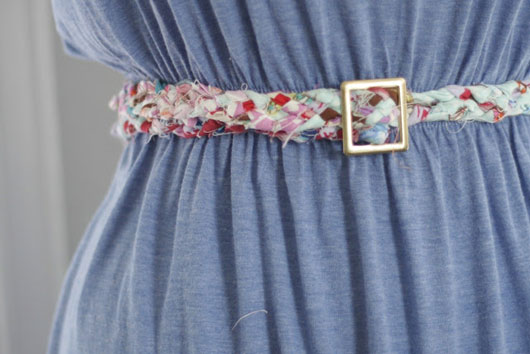 Enjoy DIY-ing your very own scrappy belt! For more inspiration, sewing tips, and tutorials visit me at
SewCaroline.com
!