I feel a bit like a cheater after posting this photo yesterday on Instagram, indicating that I had been doing a little DIY'ing while baby napped. The truth is I did in fact make the necklace; I just didn't make it entirely from scratch. You want to know the secret? I had help from Tori Spelling. I know right?!?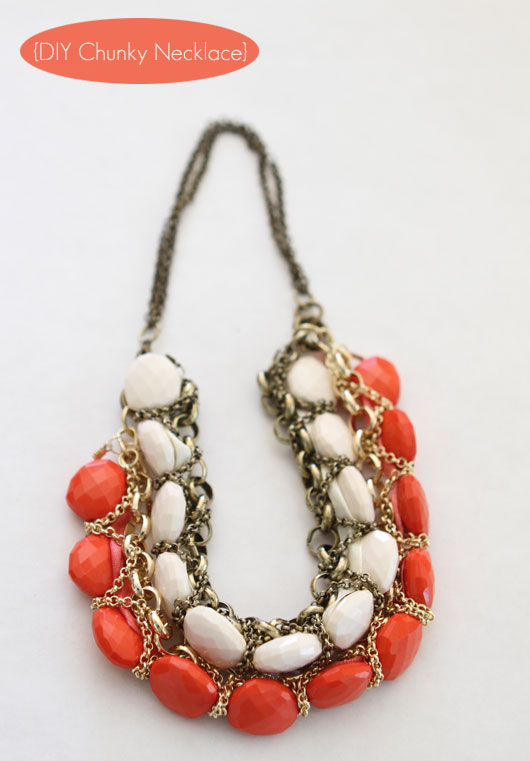 Turns out that Tori's line of easy to assemble jewelry pieces, which allow you to design easy to make customized jewelry, is in fact very pretty and very easy to use.  When Styled by Tori Spelling partnered with us for The Craft Cabinet swag bags, they sent me a bag of pretties to work with and design a few pieces of my own.  I finally had a chance the other day to sort through the bag and this is what I put together.  Here's how simple it was.
The collection is designed to be put together with no tools and sort of works like a puzzle.  You get a necklace back, a necklace front, and your connector and the three meet together to form the perfect, easy little necklace.
You literally put the necklace together in one step, by simply attaching one end to the other by way of the connector, which is the piece you see in the top center of the picture above.
The only modification I did in fact make was I ended up cutting the necklace back in half (with jewelry wire nippers) so that the necklace fit more at my collarbone as opposed to falling at my bust line.  I believe she makes shorter necklace backs to customize accordingly, I just happened to only have a longer back on hand.  It was a quick and minor adjustment though.  While the beads are sold individually to make a single strand necklace, I quite like how the two look together, and give it a much more chunkier, bolder look, don't you agree?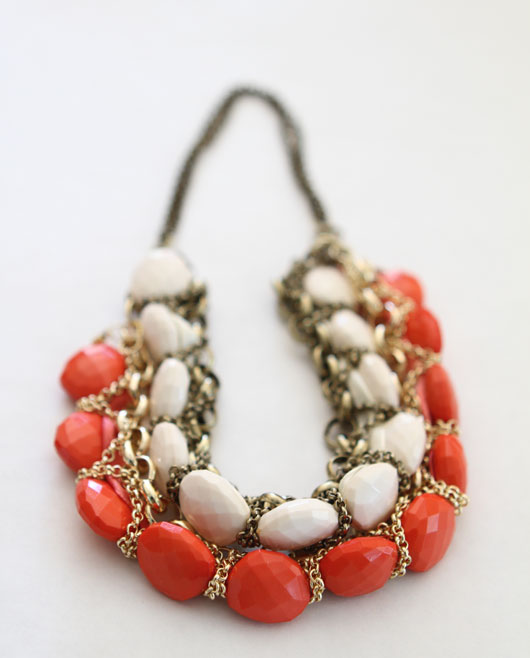 So there you have it folks, now you know my dirty little secret.  I feel a little bit like Sandra Lee and her box mix "homemade" cakes, but really, not all DIY projects must be labor intensive and stressful.  One of the gals that attended Craft Cabinet made a couple of necklaces using Tori's line to create really cute and simple statement jewelry.  She loved how easy it was to create something so pretty, so quickly, without a lot of effort on her part.  And in case you're wondering, this is not a sponsored post.  The rep from the company just thought I'd like a few pieces of my own to play with, and I'm so glad she did.  This was the perfect little jewelry project for my tired momma brain.
If you'd like to make a necklace like this of your own, you can see the full line here.  I used the coral and pearl chains, with a necklace back and connector.  You can click on the links to find the exact pieces I used.  Quite a stunning piece for about $30 (or less if you only use one strand of beads), don't you think?
Please let me know if you have any questions about working with this line.  It's really quite simple.  If you don't want to order online, I know Michael's has a pretty large selection of the pieces in store.  Thanks for reading and please let me know if you try it!