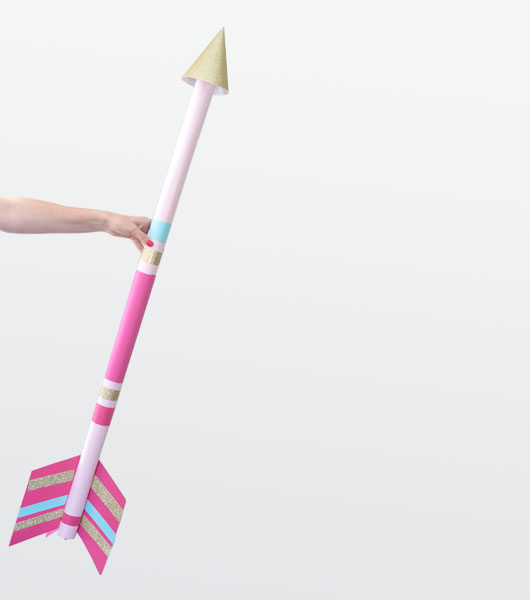 Last week when Taylor and I were at the mall, I fell in love with the Paper Source windows.  They had multiple gigantic ombre hearts hung all about, and two large arrows intersected the hearts.  They were just about the cutest things I'd seen in a very long time, and I immediately texted Miranda a photo to get her approval.  I had been planning to make large heart garlands as a backdrop for her Valentine's Day mini shoots, but these seemed to be much more of a time consuming challenge, so of course I was all in.  For the sake of brevity, I'm going to split up the tutorials into 2, and share the DIY for the arrows today, and tomorrow I'll show you all how to make the hearts.  Both are easy, but fair warning, both take some time.  So don't plan on making these in the eleventh hour, because cursing will surely ensue.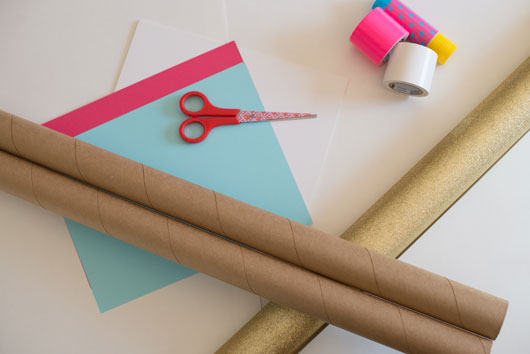 Gather your supplies:
2 large gift wrap rolls per arrow (you want them to be a wider tube, as the narrow skinny tubes will make them look too flimsy)
Duct tape or some other heavy tape
Cardstock in various colors sized 8.5″x11″ (we used shades of pink, red and aqua for a pop)
Glitter wrapping paper or glitter cardstock (we used the wrapping paper roll from Paper Source
Pencil, scissors, scotch tape, glue stick & glue gun

Begin by sticking one roll into the other, and then securing with duct tape to make sure they don't come apart as you're working.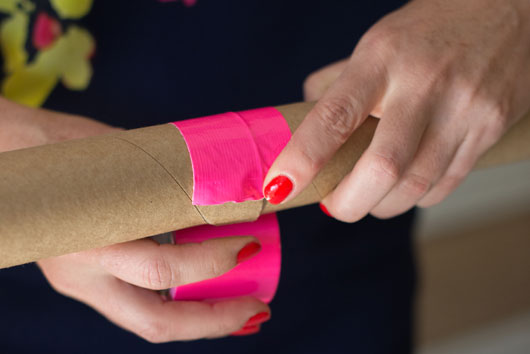 Once secured, begin wrapping your cardstock around your tube, and securing with tape.  I found it looked best when I just slightly overlapped each piece of paper and made sure the taped seams were all in alignment.  There's no need to cut the paper to fit, just overlap the sheets.  Trim off any excess at the end.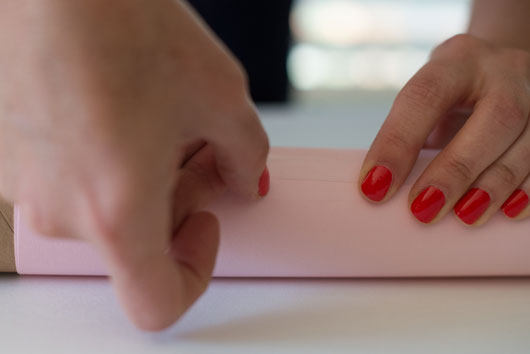 Once your roll is wrapped, start decorating it with strips of paper.  We put a dark pink contrasting strip right in the center, and then smaller strips towards the outer edges.  We cut strips in two sizes – a wider strip of about 1.5″ and a thinner strip about 1″ wide.
On either side of the dark pink center, we used dark pink and gold glitter paper, and aqua and gold glitter.  Towards the end of the arrow, where the "feathers" would go, we used a red strip to match the paper "feathers."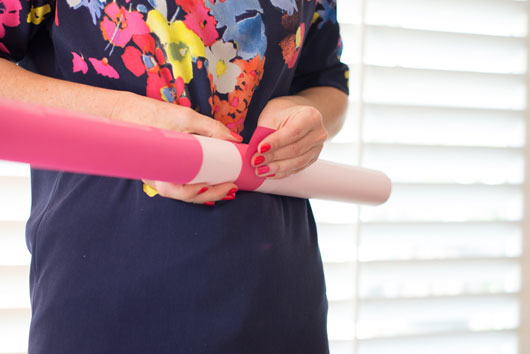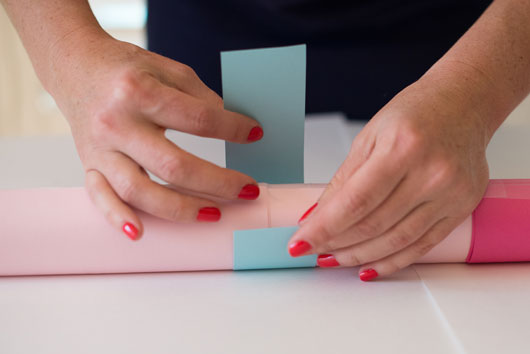 Once your tube is decorated, begin making your feathers.  Grab 2 sheets of cardstock and fold in half lengthwise, and cut each end at an angle going in the same direction.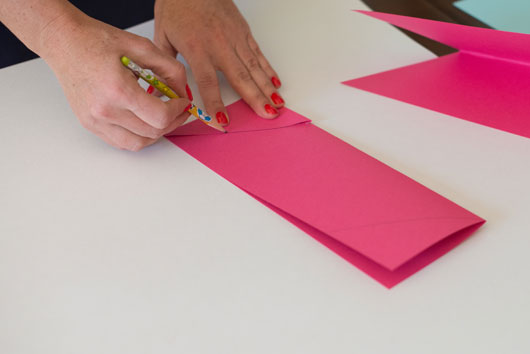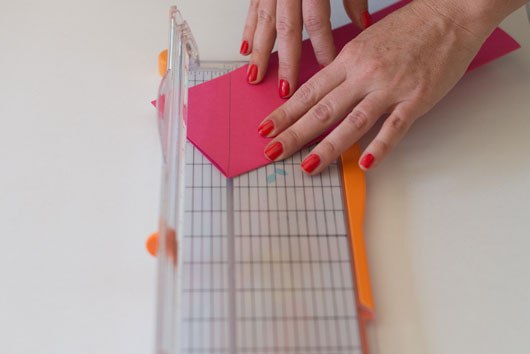 Once you've cut your angles on both sheet of paper, cut out more strips to decorate your feathers.  We used aqua and gold in 2 sizes again.  Using various sizes and color gives it interest while also making it feel uniform.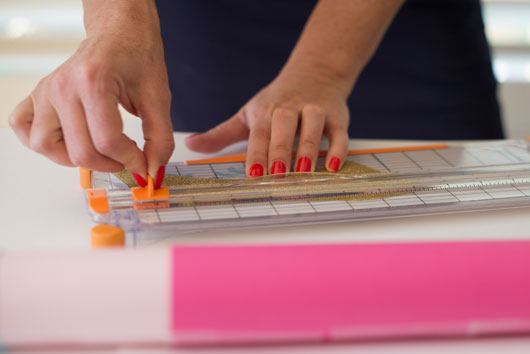 Apply these strips with a glue stick instead of tape to give it a cleaner look.  Now, it's time to make your gold glitter cone.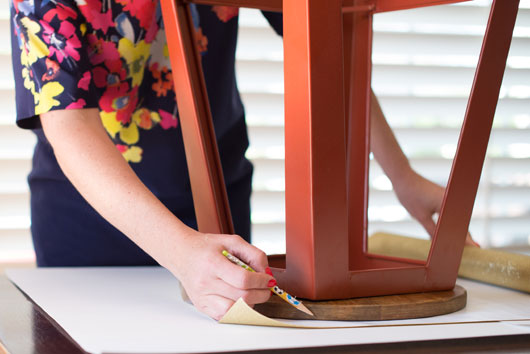 You need to make a very large circle, at least 18″ in diameter, and the bigger circle you cut, the higher and skinnier your cone tip will be.  The biggest circle I could find in my house was the top of a step stool, so I traced that and then cut.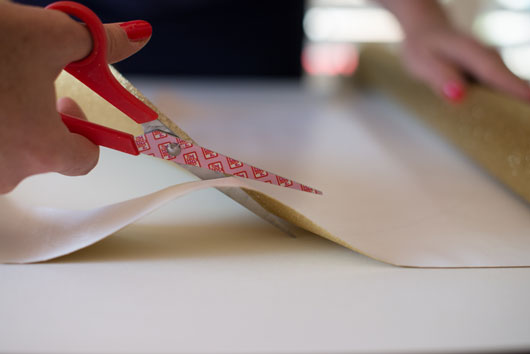 Once your circle is cut, you want to cut out a triangle to make a Pac Man face, and then wrap the circle around itself to create a cone.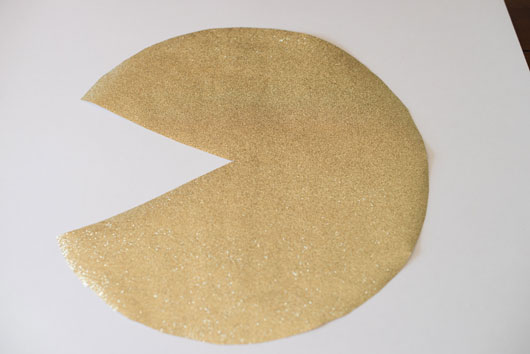 Now it's time to glue on our feathers and cone, using a hot glue gun.
Apply glue to the tip and gently push the cone to rest on top nice and secure.  Never mind the grody looking glue gun, by the way.
Attach a thin strip of hot glue to the edge of your paper feathers and attach to your tube.
And now you're done, and you have a very cute love missile on your hands.  These are great as photo props to hang as a backdrop or for kiddos to hold.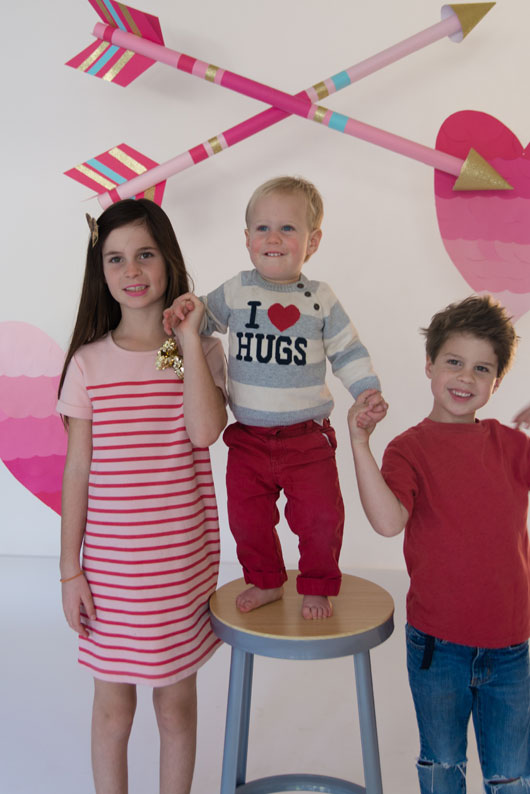 Miranda hung them in front of a white backdrop and attached with clear monofilament wire.
If you're in the local Long Beach area, Miranda will be holding Valentine's Day mini shoots with this backdrop plus one more, this Saturday January 25th from 9-2.  You can email her at mirandashanti@gmail.com to book a session!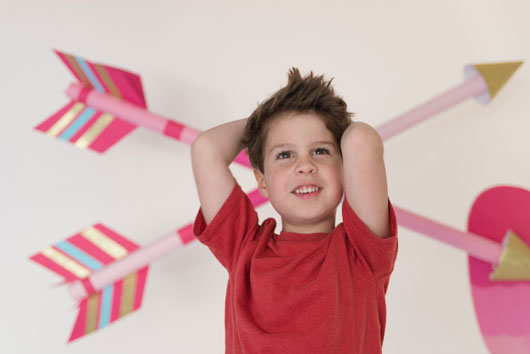 Let me know if anyone tries these!  They would be super cute using paper towel rolls as well, to make mini arrows.