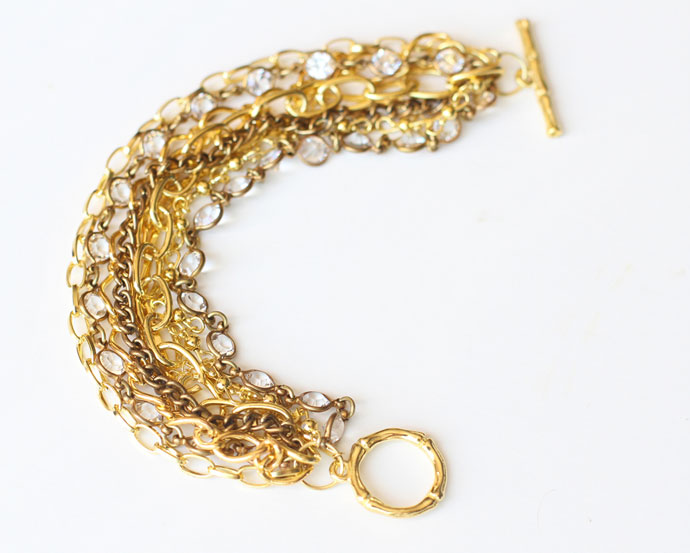 A few weeks back, BuzzFeed contacted me to ask if I'd like to create an original DIY post for their site, that was an Anthropologie hack. I of course was thrilled and honored and said, "Yes, yes, yes!" And then I found out this wasn't a paid gig, and I went "wahwah", but went forward with it because I thought it was still a great opportunity for exposure and such. Then when the post went live, they linked to my wrong site, and again I went, "wahwah", but I got this really great DIY out of the whole thing, and I'm excited to share it with you because I just love how it turned out. I'm getting a lot of use out of it as well.
The DIY is really easy and quite affordable. Let's get started.
Supplies (all available at a local craft store):
Gold chains in various styles and sizes of chain links. I used a total of 6 different types of chain, and 1 style of crystal chain, often referred to as a Chanel chain. It's the chain with the crystals encased in gold.
Gold loop and toggle closure. Mine has a bamboo look to it, but that's optional
Jewelry pliers and wire cutters. You can find very high-end jewelry making tools, which are quite expensive, but if you're just planning on occasionally playing with DIY jewelry, all craft stores carry a decent line of jewelry making tools which are just a few dollars.
Cut all your chains according to desired wrist size. I cut mine 6.25 inches in length, and when added to the jump rings and toggle clasp, it fit perfectly around my wrist and left for some room to slide around and hang on the wrist nicely. I also cut a total of 8 lengths of chain – 1 length of chain for each style I had, plus 2 lengths of the crystal chain for added sparkle.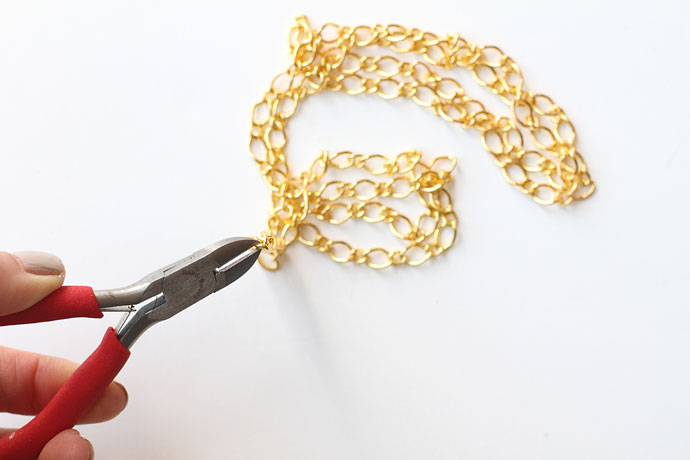 Once all your chains are cut, line them up in the order you want them, and attach them individually to your jump ring.  If your jump rings come closed, as some do, gently pry them open by sliding them apart, as opposed to pulling them apart. This will make it easier to close it back together.
Once all your chains are attached to the jump ring, attach the jump ring to each end of the loop and toggle closure, and using your pliers, gently close your jump rings on either side.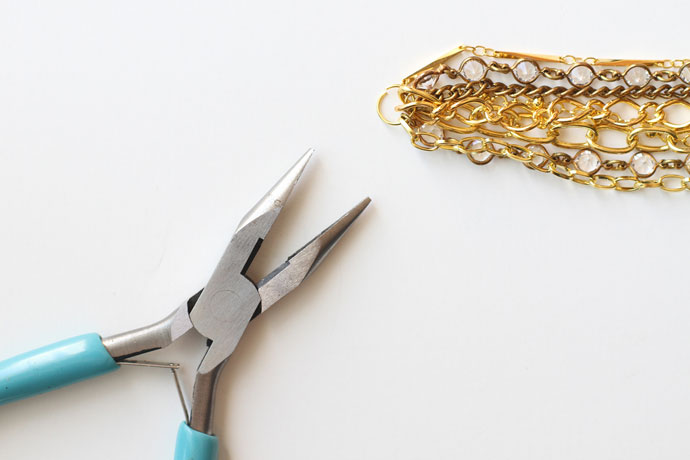 Make sure you attach your toggle closure to either side before closing your jump ring.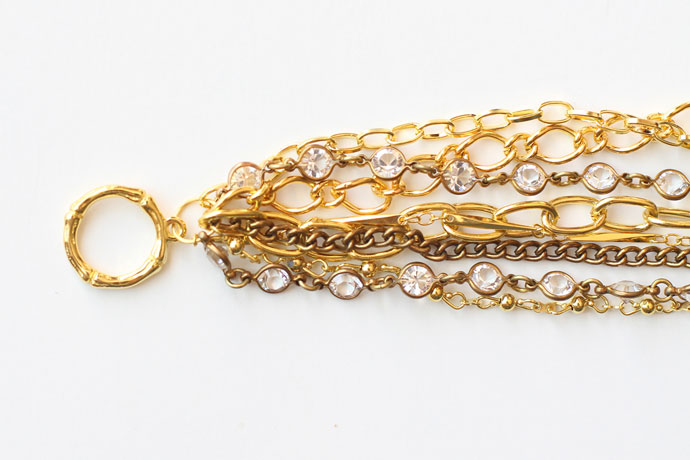 Your bracelet is now complete!  This took me less than 20 minutes to assemble, and cost about 1/3 the price, including the fancy Swarovski crystal chain. 
Wear this wtih a simple white tee and jeans, to dress up an otherwise casual outfit, or wear it with a pretty black cocktail dress for an evening event. I love that it's versatile and looks well made, even though it's handmade. If you're interested in comparing, the original Anthropologie bracelet I hacked it off of can be found here.