For the past two years I've carried around a wooden bead keychain that the kids made me for Mother's Day.  I was always losing my keys in the bottom of my purse, so they thought (with some facilitating by my husband), bigger would be better.  The keychain is big alright, with each of their names spelled out, plus the words "We Love Mommy", it can barely fit in a clutch.  But for obvious sentimental reasons I've carried it around with pride for two years.  The paint is chipping though and it's just overall looking quite shabby, so I decided to make myself a new one.  It was so easy, I thought I'd share with you the tutorial so that you could make one for yourself, or a special friend in your life.  Here's how you do it.
Your supplies are few: pliers, head pins, some beads and a key ring.  All to be found at your local craft store.  Remember those skull beads I found while on my last bead excursion?  Well I finally figured out what to do with them!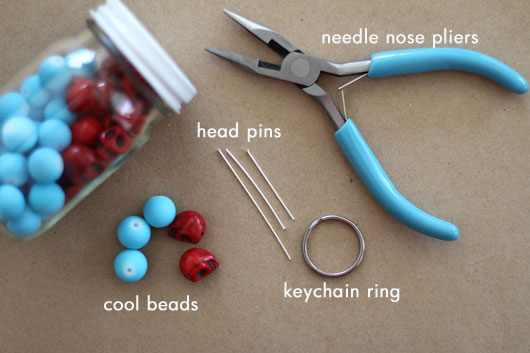 If necessary, begin by adding a small seed bead at the bottom of the head pin.  This is if your bead hole is slightly larger than the head of the pin, it will keep it from sliding off.  With the very tiny beads I used at the end, it wasn't necessary, but with these larger turquoise beads it was.
String your bead(s).  Take note, these head pins range in size from 3/4 inch to 1 1/4 inch, so only a few beads fit on each head pin.  This is good news for you my friends because it makes the overall project take oh, about 5 minutes to complete!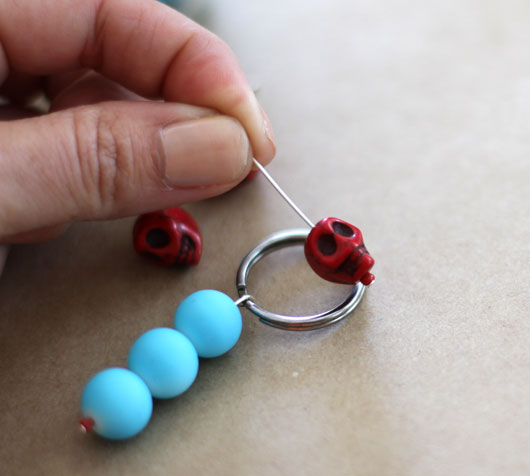 Once your beads are strung, take your needle nose pliers and bend over to create a loop.  You want to have a good 1/4 inch left on your head pin so you can twist over and get a large enough loop to slide through your key ring.  So make sure to leave enough room at the top!
Slide on your key ring and bam, you're done!  Just add your keys of course.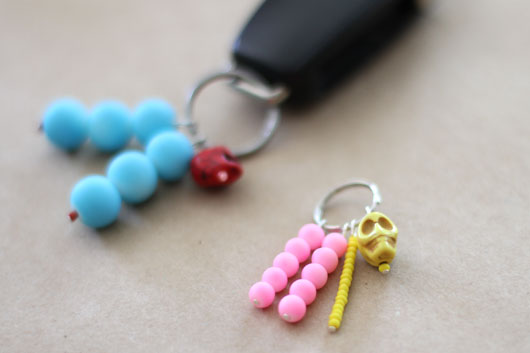 So fun and easy I created a sweet mini companion for my friend.  Skulls totally mix with pink, right?  I have to say, I now feel a bit more cool carrying around my little skull on a chain.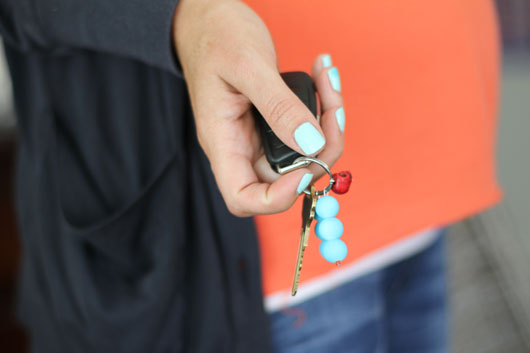 Happy DIY'ing my friends!  Let me know if you make one please?
Like For the Love Of for a chance to win a set of Neon Glittery Notecards!