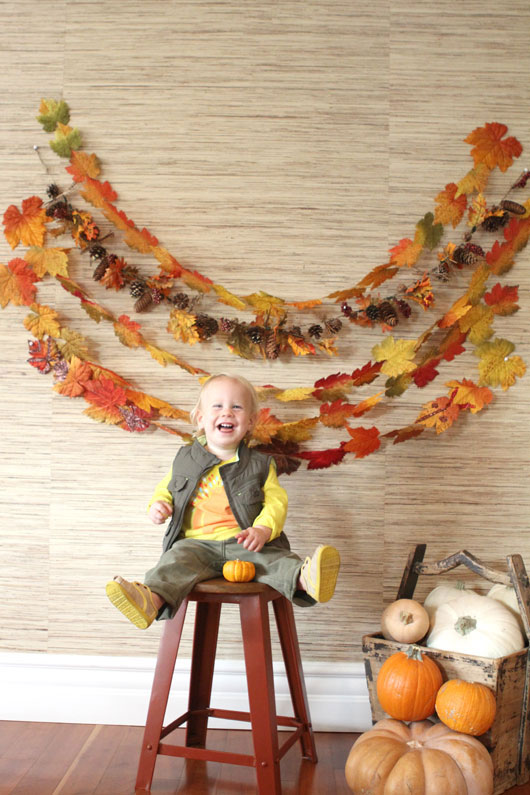 Without fail, every single year we celebrate Thanksgiving together as a family, I leave the feast feeling like we should have snapped more photos.  Actually, there's quite a few years where we don't have a single family photo.  While Easter has the egg hunt to capture, and Christmas has the unwrapping of presents, Thanksgiving, which happens to be my favorite holiday, doesn't have a central event in which to capture. So I decided to put some leaf garlands I made to good use, so that they can serve as more than just decorations, but give us a reason to get the grandkids and cousins, and maybe even the grown ups together in one place to capture their cute little faces, who give us so much to be thankful for.
So I plan to take my very simple 4 strands of leaves to my sister's house next Thursday, and hang these on a blank wall (they're nice and light weight so don't need much more than tape to get them to hold), and I'll harass the kids throughout the day to come and sit for a picture.  Besides the boys, I know the girls are really gonna love this.  I'll leave out some mini pumpkins to hold, but wouldn't a few cute props be fun, preferably the ones the kids will be bringing home next week from school?  I never know what to do with those blasted pilgrim hats and feather headbands, but now they'll serve the perfect purpose – photo booth props!
To make the more detailed leaf garland, I found the most simple pine cone garland I could at Michael's, and snipped off the little fir branches to make it read a little less Christmasy.  I then took some floral tape, also found at Michael's, and fake leaves and such, and attached them to the garland.  By attaching the leaves to the already premade garland, it made it a little more substantial and perfect for a centerpiece, and even looks lovely hanging above my front door.  It serves many purposes I tell ya.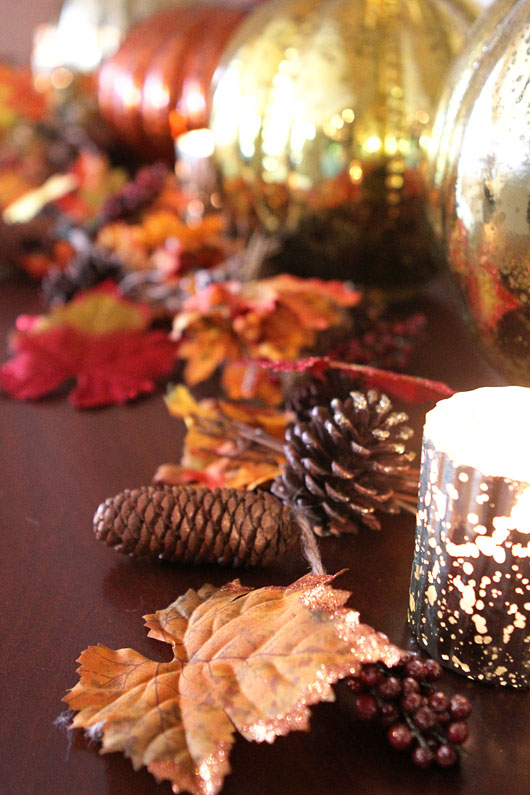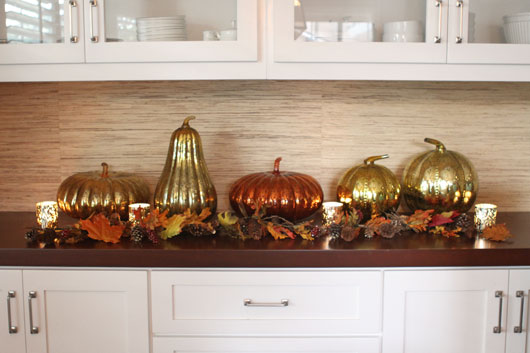 About the fake leaves – I know, most are garish and just weird.  To make them look a little less so, simply snip off what you love and leave the rest for the trash.  Many of the leaves I found came with weird looking gourds and glittery pine cones.  They placement of the leaves on the stem was also strange, so you can simply pull the leaves up the plastic stems so you hide more of the plastic and just leave what's left of the pretty leaves showing.  Believe, me I would love a really fancy fresh garland that I could replace every single year, but c'mon, let's get real here – I have 3 college tuition accounts to save for.  Fake for turkey day works just fine.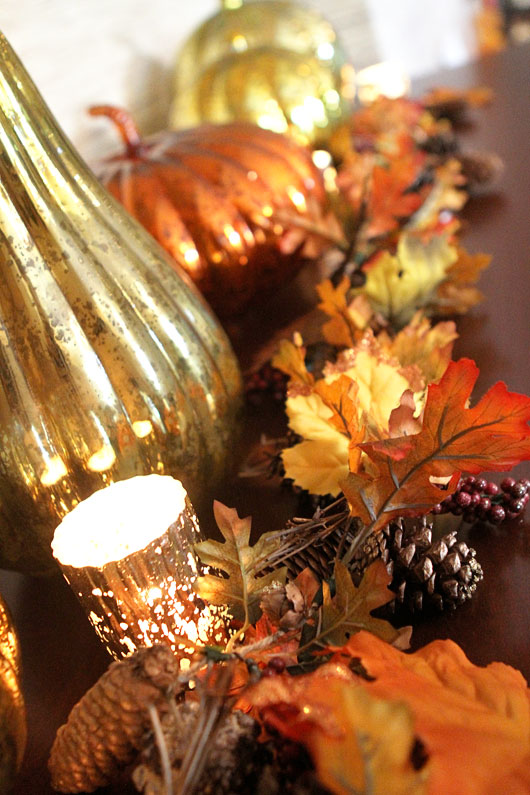 For the simple leaf garlands, I found packs of silk leaves, 10 to a package, on sale for .39 cents at Michael's after Halloween, and simply sewed them all together into long garlands about 6 feet long.  The kids also enjoyed decorating these leaves with glitter, which I'll share with you next week, as you try to keep your kids busy when they're home from school.
Hayden was enthralled with the garlands, and as you can tell, had no problem whatsoever sitting for our mini photo session. It's really too bad that kid is so miserable.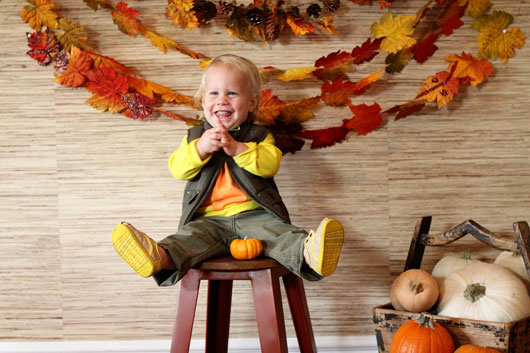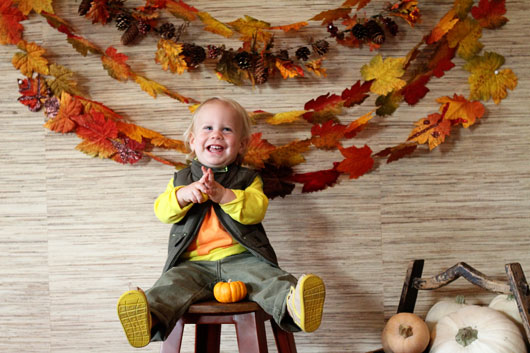 I know the garland tutorials and constant need for a photo booth and or photo backdrop starts to get redundant, but since I was making these garlands anyhow, I thought using them to actually force us to do a better job of capturing family photos on such an important holiday was pretty cool. I'm stoked anyhow.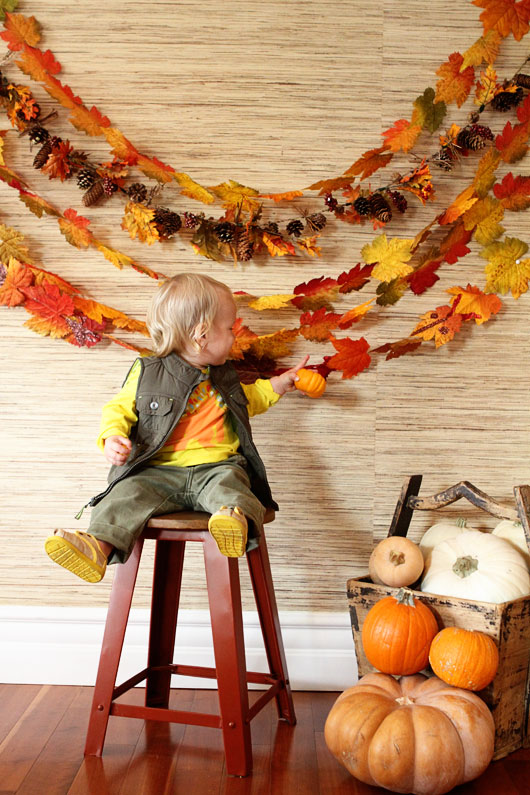 So what's your favorite holiday, Thanksgiving or Christmas? And do you ever find yourself with a shortage of photos for either one?
See you back tomorrow where I'll be sharing how to make thankful leaves using fresh magnolia leaves and gold pens. The kids will be so excited you're letting them in on your secret stash of craft supplies. And to make sure you receive all updates, follow For The Love Of on bloglovin or friend me on Facebook.