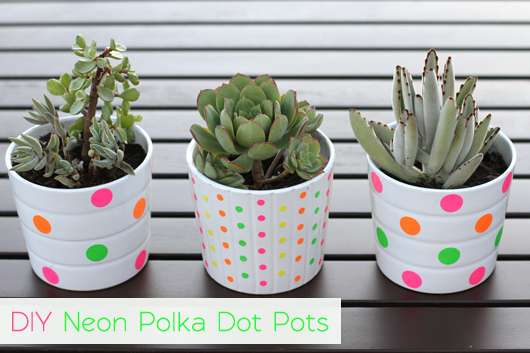 I thought I had moved on from neon, but when I saw these polka dot office supply stickers in the perfect neon hue last week, I got really excited, telling me that my love affair with neon is not quite over.  These plain white pots from Ikea got a definite pick me up when I applied the stickers and brushed on a quick coat of Mod Podge.  Another case of neon to the rescue I suppose.

You'll need some plain white pots, round office supply stickers in neon, Mod Podge in Gloss, and an applicator brush.  This soft fine brush from Mod Podge is amazing and leaves very minimal brush marks.
Apply your stickers in whatever pattern you want.  You could measure and get all precise if you like, but I'm a wing it gal and just sort of eyeballed it.  Worked fine for me!
Once your stickers are all pretty and perfect, apply a thin, even layer of Mod Podge all over your pots to seal those stickers on and ensure they won't peel off over time.  Let dry for at least 2-3 hours before potting your plants, and you're good to go.  Super quick, super easy.  Just how I like my DIY projects!
The melamine tray you see them sitting on in the shot below is a similar DIY I did for Nicole and will be posted on Wednesday.  I'll make sure to come back and link up the post once it goes live.  I quite like the polka dot on polka dot action.  One can never have too many polka dots, right?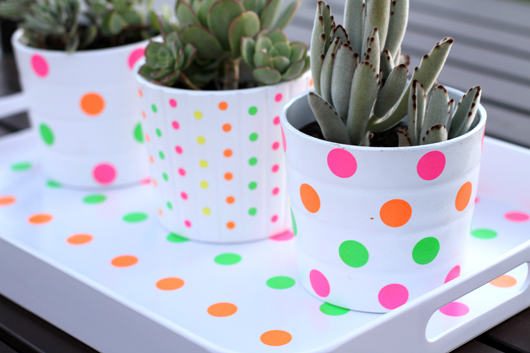 Enjoy, and let me know if you have any questions!
P.S. I sort of have a slight obsession with Neon.  To see all NEON related posts, click here.