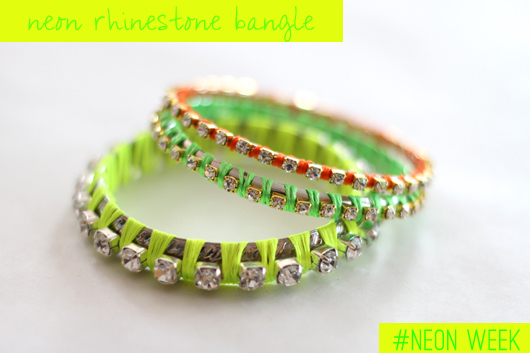 These bangles are simple and inexpensive to make, and are great stacked together, or worn singly with your watch.  They're excellent for gift -giving as well.

Supplies: bangles (get them in stacks at places like Forever 21 or Target), embroidery floss (Michaels had a small selection of neon floss), rhinestone chain, hot glue and scissors for trimming.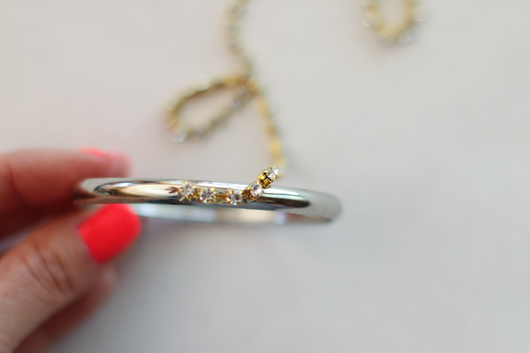 Begin by affixing the rhinestone chain to your bangle with a bit of hot glue, and continue all the way around the bangle.  You don't need to glue down the entire rhinestone chain, just intermittent pieces.  Less glue mess to contend with that way.  When you've completed the bangle with your rhinestones, just trim off the rest of the chain, which can usually be cut off with a pair of regular scissors.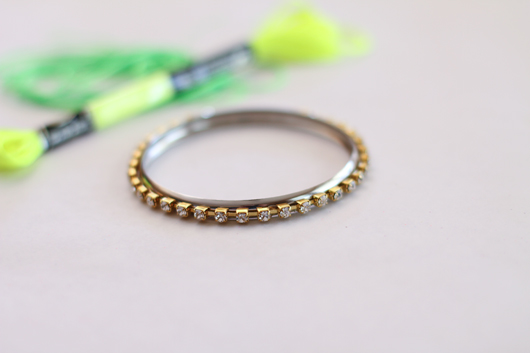 Begin wrapping your embroidery floss around the spaces between the rhinestones.  I wrapped 3-4 times around each space, depending on the size of the rhinestone. 
Continue all the way around.
Finish off with a spot of hot glue to hold the floss in place, and then trim the edges.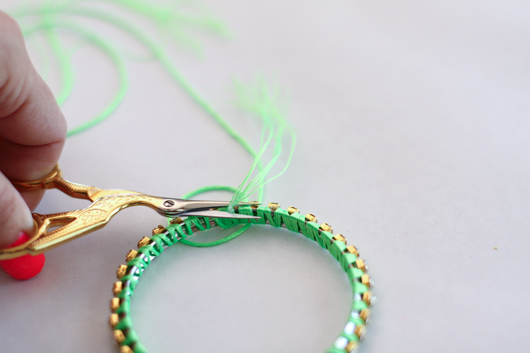 A simple and easy spring DIY to add a bit of neon to your life.  Now a note about the rhinestones.  Michaels has "cheap" chains of rhinestone, but they do in fact look a bit inexpensive in that they don't sparkle or shine as much. I buy my chain from a local fabric store and while it costs a bit more (usually $12 per linear foot), the extra sparkle is worth it. 
Have fun and let me know if you have any questions!