I'd be honored if you'd consider "liking" my Facebook page, or subscribing to my RSS Feed. Or better yet, receive some Love straight to your inbox by entering your email in that box to the right! Love is way better than junk mail!
As I was punching out hearts for my paper chains the other day, I thought how pretty the punched out templates looked, and it inspired these Valentine's. I think the kids think I'm a stickler because I've never let them give their classmates candy with their Valentines, so I wanted to create something this year a bit more fun and different than what they usually pass out. I chose gumballs for their bright colors but really you could put skittles or even confetti if you don't want to do treats. And of course you can make them any color you like, but of course I find the neon variety the most fun.
To make your own DIY Neon Valentine's, you'll need some colored and white card stock, a paper cutter, heart paper punch, double side tape, neon thread, small cellophane bags (I use the ones they sell at Target), and some sort of filler.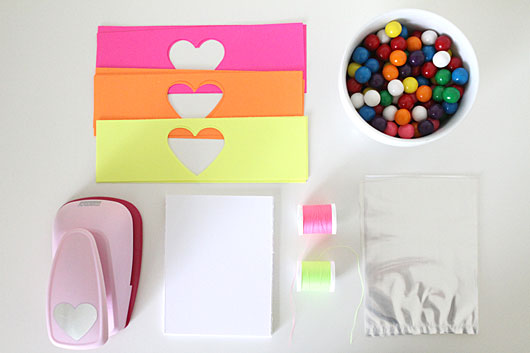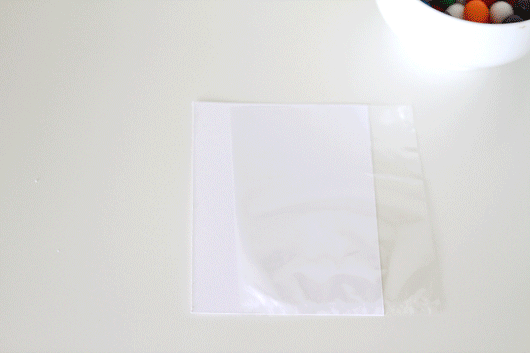 Begin by cutting out strips of your card stock, mine were about 2.5″ wide, then punch out your hearts. Fill your bags with your treat, then fold over a 1″ piece of your card stock over your cello bag. Stitch in place, or use some washi tape if you don't feel like breaking out the sewing machine. Once sealed off, attach some double side tape to the back of your cut out strip of heart, fold over and tape in place. All done!
The bright and colorful ones will be passed out to Syd's classmates. Taylor preferred the mint and neon pink combo, so she'll be handing out those.
I'm also thinking these would make a really sweet invite. Put the details of the party inside the bag with just the title peeking through the heart.
These are so easy to make that I had both Taylor and Syd help and we completed about 30 of them in just a coupel of hours yesterday, having them home sick and a baby with a double ear infection. What that means is that these are very doable. Just get a little assembly line action going and it's just repetition of cut, fill, sew and tape, over and over. I kind of like those kind of crafts the best, where you can do them without a lot of concentration or focus. That usually means they're easy enough for kids to do too.
Oh, and there's a perfect space on the back for the kids to just write a short message and and a to/from.
So what are you doing for Valentine's this year? Honestly, we have done store bought for the past 2 years, so it was kind of fun to make our own this year. I can't guarantee I'll DIY ours every year, but these are simple enough that I just might!