I get a lot of questions on my leather pouch tutorials I've done here and here. Mainly it involves sewing leather and how easy or difficult it is to accomplish. I will admit that if you don't have at least a somewhat decent machine, sewing leather can be a challenge and very intimidating.  So I thought I'd give my hand at a no-sew version for those of you interested in making a pouch, but too overwhelmed at the thought of breaking out a sewing machine for the project.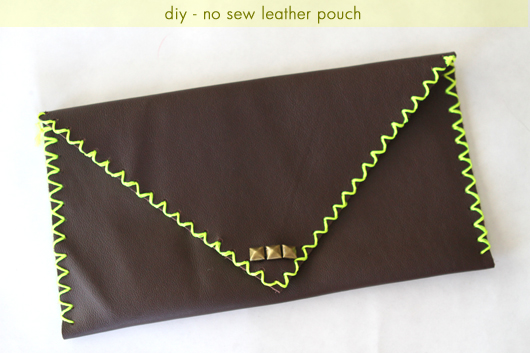 To start, you'll need to gather your supplies:
– A piece of leather (I made mine somewhat small since it was my first time using this technique and it measured 9″x15″)
– Leather/Fabric punch (I purchased mine on Amazon for $15), embroidery needle, scissors, ruler & marker
– Magnetic snap closures
– Embroidery floss
– Some type of button or decorative stud to cover up the magnetic closure (I epoxied some studs over mine)
Cut out your piece of leather to your desired dimensions, leaving a pointed flap shape to fold over and close.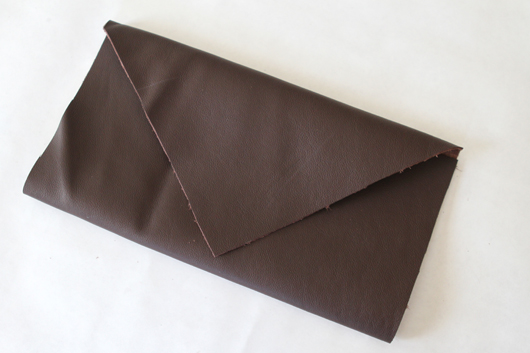 Before you begin stitching your bag together, you must attach your magnetic closures.  Punch a hole in the spot where you want your closure and simply insert and fold over the prongs.  These closures are really easy to work with, you just will need to cover the top flap with another button or something because you will see the prongs.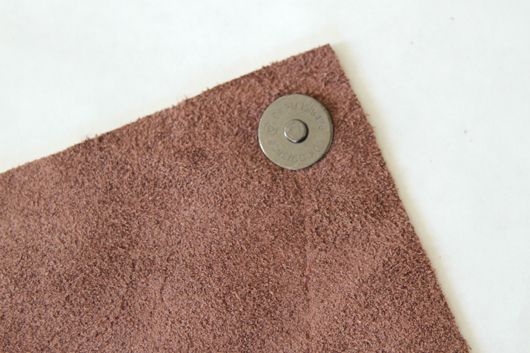 Now you can begin stitching.  Mark off where you want to punch your holes with a marker and ruler.  I spaced mine 1 cm apart.  Once you have your punches all complete, you can start stitching.  I originally was going to just do a simple whip stitch, but thought it looked a little too elementary, so I went back and added another stitch, making it look like a cross stitch I suppose.  Stitch on both sides and across the flap and tie off each ends, securing with a knot.
Once you've completed your stitching, add your decorative element to cover up your magnetic closure, and you're done