I'd be honored if you'd consider "liking" my Facebook page, or subscribing to my RSS Feed. Or better yet, receive some Love straight to your inbox by entering your email in that box to the right! Love is way better than junk mail!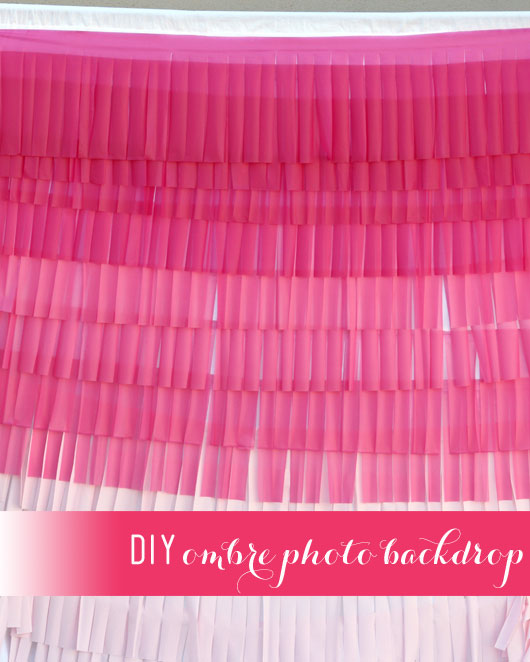 A while back I hosted a welcome to California party for my friend Maggie and her husband Zack. I threw this photo booth together in a matter of minute, about 50 to be exact. I hadn't even considered showing it to you all until after the fact, when the backdrop had been pretty messed up by a bunch of crazy ladies getting their photo booth on. I then thought it would be fun to share the how-to with you all so figured I'd recreate it real quick like again. That's then when California decided to turn into the windy city of Chicago, and left me feeling very frustrated that mother nature was messing with my DIY plans (remember last week's post about don't DIY in the wind? That's related entirely to this photo booth). Anyhow, long story short I finally was able to take finished shots of the thing but it was tricky in the wind, leaving me a little disappointed in the final results. They're not entirely up to my standard so forgive me, but this DIY is too fun not too share, crummy pictures or not. And after getting my photo booth on every chance I got at Alt Summit, this post couldn't be more timely!  Read on to get the how-to.
Buy yourself some of those inexpensive plastic table cloths from your local party supply store. You can replicate the ombre effect that I show here, or feel free to do a solid screen of colors, totally up to you. My photo booth measured about 9′ tall and 6′ wide, and for that size 4 tablecloths were plenty.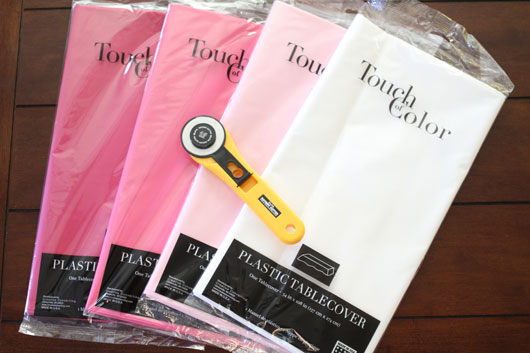 Lay out your table cloth and cut one long strip, measuring about 12″-14″ in length. These tablecloths typically run 10 feet long, so cut along the longest side and you will have plenty of length to work with when hanging your strips.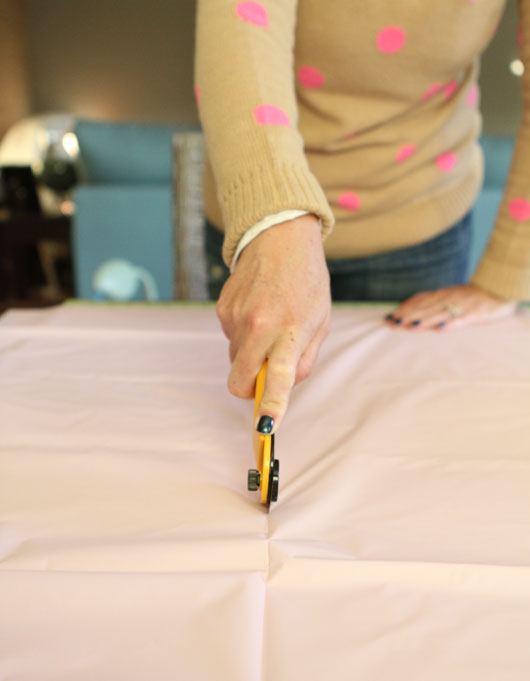 Once your long strips are cut, start cutting slits about 1.5″ wide all along the strip, stopping about 2″ from the top. Repeat all along the whole length.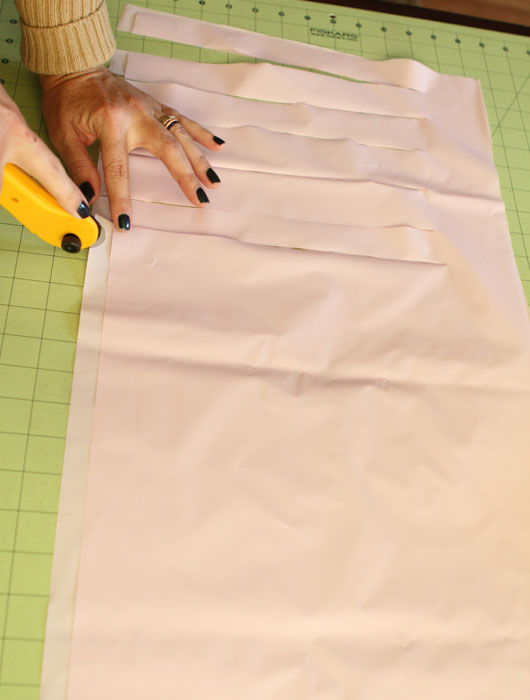 Once your strips are cut, it's time to start attaching to your backdrop. Now here's where assembly will depend on your own set up. I have the Cowboy Studio photo studio that comes with tripods and a white sheet-like backdrop, in which I attached the strips to with staples. You may have enough blank wall space in your home so you can tape it to the wall, but since I have zero blank wall space the photo studio worked great.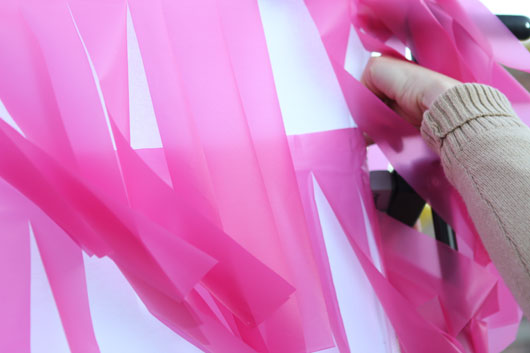 Simply staple the strips to the cloth and proceed all the way down, from darkest to lightest. You want to make sure to tug real tight so the strips hang straight and don't drape down, which kept happening to me when I didn't pull them taut enough before I stapled.
Because the wind was so horrible I unfortunately don't have any pictures of the process going all the way down but I know you all are smart enough to know how to proceed. Once you've stapled (or taped) all your strips, set out some props and make sure you have good lighting, and then go to town!
Squeeze as many girls in front of that photo booth as possible and just have a good time being silly. I think this would make the perfect back drop for a Valentine's Day party, or a little girl's birthday. Simple to assemble and very inexpensive, costing less than $10 in supplies.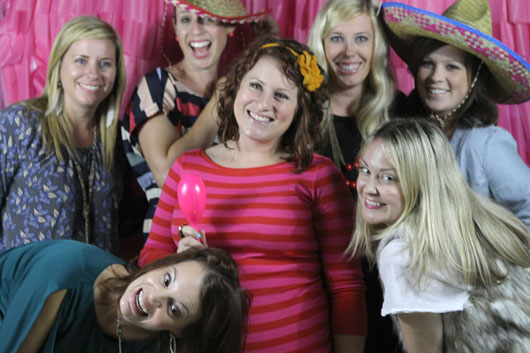 I want to make sure to mention that the original idea of using the plastic tablecloths came from this tassel tutorial from The Alison Show.
And special thanks to the fun photo booth models, Maggie, Alissa, Laura, Kristen, Sarah, and Jen.