Thanks for stopping by! I love and appreciate you taking the time to do so! Let's stay connected on Facebook.
There's two things I want to preface this post with.  Number 1, I consider my artistic level to be at the Kindergarten level, at best.  My son often draws better lines than I do.  Number 2, this is my very first time ever working with watercolors.  I wanted to get that out of the way in case there's any of you out there looking at this saying "No way, I can't do that!  I have no. artistic. abilities!"  I hear ya lady, and I'm right there with ya.  That is the wonderfully beautiful thing about watercolors; it doesn't take much skill at all to make them look pretty.  A smudge of color looks like art because the colors and movement of the medium is just so lovely.  Now that we've got that out of the way, let me share with you my first experience working with watercolor.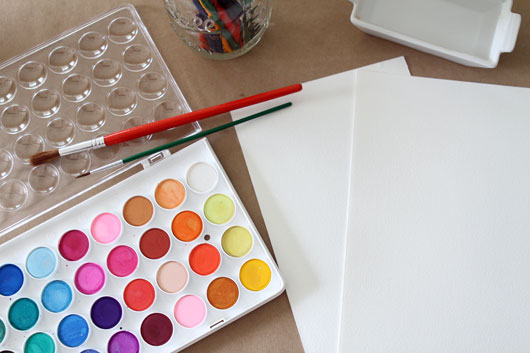 As I previously shared with you, we had Brenda Ponnay instruct attendees at the last Craft Cabinet on watercolor technique, but I was too busy running around refilling water bowls to have one moment to sit down and really play myself. But between listening to Brenda instruct, and seeing Taylor and Syd work with the medium with my Mother In Law (who by the way is a very talented artist), I got the general jest of what I was supposed to do. You can visit the Craft Cabinet blog for a great tutorial Brenda and Jules wrote, outlining how to watercolor in 6 easy steps.  Yesterday I used a combination of Brenda's technique of first wetting the paper with water before applying color, and I also just applied water to the palette and applied color directly.  I can't really say I love one technique over the other, I suppose it's personal preference.  For supplies you do want to get actual watercolor paper, as the colors and water just work better instead of sopping up regular paper.  For palettes and brushes you can certainly get fancy ones, but I just used the Artist Loft series from Michael's and the brushes were $2.99 and the palettes were $4.99.   For my still life inspiration I used this lovely orchid I picked up at Trader Joe's last week.  
You begin by drawing a very rough line sketch in pencil of your subject.  I chose just one flower and pod set as opposed to trying to draw the whole branch, and it turned out better than I expected to be quite honest.  The sketch took me less than 5 minutes. 
I then began filling in each petal with color. There is no science here, really. It's all about trial and error. The only thing I'd mention is if you apply too much color or the color is too dark, you can simply apply a bit of water to the paper and desaturate it a bit.
While I was working on my orchid, Taylor made a birthday card for Grandma. As you can see, even blobs of color can very quickly and easily turn into something recognizable, as evidenced by Taylor's butterflies.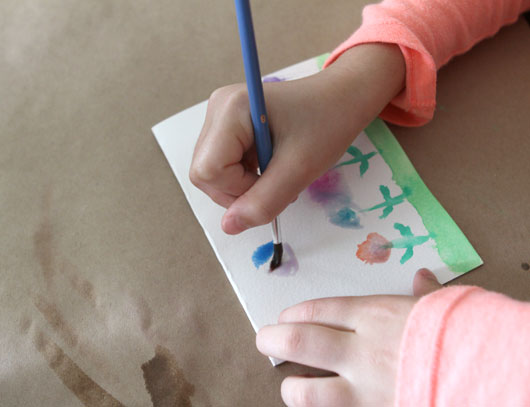 The coolest trick I learned that night from Brenda that I would have never thought of before, was the fill the background with color to make the whole piece look more like a work of art, instead of a lonely flower or whatever your subject matter is.  Simple choose a complimenting color and fill in the blank.
The last thing Brenda had us all do was outline our art in a very fine line black ink pen. Now I'm not sure if I loved this as much, or perhaps for my particular piece, I found it a bit of a harsh contrast, but maybe that's just me?
I decided I wanted a complimenting piece of art to go next to my flower so I did a simple ombre wash of colors in gradating colors. This was so so easy but the results are stunning I think!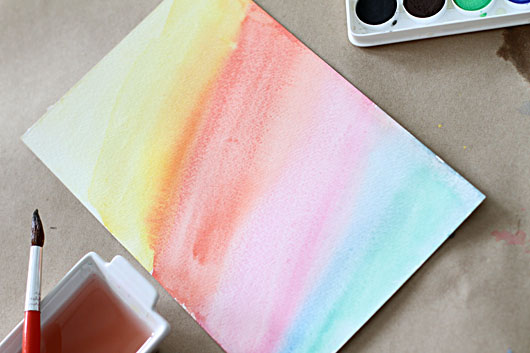 You can place your art in pretty frames (these ones are from Target!), or you can just washi tape to the wall or lean against an existing piece of framed art.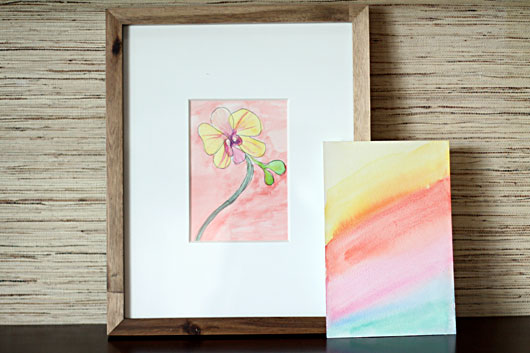 Either way, these make a wonderful, very personal gift to give a Mother, Grandmother or dear friend. And of course it makes an awesome piece of art to display on your own walls, which I plan to do.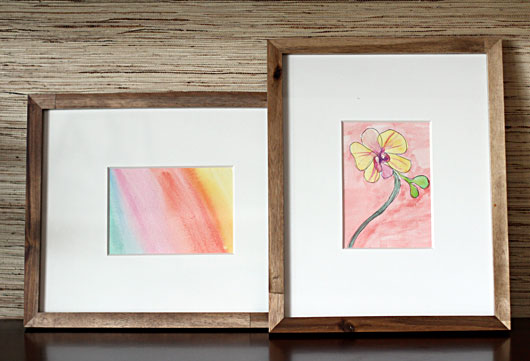 Next, I'd love to delve into geometrics, very similar to Leslie Sherwing's pieces she doodles out like it ain't no thang. Something to definitely aspire to!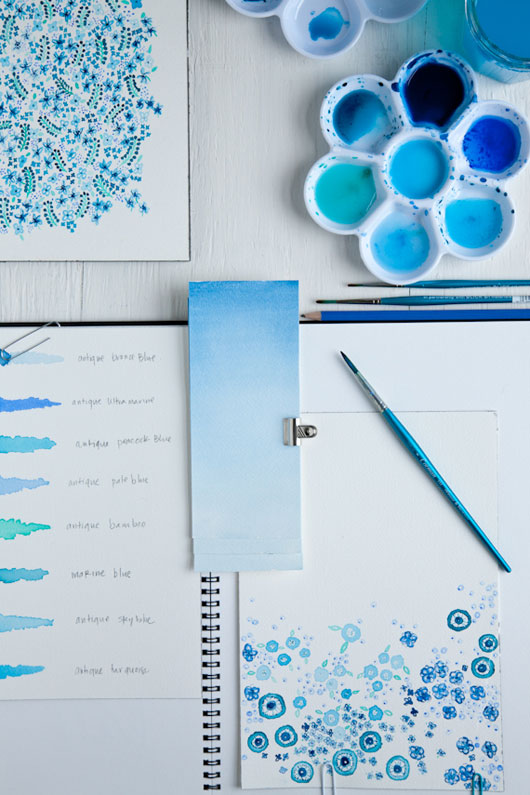 image via A Creative Mint