I signed up for a new boot camp this week, one that's held just minutes from my house in a nice shaded park. The short distance and easy accessibility lured me in, but the workout and community that the group seems to have hooked me. While I'm not looking to add any more "besties" to my roster of friends, I am a firm believer that it's nice to have a plethora of womanly friends in your neighborhood; to hang out with every now and then, ask questions about schools and activities, bum babysitters from, and just know for the sake of knowing. Our town is big, and having more familiar faces to run into when out running errands makes me feel like I live in a small quaint town instead of the behemoth of an area it actually is.
So as I was getting ready to leave I started talking to the trainer and she was telling me about all the fun activities they do together, including an upcoming overnight girl's trip to Catalina. I told her thanks but no thanks, I'm still nursing. She looked at me and didn't mince words with her reply. "You ARE?!? Gawd! I couldn't do that!" I just sort of laughed and brushed it off, because really, I don't care. But yes, I am still nursing, and plan to let baby boy self-wean, at least until he's about 18 months, then we'll see how it goes from there. I don't plan to take him into the preschool stage, but if we go till 2, then so be it.
I was getting lots of requests after I had Hayden to do a nursing series style post, and it may have taken me a bit of time, but I'm finally here to share some tips on how to dress while nursing. Nursing and dressing are still very much a part of my day to day, and while it may not be as frequent as it was a few months ago, or take as long, it has gotten more interesting. Hayden hates the cover now, and I can't say I blame him much. So it's been a struggle out in public lately to keep the boobs contained and nursing discreet. A couple of weeks ago I showed an older couple my left breast right in the middle of the Nordstrom Cafe. I had the cover on and Hayden somehow grabbed and flung it so hard it just came right off. The kid's got talent,I'll give him that. The older couple proceeded to get up and leave within minutes.
So with a combined 3+ years of nursing experience under my belt, I thought I'd share just a few of the styles I love and despise for nursing friendly sessions, and very much centered to when you are out and about. When you're at home it's all fair game. Obviously you don't need me to tell you, wear what you want, and what will make for the most comforting nursing experience for you and baby.
Let's break it down by do's and don'ts  (based on ease of nursing, not fashion rules):
When Wearing Dresses: Do go for dresses made of a stretchy cotton knit, with straps or sleeves which can either easily slip down, like the gray dress below, or a criss-cross bodice which can be moved to the side. Strapless also works well, as long as the material is stretchy. Don't go for tight, unforgiving fabrics which don't have a zipper or only a zipper in the back. It's quite embarrassing to have to take off the whole top of your dress just to nurse, or inconvenient to have to seek out a room to hide in and do this. I had this exact problem when I wore the red and black striped dress below. Also on the subject of dresses, if they aren't stretchy and there is no opening by way of zipper or buttons, you'll be forced to pull the dress up to nurse, as I had to do with the paisley dress. Now, I don't want to get into what's considered indecent or embarrassing or the like when it comes to nursing, because that's all up to personal interpretation, but I will say that all these means are inconvenient, so just avoid them if you can!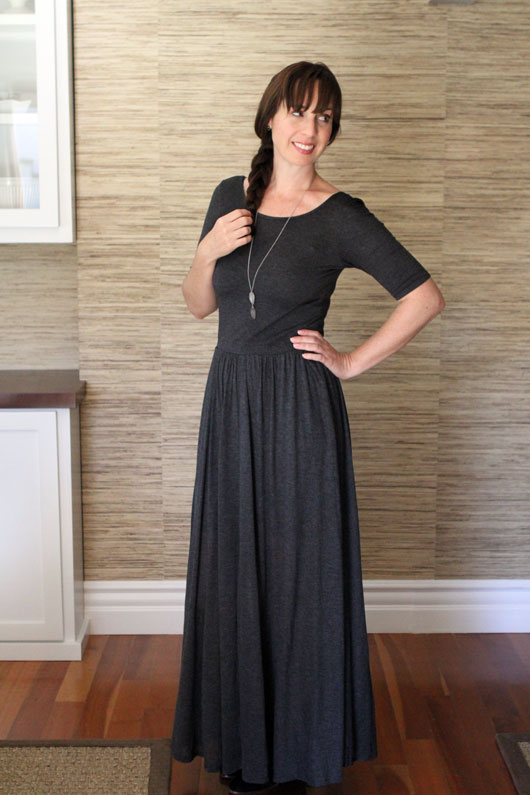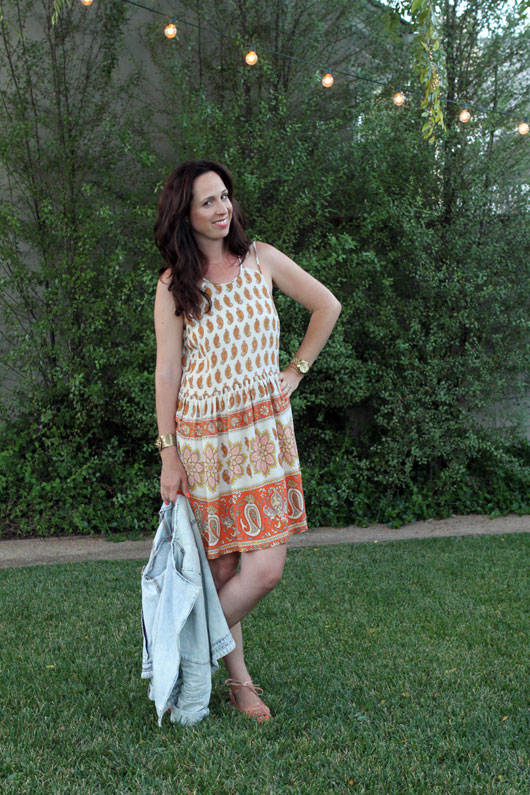 On Fabric Choice: Obviously softer fabrics are best because they feel good for you and for baby! Cottons, knits, worn-in chambray, maybe even cashmere if no one's allergic. But be wary of luxury fabrics like silk, as breast milk does a number on them and the milk stains require dry cleaning to remove. Even if you wear breast pads to contain leaks, don't forget that babies often leak themselves when nursing, and can dribble little bits of it all down your shirt. I learned this the hard way with the neon silk blouse below. Also be careful with wool, as some babies, especially those with eczema, can have a bad reaction to the fabric rubbing on their cheeks when nursing.
Embellishments: Pretty baubles, from flashy necklaces to sparkly sequins are all pretty, but keep in mind that they attract a baby's attention like nothing else. I used to like wearing long and sturdy necklaces when nursing because it would give Hayden something to focus on, and in fact, women make and sell handmade nursing necklaces just for this purpose. But the older he's gotten, necklaces during nursing sessions cause a distraction and make me uncomfortable because he's constantly pulling on me. Sequins are lovely, but are really irritating to baby's skin and your own. I wore the sequins top below on Christmas Eve, when Hayden was still just a little baby, and several nursing sessions over a 6 hour period at my parent's house left little scratches on the side of my body from pulling up on the top, and on Hayden's cheeks. No good for baby or momma.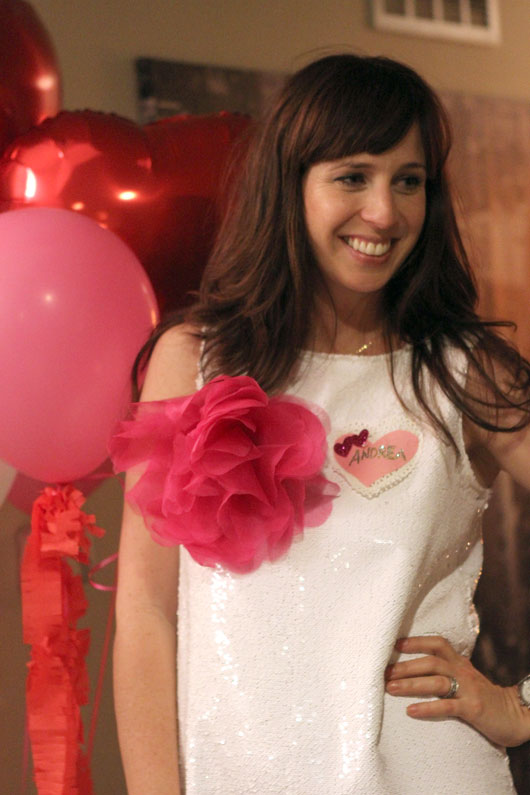 General Nursing Friendly Silhouettes: As far as I'm concerned, as long as your shirt will give a little bit, isn't too delicate and can be washed with ease, any style is fair game. In the beginning when you're going to be nursing constantly, button up tops work best, but as you get further along and nursing speeds up and slows down in intensity, t-shirts, tank tops, sweaters, chambray button ups and just about anything that can be pulled up or pulled down is great. If you're self conscious to pull your shirt up or down in public, just invest in a nursing cover.
I really think we limit ourselves when we label clothes "nursing friendly" or "unfriendly", and try to figure out a wardrobe for a task we perform a few times a day, and decreases over a fairly short amount of time. We're better off just trying to make your current wardrobe work as much as possible, within reason of course. I never really bought into the idea of buying nursing clothes either. Rather, buy for the long term, and unless you're planning to nurse for the next 5 years, this phase will come and pass before you know it. And between you and me, those blasted nursing tanks look best when worn under a shirt or at night as pajamas. Running around in broad daylight with those things is basically advertising to the world that your boobs are in production. Breast feeding is a beautiful thing, but no reason it has to change how we present ourselves to the world while we're doing it.
Let me know if you have any questions or if I left anything out. I loved my Petunia nursing cover because it zipped into a tiny self-pouch in a snap. I also love these soft and comfy bras by Coobie, for those of us with smaller girls which don't need extra duty support. I still wear them at night because my breasts are too sensitive to not have some coverage against shirts. I easily just stretch the fabric down and nurse away.