Well as it turns out, the DIY project I was the least "excited" about ended up being the one I love the most.  A couple of weeks ago while at the flower mart in Downtown LA I saw vendors selling these magnolia wreaths for upwards of $40-$50.  I had already bought the supplies to make my own, but had been putting it off because I thought it was going to be much harder than it turned out to be.  I did a little snooping at the wreaths at the flower mart and turns out all they used to assemble them was simple florist wire.  I was trying to complicate things with getting water tubes and all that, but as with many DIY's, it's often simpler than we make it out to be.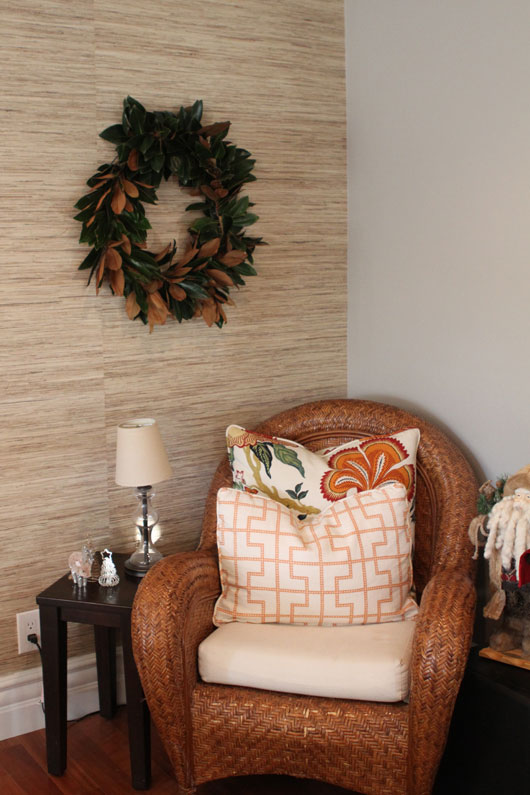 So why magnolias?  Well I have an affinity for them and have had one for a long time.  After all we have a huge magnolia painting hanging in our living room, and we recently planted 3 Magnolia Little Gems in our backyard.  I love the glossy green top leaves, with the fuzzy brown underside, and the flowers in bloom are spectacular.  If you don't have a magnolia tree in you yard, hunt around the neighborhood and snip a few branches off.  Grab a metal wreath and some florist wire (both can be found at Michael's), and some little wire nippers or a strong pair of scissors, and you're good to go!  Grab a little helper too if you need to.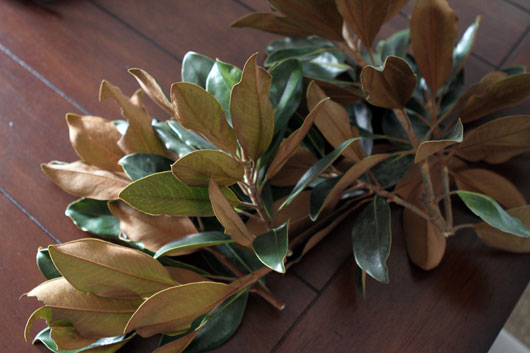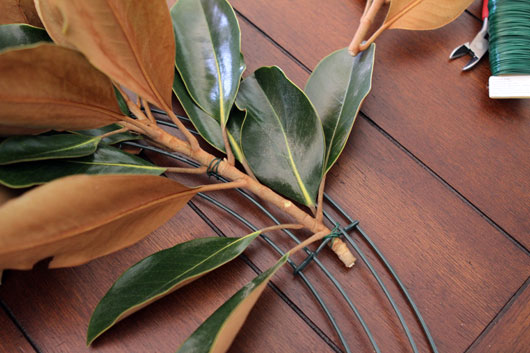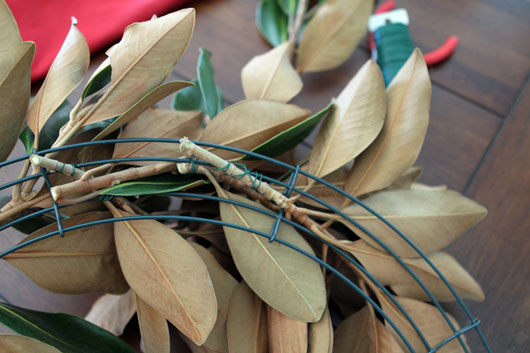 Just start in one spot and stick small sections of branches and leaves in at a time, wrapping against the frame with the florist wire.  Go all the way around, and as you'll notice, there will definitely be some holes.  At that point take smaller sections of branches and little leaf bundles to fill in.  The man at the flower mart says these will last without water for the whole holiday season, so weeks at at time.    The thing I love most about magnolia arrangements is that they don't scream the holidays, so you can definitely make and use this year round.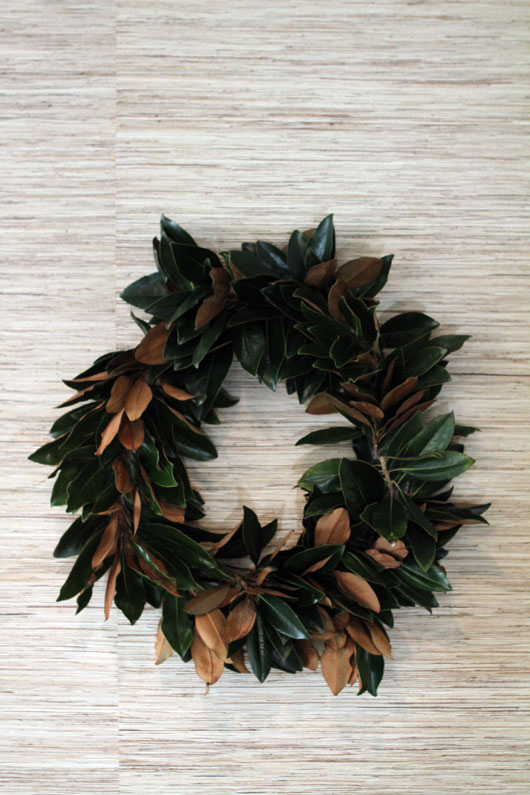 I at first was stumped where to hang my wreath since I already have a front door wreath I love, but then I figured wreaths don't have to just be limited to outdoor decor, so hung it above one of my favorite corners in my house.  I think it looks like it was made to hang there, don't you think?
Let me know if you have any questions or if you try to make your own.  Another idea is to also use olive branches, Japanese boxwood or any type of hearty and pretty evergreen.  The flower mart had so many options it gave me some great inspiration.