Morning and happy Monday. I managed to stay offline for the weekend and it felt wonderful. This week I have a few fun things planned for you all, focusing on A DIY Holiday! I'll be providing several DIY's that you can make, use or give this Holiday season, and the best part is they all take minimal time, effort and cost. All things you could easily whip up next week in a pinch!

I wanted to start out with a fun DIY I actually did for The Land Of Nod's blog, Honest To Nod, but certainly no reason why I can't share it here to! Plus I thought it only befitting to kick off DIY Week with some neon. Here is a quick and simple project to add some custom artwork to any room in your house, in any color or design you wish. I just happened to use neon for Hayden's room. Here's the simple how-to.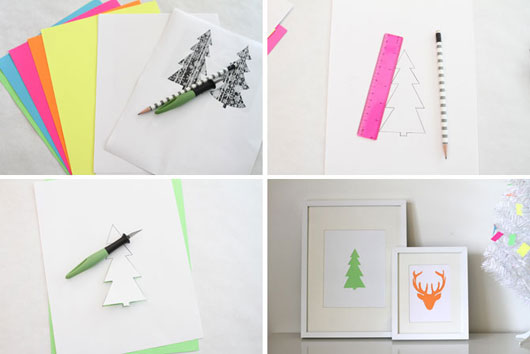 To make the reindeer and Christmas tree cutouts, you simply print out a graphic in the print you want, trace with a pencil onto a sheet of cardstock, carefully cut out with an exacto knife and then place a brightly colored sheet of paper behind the cut out to make it really stand out. Frame and hang, and you have affordable DIY artwork in less than 30 minutes.
For the garland just cut out an assortment of triangles and rectangles and fold over twine and secure with tape. They look adorable strung on a tree or around a lampshade.

To make the Christmas tree sitting on his nightstand, I simply used one of my favorite craft purchases ever, neon artist tape, and cut out strips to make a very linear looking tree, and applied to white card stock. Frame and you're set!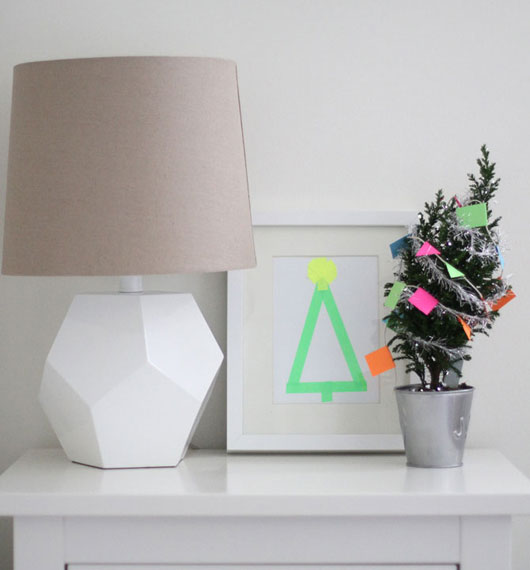 Quick updates to a room to add some holiday cheer, with a neon twist. All pieces of artwork, including the mini banner took me less than 30 minutes and were used with supplies I already had on hand so it cost me nothing. I left the existing artwork in the frames and just added these, so when the holidays are over, all I have to do is open the frame up and remove the neon holiday art to go back to business as usual. So what do you think, do neon and Christmas work together? I love it and it reminds me a bit of the 70's Christmas decor I remember my Grandma having in her house.

Of course these would make great gifts too, and the designs don't have to be limited to just the holidays. I would love to make a big monogrammed letter to give to a friend for a hostess gift or Secret Santa gift.