This DIY was originally inspired by a friend's bead dusted Anthropologie beanie. I loved the shape of the beanie, that it fell loosely to the side just a bit, and the tiniest bit of sparkle was added to it in the form of a bead, instead of a sequin. You all know how much I love beads! But when push came to shove, the DIY just didn't work out. I think the knit was just a bit too chunky because the beads just kept getting lost in the beanie. So I switched to plan B and decided to add some studs that I had on hand, and I quite like the way it came out!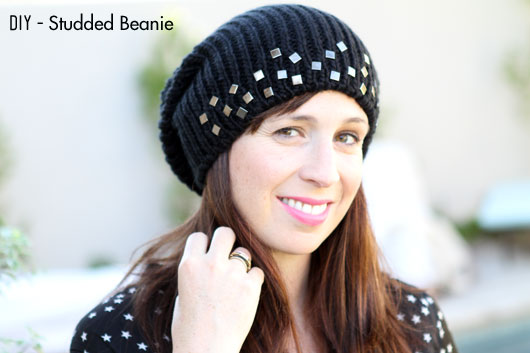 The how-to is so simple it hardly even calls for a tutorial, but I'll give you one anyhow just because I like to be consistent and thorough. I started off with an inexpensive Massimo Men's beanie from Target. I tried the beanies in the Women's section, but they were all too tight and none of them had that floppy feel to it. The men's beanie is actually the kind that is supposed to fold over to make a cuff, but if you leave it unfolded it creates that nice loose, floppy look. It cost $14.99 and the package of studs were $1.50 from my favorite bead store.
I laid out the beads in a sort of haphazard fashion, only on the front to avoid making it feel too weighted or chunky, and then just started clamping the prongs shut with my pliers on the inside of the beanie. That is seriously all there is to it.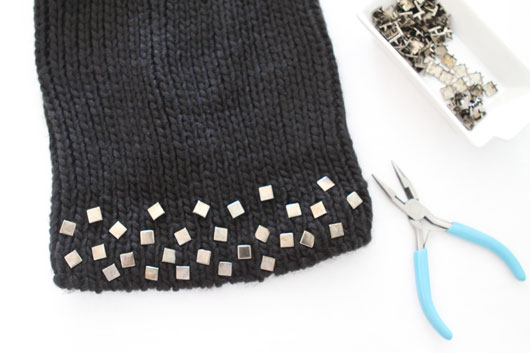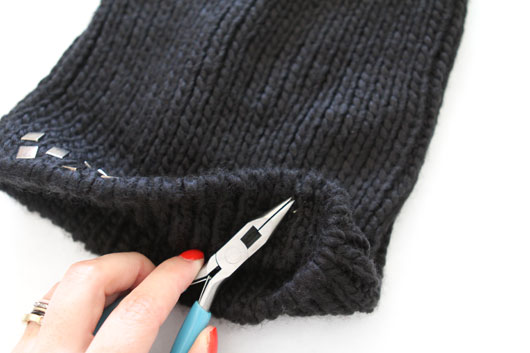 And there you have it.  A quick and inexpensive refashion DIY that you can keep for yourself, or gift to a very good friend.  If you don't have a good local craft store that would carry these studs, you can find any size, shape and color you want on the M&J Trimming site.  This is what turns up when I just search for gold studs and spikes.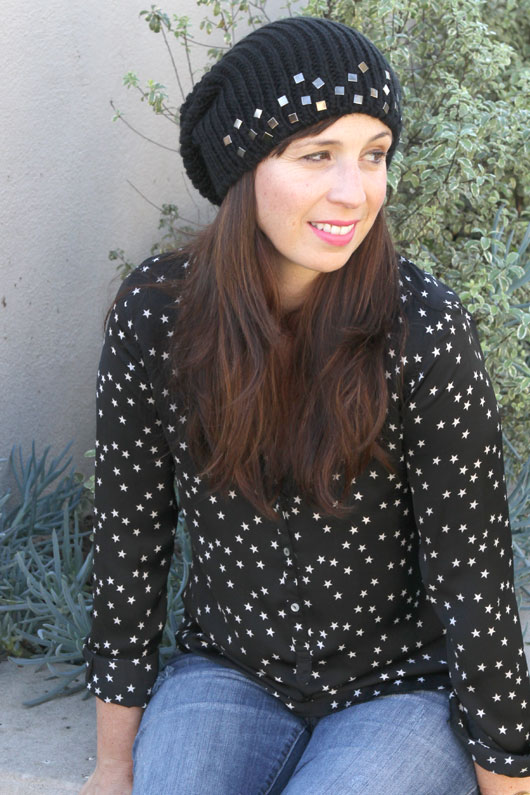 Star Blouse – Zara; Lauren Conrad for Kohl's Skinny Jeans//To see the rest of the DIY Holiday projects to MAKE, GIVE or USE, please visit here.