It's Friday and we made it! Just a few more hours to go in the work day and then we can sit back and relax! Well I won't be doing much sitting back because tonight is The Craft Cabinet, and my mind is slightly blown at what Jules and I have pulled off in the last 3 weeks.  Secured a venue, catering, rentals, tons of amazing swag from amazing and generous vendors, and fabulous ladies in attendance!  We both can't wait for tonight to start so we can see it all come together.  And then rest tomorrow!  I can't wait to share pictures with you all next week at some point, but until then, I thought I'd share a bit from a Press Fall Preview event I went to on Wednesday at Neiman Marcus Topanga.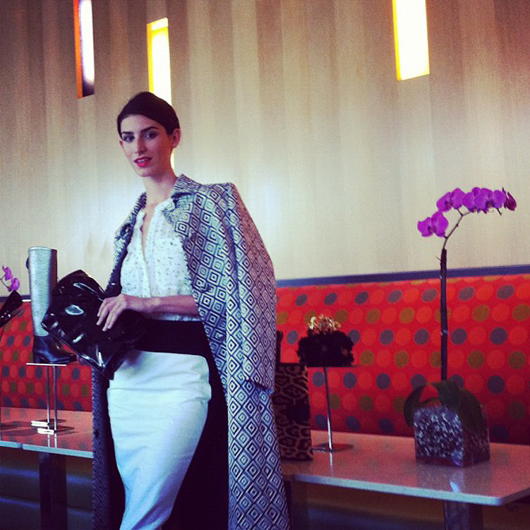 The morning was all about Fall 2012 and the upcoming emerging trends for the season.  Some of the key trends that I loved the most include: mixed prints; "borrowed from the boys" inspired dressing, abbreviated pants, smoking flats (my favorite!),  brooches and red lips, mixed shades of green, and the jacket as your statement piece.
(first two photos taken by the lovely Sarah James)
I love this dress above so much.  I am so eager to get out of maternity clothes and into my regular wardrobe.  This dress is classic me; great pattern, love the colors and the silhouette is classic yet still a little daring with its shorter hem.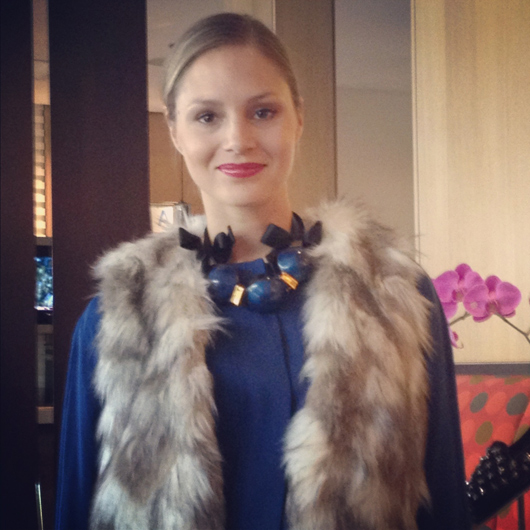 The necklace above is from Marni.  As a DIY'er I instantly think how I can replicate jewelry I think is drool worthy.  Granted the materials alone to replicate this would cost a fortune, but it would still be fun to try.
The picture of this bag was a little blurry, but you get the idea.  Platinum metallic glitter with a metal chain edge.  Mixed media play at its finest.
And I have to say, Rachel Zoe may not be everyone's favorite stylist, but the woman has talent.  Her new jewelry line is outrageously gorgeous.  And finally, a season where I don't have to feel unglamorous for not wearing heels.  These Miu Miu flats with the crystal studded heel are perfection.
The majority of my professional career was spent going in and out of Neimans, Saks and Nordstrom stores, working with product that quite frankly I couldn't necessarily afford, or at least didn't want to go into debt for.  But there is still something worthwhile about keeping up with the luxury brands, because for the most part they set the tone for the rest of the season.  I still love and appreciate visiting a Neiman Marcus store for their interpretation of trends and how meticulously they curate their racks.  They provide inspiration to me every time I visit their stores, so while I may not be able to afford the Prada jacket or Chloe skirt I saw on Wednesday, I can still appreciate the workmanship and beauty of the product, and figure out a way I can reinterpret it into something I can afford.  To me that's what fashion is all about.  If we were all wearing the same brands and could afford the same things, it would be very, very boring don't you think?
Thanks Lisa for a fun event!  I had a great time as always and now can't wait for Fall.  I may have to splurge just a little on those Miu Miu smoking flats too.