I make a lot of canvas totes, rather, I dress up a lot of canvas totes. It's been an obsession of mine for a couple of years now. And yes, I do use them all. I give them away as gifts, use them as gift bags, use them as grocery bags, overnight bags for the kids, beach bags, really the possibilities are endless.  Here are 4 of my favorite neon inspired DIY tote bags that can all be made in less than 15 minutes (if you don't count the drying time).
I love the look of watercolors, so to achieve this bag I first practiced creating a simple gradation of colors on artist paper.  I liked the blue and green color combo the best, and gave it a beige base.  Brush on your fabric paint in light strokes, making sure not to saturate the color so it's a bit translucent, and then layer on your next color so they overlap.

I love how sweet and simple this bow bag came out.  Print up a pdf of a bow shape you like (I always just google the shape I'm looking for with the search term silhouette – so 'bow silhouette').  You're going to do a reverse stencil here, so iron on your bow, and then paint around it.  Peel off the bow once dry.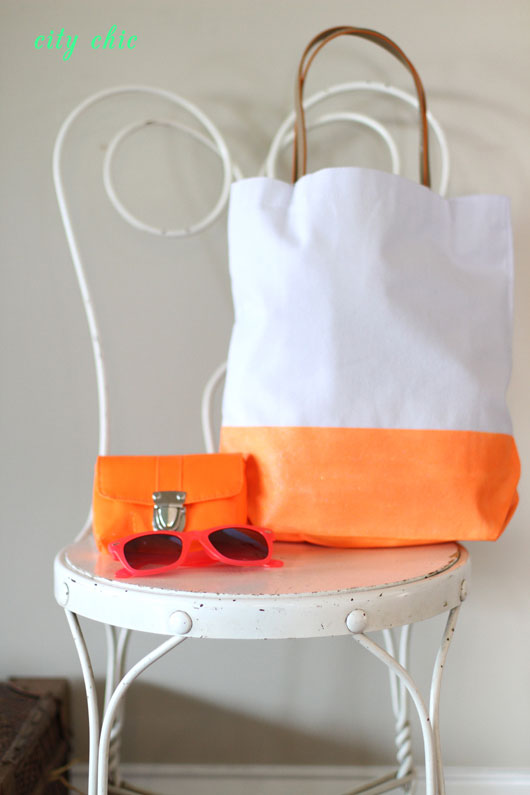 The painting of this bag is super easy.  Just add a strip of painters tape and paint the bottom half (I did paint both sides and underneath too to give it a more sophisticated look).  I went a step further and added leather straps by taking two inexpensive leather belts from H&M, cutting them to the desired length, and then sew on in place of where the canvas straps were.  Make sure to use a leather needle in your machine.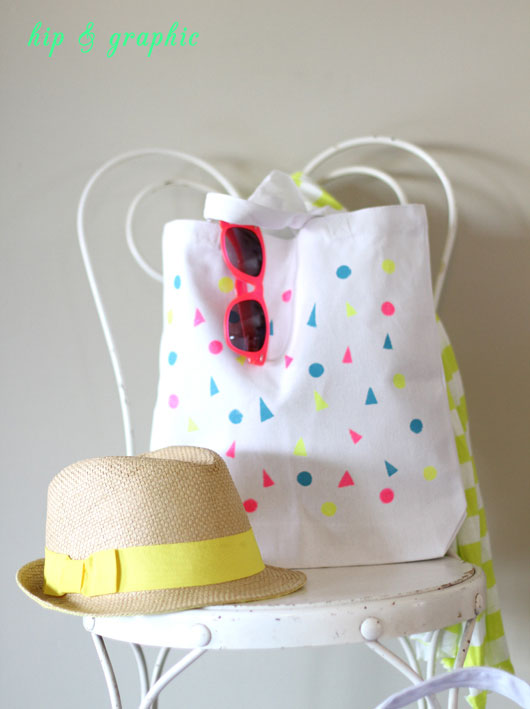 Using the same technique as I used in my t-shirt yesterday, cut out your desired pattern onto your freezer paper, iron on, and then paint in.  Let dry and peel off.
Let me know if you have any questions!