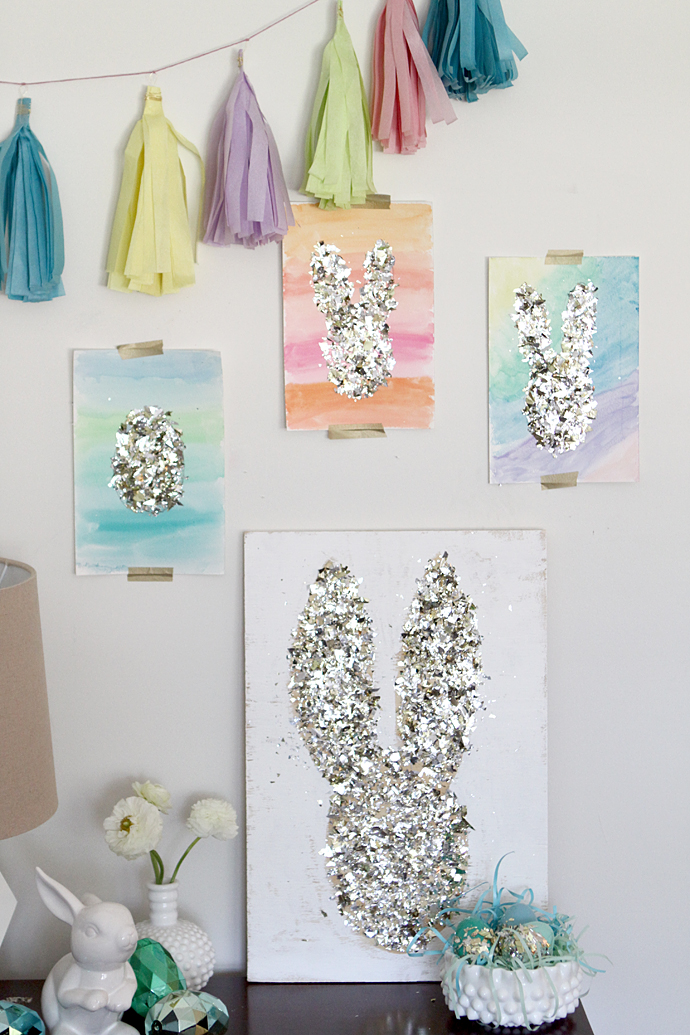 One of my biggest spring break projects to tackle during our 2 week "vacation", is to clean up the craft cabinet. What was once a hyper-organized collection of beautiful supplies and tools, has since become a tangled mess of hoarded craft projects and things I don't need. So I've been going drawer by drawer, shelf by shelf, and getting rid of the things I don't need, and dreaming up projects of items I could most certainly still get some use out of. That's where my watercolor palette and gold confetti dust comes into play. I love both so much, and yet they just sit in the drawer, all lonely. So since I hadn't yet decorated for Easter, I came up with a project to get some use out of some of my favorite, but very lonely craft items. I also love this Easter craft project because the kids can definitely get involved in it.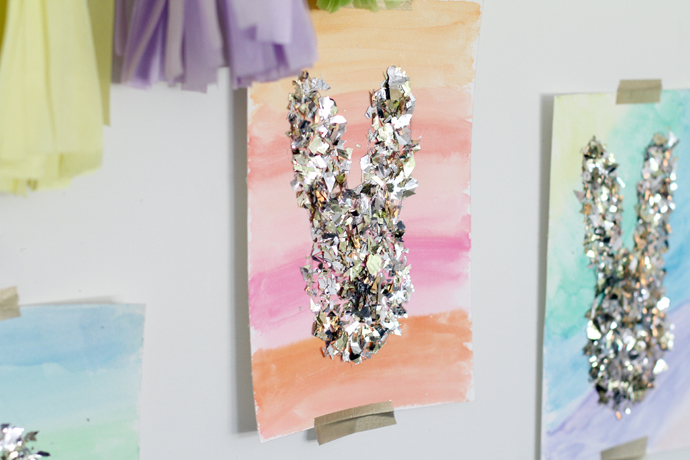 To make some last minute disco gold confetti Easter art, here's what you'll need my friends.

Supplies:
Watercolor paper (make sure it's nice and thick, this is the pad I use, which I love)
Water color brush & brush for Mod Podge
Pencil
Mod Podge
Gold confetti (you could also use gold glitter if you have it. The point is to use what you've got, and make it disco sparkle)

Begin by making some pretty watercolor art, in whichever color pattern your heart desires. Watercolors are very easy to work with if you're just making abstract pretty art, and you can read how to work with the medium in this post.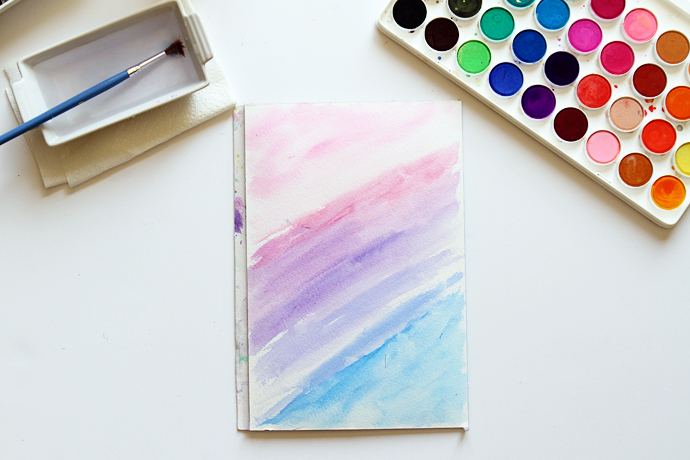 I created a color gradation from pinks to blues, but get creative and do whatcha like. Let dry completely.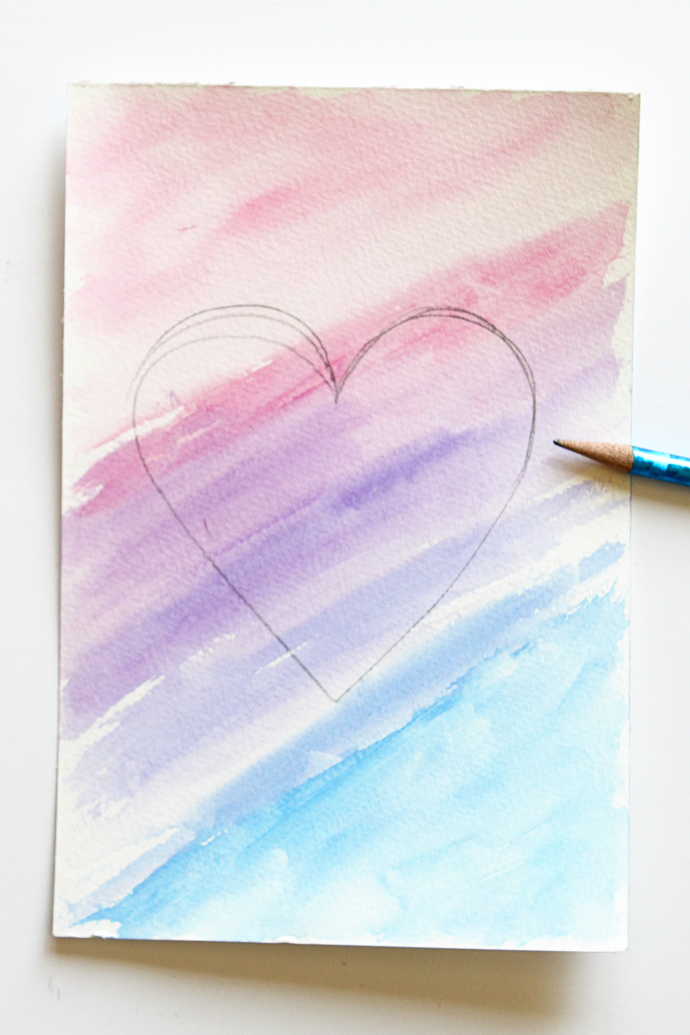 Draw a graphic shape in pencil, and don't worry about making it perfect or having to sort of re-correct your work. The glitter confetti will cover it up once all is said and done. The key here though is to create large shapes and pictures, nothing intricate like a flower, which Taylor tried to do and it just came out like a big blob.
Then fill in with a light, but not faint, layer of Mod Podge.
And then sprinkle sprinkle sprinkle.
Once you've filled in your shape, apply very light pressure to adhere the big chunks of confetti to the Mod Podge, and then shake off. You may have to use yuor finger to gently push away some of the larger edge pieces of confetti that may be obstructing your view of what the actual shape is, but no biggie. Your shape will quickly show itself and be very happy.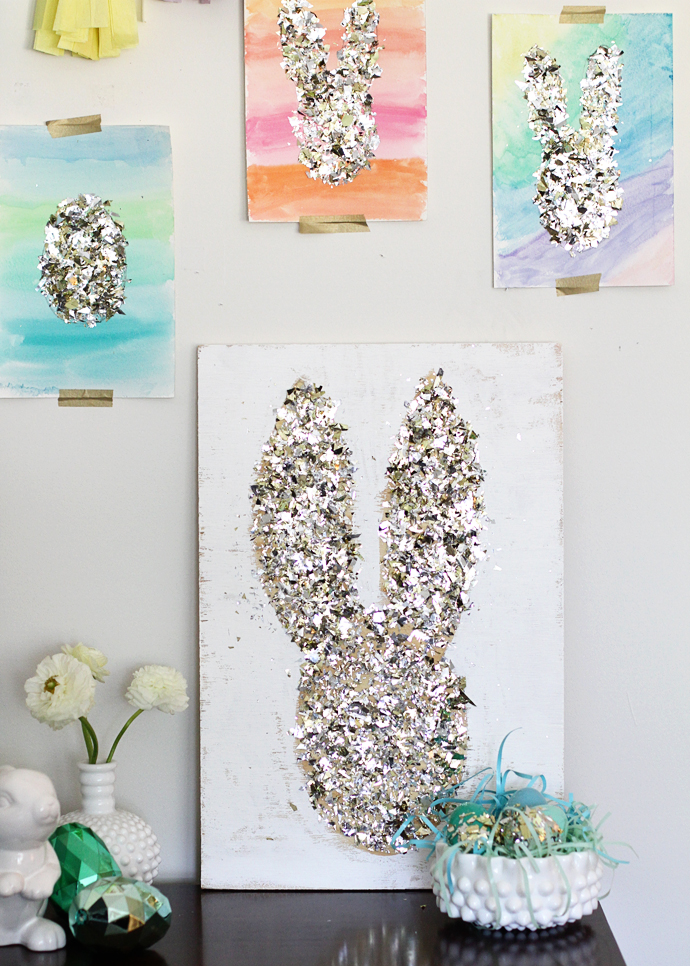 To make the large wooden bunny, I simply took a leftover piece of plywood from the Cricut event, and applied the same exact concept as above, except instead of using watercolors, I used acrylic paint. I made sure not to apply the paint too thickly though, to create more of a weathered look.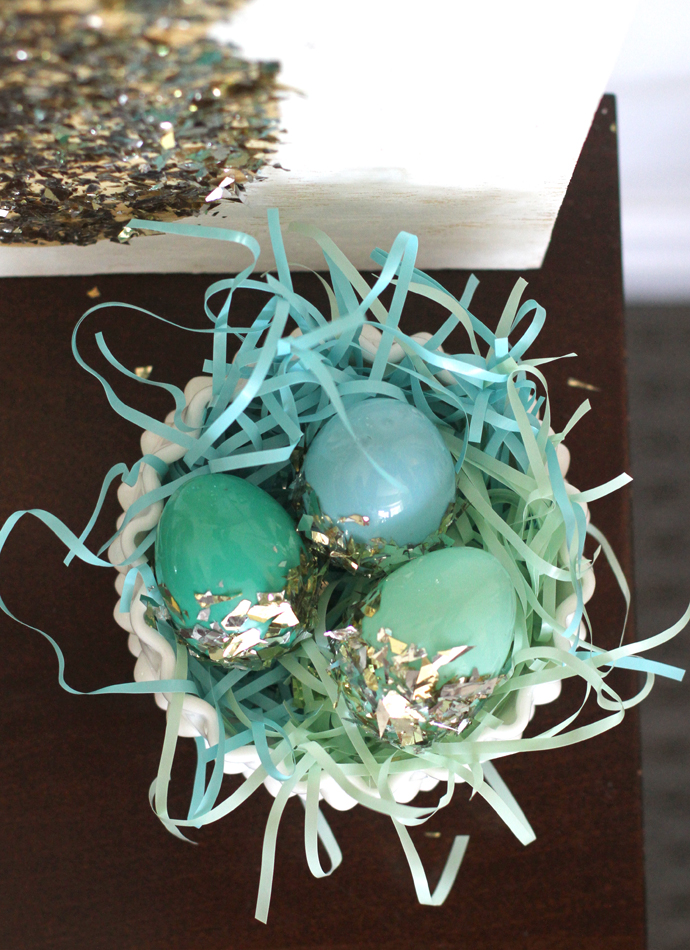 Before I knew it, I was shaking that confetti on all sorts of things. Plastic eggs. The dog. Hayden. It got crazier than Studio 56 in here.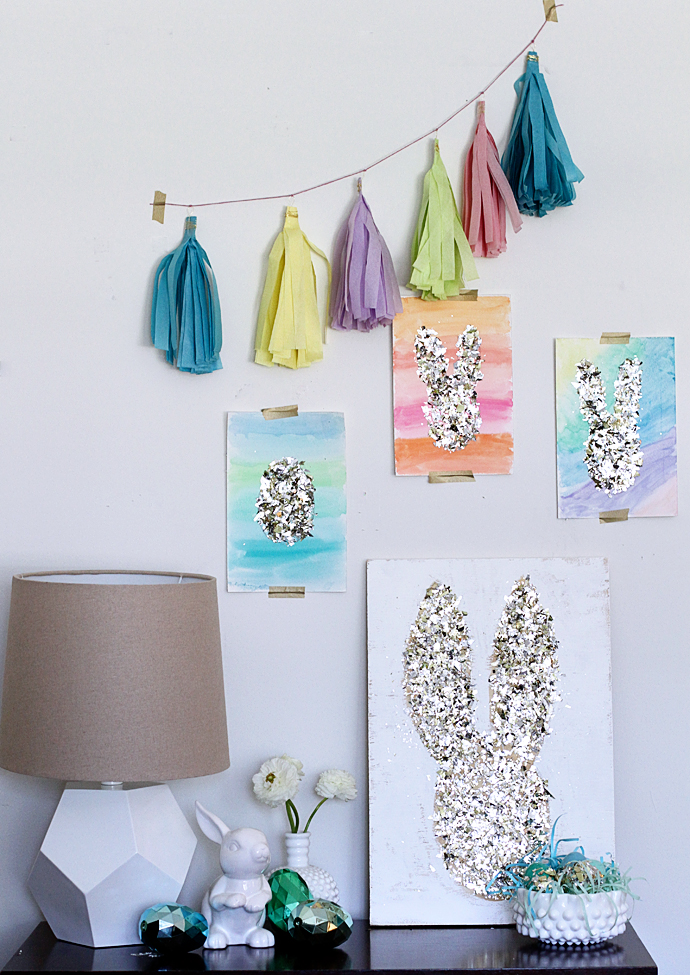 I even started creating other pieces of artwork to hang around the house (the heart preview is for another project), and I just love how they come out. They pick up so much light throughout the day, and especially at night, and definitely add a festive touch to the room.