I've grown to become really fond of Valentine's Day, now that we're a little family. Art and I always manage to spend a little special time together, either before or after the actual day, but for the past few years, we've made it a day to spend special time together as a family. This year the kids have the day off for the long weekend, so Art is planning to take a half day, and then we'll visit our local aquarium where we already have passes to, then do homemade pizza dinner at home. We really didn't want to spend any money, so while we initially thought of taking them miniature golfing and even to Legoland(!), we decided to keep future expectations for V-Day low, and so a simple visit to see the fishes will do. Honestly they'll just be excited to have Art home early from work.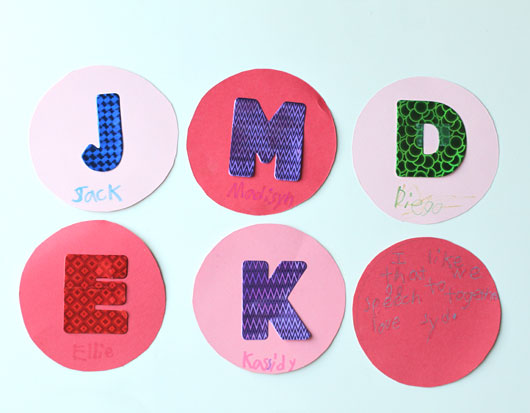 We made our Valentine's by hand again this year, and it was the first year both kids really took part in making them in their entirety, from start to finish. For Syd's, I just happened to have 25 cut circles leftover from our ombre hearts, so he thought those would be cool to use. I also had leftover sticky letters from a past birthday project, so he decided to use those too. It's the one nice thing about hoarding craft supplies, you always seem to find a use for the things eventually.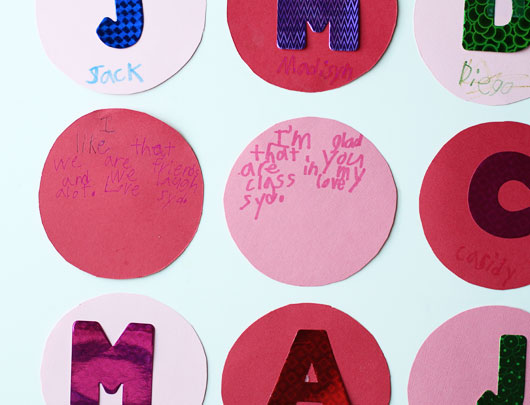 I told Syd a simple "Happy Valentine's Day, from Syd" would do just fine, but he really wanted to personally write a note to each of his classmates, and so he worked on them over the course of 2 days. For some kids, who he doesn't know all that well, he just wrote a simple note saying he was glad they were in class together. For other pals which he plays with on the regular, he wrote cute notes saying he was glad they "chat during recess" or he was thankful for their help when he "gets stuck" on his classwork. They weren't perfectly styled or nice and neat, but they were personal and he was soooo excited about them, proudly packing them away in his backpack this morning.
Taylor had remembered the banner and gift tags I made for Christmas, out of sparkly pipe cleaners, so wanted to do something similar. I took photos of said project, and never found the time to post them on the blog, but these will give you an idea. I took silver and gold pipe cleaners and bent them into shapes, adhering them on to cardstock with a hot glue gun. We came up with hearts for the girls and arrows for the boys. I was struggling with the arrows for some reason, or rather just didn't have the patience for them, and suggested we do hearts all around. She quickly rejected that idea because apparently starting in the 3rd grade, hearts and boys don't mix.
So she valiantly took on the job of making the arrows, and did a fine job I must say. Even after all these years of craft experience, I still fumble when using the hot glue gun and never escape burn-free. She on the other hand never even felt the heat. I was quite impressed, and quite proud.
For the backs of the cards, she decided to use my stamp set to stamp the first initial of each kid all over, and then wrote a simple message to each one. Very sweet and simple, and very perfect for 3rd grade.
I saw a little rumble from some moms, feeling the pressure to make these elaborate handmade valentine's cards for their children. It's hard to feel okay with what we do as parents in this age of social media and Pinterest. The only thing I really have to say on the subject is there's a lot things we don't do in this house, which are cool or pretty and perfect, or Pinterest worthy, but some things we manage to scrape together, handmade Valentine's being one of them. It's just sort of our thing. There's lots of other things we don't do, and I'm sure the same can be said in most households. Let's celebrate all the small and unique ways we somehow manage to make our kid's days special or different.
I do have a confession to make though. Last night, I fell asleep early, before I finished dipping each cookie in chocolate, and woke up early this morning realizing the kids didn't have any treats to pass out. So I ran my butt over to Sprouts and bought some of those organic lollipops, taped them on the back of each card, and called it done. Oh well. I sent what cookies were complete to the kid's teachers, and will enjoy the rest here at home.