The good thing about taking outfit pictures of yourself, even if they don't all get published to the blog, is that you start to get a good idea of the clothes you gravitate towards on a regular basis.  This can be really helpful in helping to decipher what your true sense of style is all about, and not to mention, it is very useful in helping determine your style for your life.  While I might think a must-have item to add to my wardrobe is a black leather moto jacket, by looking over what I really wore over the past year, I can see that I hardly ever wear the brown leather jacket I already own, so is a black one going to get that much more use?  Probably not.  I can see that I wore the heck out of my blazers though, so maybe that's where I should invest my "jacket" dollars.  Do you see where I'm going with this?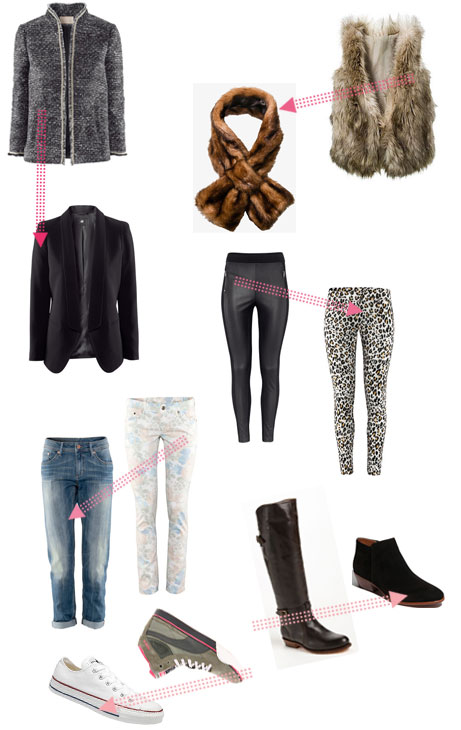 The Fall/Winter season is almost over, and it occurred to me the other day that many of the items I felt were "must haves" I was actually able to get through the season without, just fine.  Side note, when I say "must-haves" I use that in a very lose sense of the word.  I know that when it comes to clothes, nothing is a must-have.  For instance, last September I started a search for a pair of faux leather leggings because I loved the look, and felt they would be the perfect fun addition to my closet.  I tried on several pair and never found any that I loved, so here we are at the end of February, and I can see that I got through the season unscathed, with no leather leggings.  I still had plenty of things to wear all season long, and my world continued to turn.  I then started thinking of all the things I had on a wish list these past few months, and what I lived without and used as an alternative.  I thought I'd share it with you.  Perhaps this little exercise will help you better evaluate what your own wardrobe "needs" are, and maybe even think harder about making some of those purchases, as we start a new season.  I will attend a Spring season preview at Neiman Marcus next week, so it will be interesting to take a look at their trends and make another "must-have" list, and see what sticks and what loses out to reality.
1. Textured/tweed jacket – these were all over the trend reports last season, and the very lady-like tweed jacket filtered down from top end designers like Chanel, all the way to Target. While I have an affinity for a textured knit jacket because of all the years I spent working at St. John, I decided in the end that for my current lifestyle as a mom of a newborn, the look was just too much. I still love the look paired back to jeans or a pencil skirt, for right now, my trusty blazers helped fit the bill whenever I was in need of feeling pulled together and polished.
2. Faux fur vest – I love a pretty faux fur vest, it's so Rachel Zoe bananas right? But again, after evaluating my lifestyle and being honest with myself about how often I was going to be able to wear it here in Southern California, I realized that a scarf would fulfill my faux fur needs just as well. It was January before I felt like I finally emerged from the newborn fog, and by then temps were already up in the 70's again. Maybe next year.
3. Faux leather legging – If I had found a pair that fit, I probably would have bought some. But since I didn't start actually losing some of the postpartum weight until recently, I just didn't feel comfortable in them. A pair of $15 leopard leggings from H&M helped fill the fun legging void in my life.
4. Printed Denim – I stuck to my guns and didn't buy anymore jeans aside from my LC skinny jeans, and even though I really wanted a pair of cute floral printed denim, I just felt that it would be a waste of money in the end. Instead I stuck to my trusty boyfriend jeans a lot that are a very generous fit, as well as my LC skinnies.
5. Riding Boot – I have a black and brown pair of riding boots, both over 4 years old. I figured I could invest in a new pair of black ones this past fall season, and brown next year. As it turns out though, I found that my ankle booties were much more handy, comfortable and functional to wear on a regular basis than knee high riding boots. I ended up adding the black Sam Edelman Petty booties to my closet and saved myself a penny, because riding boots are pricey, even on sale!
6. High Top Trainers – In my head I imagine I can still pull off looks that I pulled off in Junior High, like high tops. In reality though, I am more of a Converse gal, and feel much more comfortable in these. Sticking with my Chucks saved my wallet and my self esteem, because I would've ended up feeling like a dork walking around in these.