Chopping off my hair still seems like it just happened, even though it was so long ago I already have 2 inch roots and I need more than a trim, for which I'm going in tomorrow for. I figured before I decide to grow my hair out again, I should probably publish this tutorial we took the time to shoot back in September, right after I got my chop. We shot this right before my friend Lisa's wedding, as you may recognize the dress from this style post. Hence, why I look so classed up.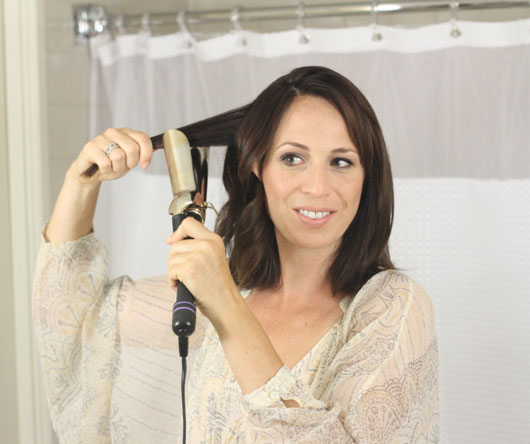 The key to getting the looser, wavy type of curls is in the technique, and you may be surprised to see that you can achieve those loose barrels with a standard 2 inch curling iron, and don't need a wand or clip-less iron.  I'm all about using what you've got and buying one less thing to clutter up the cupboards.

You begin by taking a section of blow dried hair (it doesn't have to be blown out perfectly), and take hold of the hair with the iron about mid way down the section.

At this point you start to turn the iron so the hair starts to wrap around it, but the key is to slowly and gently release the section of hair as you're wrapping, so that you aren't wrapping up the entire length of hair in one fell swoop.  Rather you're running the section of hair through the iron, giving it a bit of wavy curl as you do so.

You're constantly then, releasing the clip ever so gently, and continuing to curl the remaining hair at the same time.  Think of it as clip, turn your wrist to clear, release, clip back on and pull a bit more hair through and turn your wrist some more, and continue until you've curled the entire strand.  If you're more skilled and competent with a curling iron, you certainly don't have to release the iron, but rather just pull the hair through as you're twisting, but it just depends on your comfort level really, as well as your curling iron.  I've used some irons that place a really tight grip on my hair and pulling through was near impossible to do without some breakage along the way.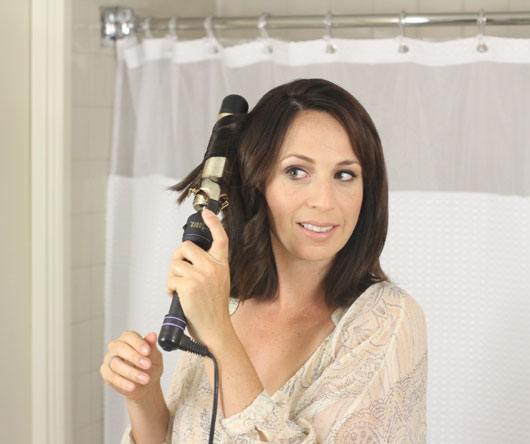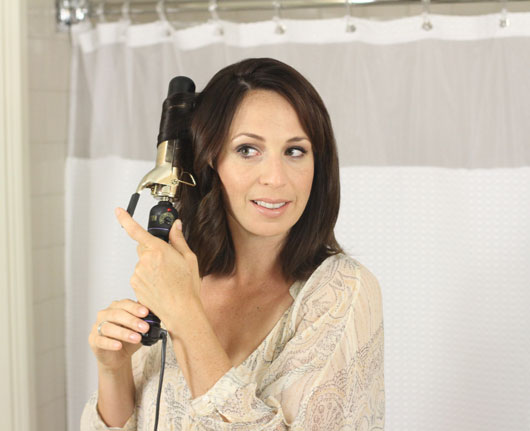 When you release the iron completely, you'll have a semi-loose looking barrel curl.  When you've completed the whole head, you can gently work your fingers through the curls to loosen and break them up a bit.

Here's another go around.
When I've curled my whole head, I gently pull my fingers through the curls just a bit, and then spray with a finishing spray like B&B Surf Spray to give it texture and a bit of body.  I also spray with holding spray if  I need them to last, like at a wedding.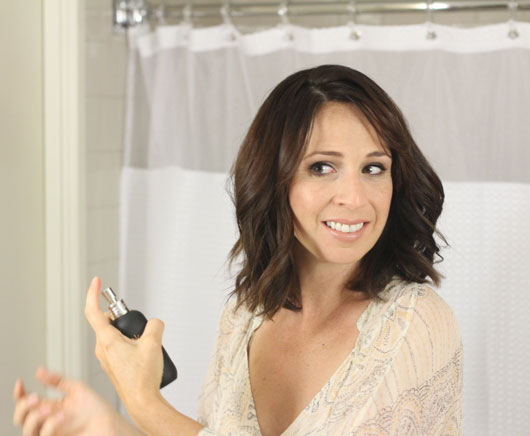 As you can see the back comes out looking just a bit textured, and not really "curly" which is fine by me. I like the way the waves frame my face and the rest of my hair just sort of has some full body to it.  I'm sure my stylist could do a better job in the back, but not bad for a quick run through.  This whole process takes me less than 15 minutes.  I'm sure if I spent more time they could come out perfect, but I'm not aiming for perfect.  Fairly decent is good enough for me. 
Now stare at yourself awkwardly in the mirror while your husband takes your photo.  And visit my Facebook page for funny outtakes from this awesomely awkward shoot.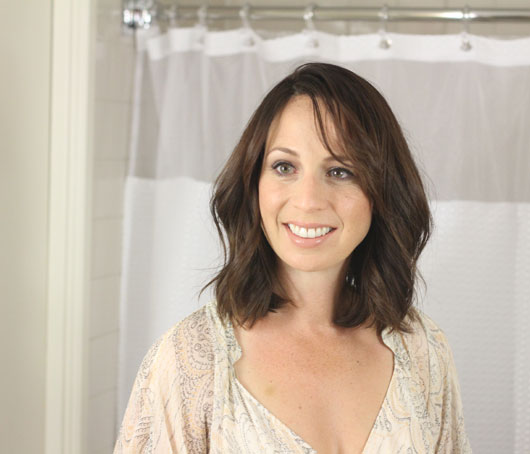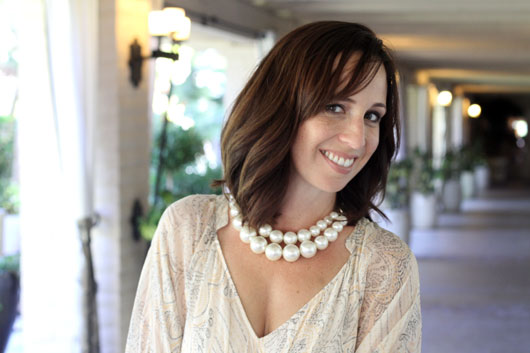 Also, if you're more of a video tutorial type of gal, this one by Whoorl is pretty similar to how I do it here. Enjoy!