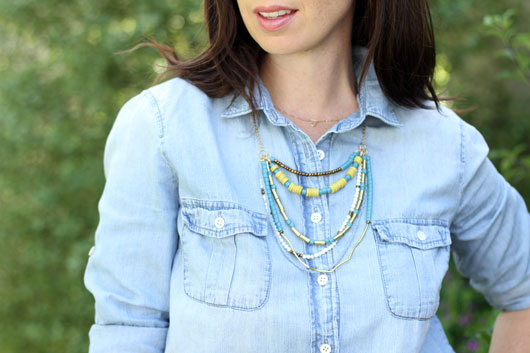 I've been holding onto these beads for months now, almost a year to be exact. I purchased them on this trip to the flea market when I was still pregnant with Hayden and have played around with them off and on a few times now, not quite getting the design or configuration to my liking. They're gorgeous, very earthy feeling beads from Africa, so I wanted to really make something special out of them. While I absolutely love this piece, I think I'll go back and restring it with a few tweaks. It's not exactly perfect and to my liking, but the overall design is exactly what I've envisioned, so I thought I'd share it with you nonetheless. So here's the how-to for making an earthy beaded necklace.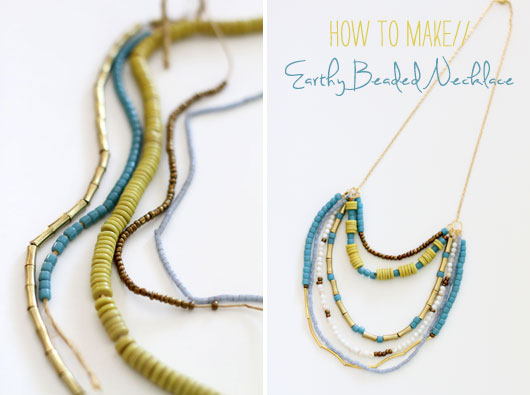 I'm not getting into precise detail of how to string the beads, as I've done this many times before in past tutorials. To see how I use jump beads and jewelry wire, please refer to this detailed and popular post, how to make an ombre seed bead necklace. Once you've familiarized yourself with what you'll need (beading wire, lobster claw closures, jump rings and jewelry pliers), pick out some beads you love and begin stringing.  Make up random configurations and designs, so that they all come out different, yet the individual strands complement each other.  To get a layered look, make them each a varied length, anywhere from 10″-4″.  If you want  more of a thicker, cluster look, as seen in this statement necklace, then make the strands similar lengths.
Now here's what I'd do differently and why I want to restring them. Originally, I was going to make a bunch of long, individual necklaces to layer, much like these Anthropologie ones. But the more I made, the more I didn't like how they looked when separated. So I decided to cluster them all together and add them to one big jump ring, which is why there are each on their own jump ring. As I did in my ombre seed bead necklace, I'd redo this one by just stringing them directly onto the big jump ring. I might make the strands a bit longer or shorten the chain too, so you don't see so much of the plain gold chain.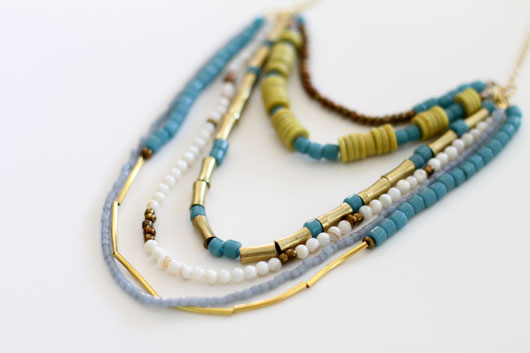 So much of DIY is playing around and trial and error. If anything, I'm just so excited to finally get some use out of these gorgeous beads and now I'm on the right track to making the perfect Anthropologie-esque necklace. Now let's see how long it takes me to redo it 😉
As always, enjoy, and please let me know if you have any questions!
Thanks for reading!  If you like what you found in today's post, I would love for you to follow along on my Facebook page, or on Instagram.