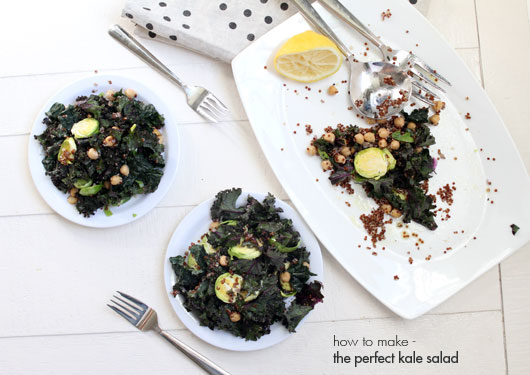 I had my first kale salad over a year ago, at the Veggie Grill. The thing that most surprised me about that salad, was that I actually loved it, and went on to crave it. The biggest problem with that salad is that it cost over $10 once you add some protein, and for a "fast food" type of restaurant, you sort of can't help but feel like you're being raked over the coals every time you drop that kind of cash on a quick lunch.
So I decided to start making my own kale salads at home, so we could afford our mortgage and all, and I was surprised at how much more I loved my own versions, which I could customize to my craving that day, and based on what I had on hand.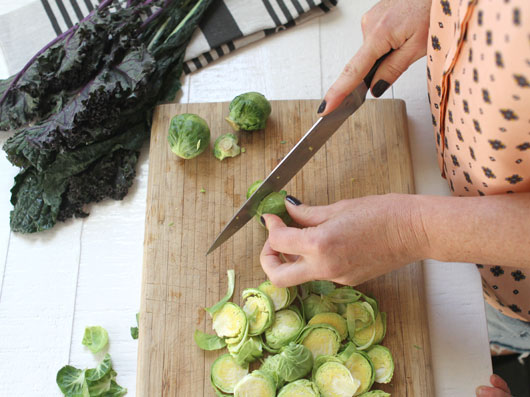 "But kale is so bitter, so rough and tough!", you say.  I know, it is quite an ornery leafy green, not soft and delicate like spinach or even swiss chard.  But the key to getting a great tasting kale salad, is to massage it it with loving care, so you break down that tough texture that kale leaves tend to have.  I never thought I'd end up loving kale so much that we would learn to successfully grow it in our own garden at home, but I do.   I keep at least 2 bunches on hand to juice, make salads with, and saute in olive oil and serve alongside a fried egg.  The best way to start your day, in my humble opinion.
Start your kale making salad process by first chopping off the stems of the kale leaves, and then giving them a rough chop so you get 1-1.5″ square pieces. To cut off the stems, I just fold the leaves in half, exposing the stem, and then slice the stem right off.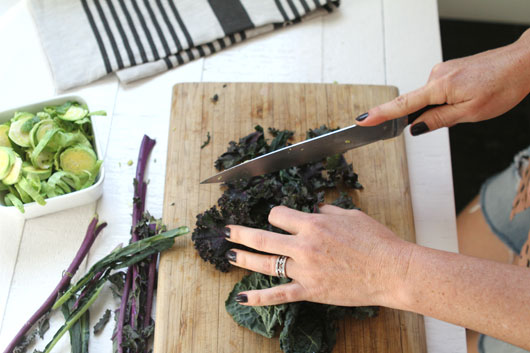 Once you've got your pieces, place them in a bowl, and cut a lemon, lime or orange in half – anything citrus based works. Squeeze some lemon juice on top, and add in a couple of pinches of salt.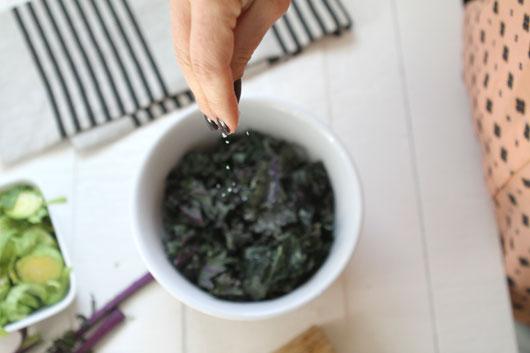 Then you start massaging away. Take some leaves and press them between your fingers and repeat the process over and over, making sure to massage and squeeze all the pieces for your salad, for at least 3 minutes. You don't want to beat them into submission, or manhandle them, just knead them if you will.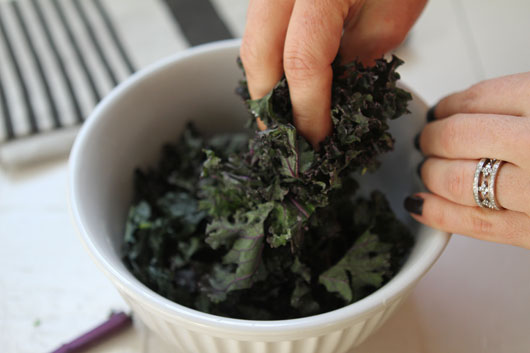 If you're not sure if they're ready, give a piece a try and see if it tastes good to you. Keep in mind that kale has a strong taste and texture to begin with, so it's not like massaging the kale is going to turn it into butter lettuce, all sweet, light and delicate. But it will make it much easier and softer to chew. Once it's done, start adding in your toppings.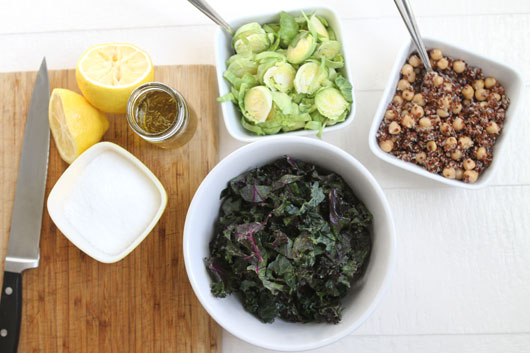 I like to keep it simple because it's just easier and quicker to throw together that way, but some favorite toppings of mine are cold quinoa, beans of some sort, shaved brussel sprouts, carrots, avocados, pomegranate seeds, clementines and persimmons, and bits of cheese and salami. Today I'm just keeping it simple with some red quinoa, garbanzo beans, and shaved brussel sprouts. To shave your brussel sprouts, just peel off the outer leaves so you get more of the tender greens underneath, and thinly slice. You don't have to cook them at all! You can also buy them prepackaged at Trader Joe's, but this way is obviously more economical. I truly do find that I get plenty full off of this combination of toppings, as the combination of the quinoa, beans and dark leafy kale packs an outstanding protein punch, giving me long lasting energy while also keeping hunger pains at bay.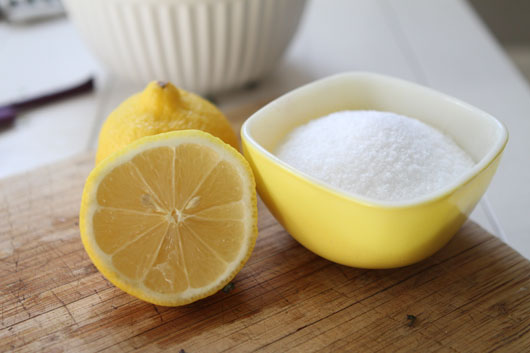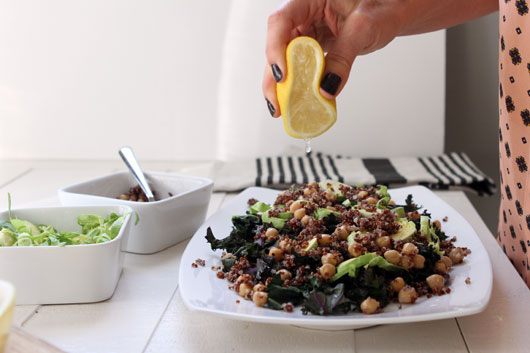 Dressing choices are also totally customizable and up to you, but since this particular salad already had a dousing of lemon juice, all it really needs is a few splashes of thyme infused olive oil (just add dried thyme to 1/2 cup of olive oil), and a few more squeezes of lemon juice. Add some cracked pepper, a pinch of salt, and you're done. Of course if you want a sweeter option, massage your kale with the citrus of an orange, and toss in a raspberry vinaigrette, or whatever else you have on hand.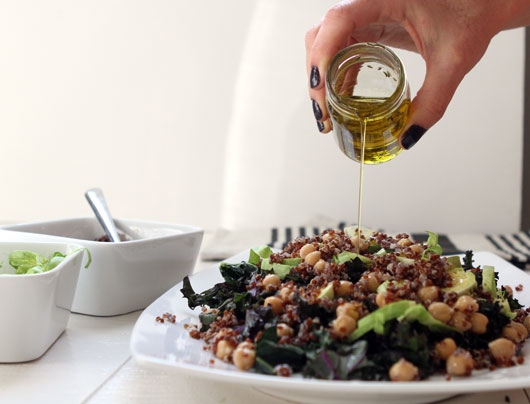 The recipe below easily makes enough for 2 generous lunch-sized portions, or 4 smaller appetizer portions. Feel free to use any type of kale leaves – there's often 3-4 varieties available at all times now, but for this recipe I used red kale. I think it looks extra purty with the red quinoa. And speaking of quinoa, make a batch of it over the weekend or whenever you have time, and refrigerate it to use throughout the week. Add to salads, warm it and serve alongside a fried egg in the morning, and of course serve it as a dinner side. This post explains how to make perfect quinoa every time.
Perfect Kale Salad
1 bunch of kale, stems removed and chopped into 1 inch pieces
Juice of 1 lemon
2 tsp of sea salt
1 cup beans, cooked quinoa, brussel sprouts, or whatever your desired toppings are
3-4 tbsp of olive oil
Peel the outer layers of the brussel sprouts and thinly slice and set aside. De-stem the kale, and rough chop into 1 inch pieces. Place in a bowl and squeeze some lemon juice and sprinkle salt on top. Massage the leaves for at least 3 minutes. Keep the leaves in the bowl or transfer to a serving tray, and add in your desired toppings. Drizzle with olive oil and more lemon juice, and sprinkle with salt and fresh cracked pepper. Toss and serve. Will hold in the refrigerator for a day, thanks to its tough texture. This baby won't wilt at a moment's notice! Enjoy!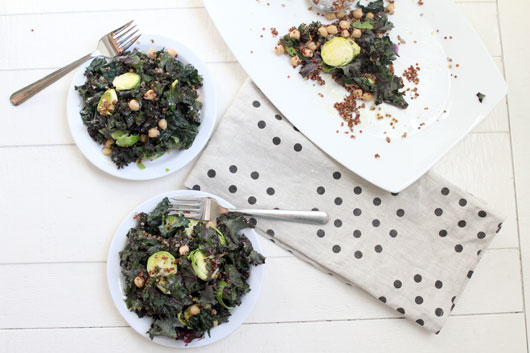 All Photos Courtesy Of M. Shanti Photo, in the Long Beach, California area.