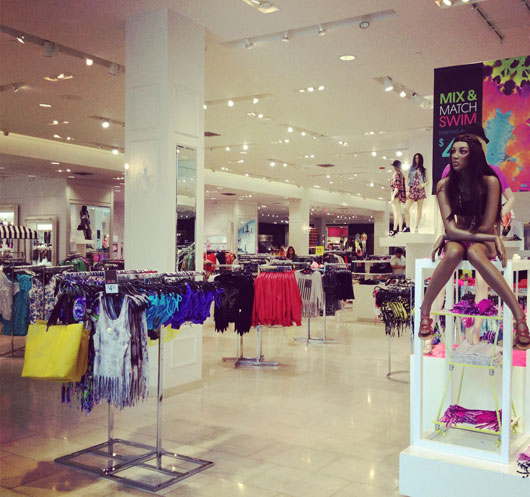 Tip #1
– By far the most valuable bit of advice I can offer you all is, skip the entire entry-way of the store.  Just walk right through it and move on because chances are, you will never find a thing you would want, or feel comfortable wearing in there.  The most on-trend, flashiest pieces are always displayed front and center to attract the attention of the teens and twenty year olds passing by, and leer them in.  As grown women, we want to be on-trend, but we want to find a more subtle, sophisticated way to do that.  So move on.
Tip #2
– Discover Love 21.  Not all stores are large enough to have an entire section devoted to
Love 21
, but there is an entire shop on their website where you can browse and check out what this division has to offer.  Love 21 is a contemporary line still focused on trends, but with more attention to detail, trims, fabrics and overall a more sophisticated feel.  What do I mean?  Well color blocking will be less severe, pops of neon go back to neutrals as opposed to being mixed in loud, wild prints.  The fabrics are a little less cheap looking.  The majority of what I buy at Forever 21 comes from this section.  The fit is also a bit more generous and true to women's sizing as opposed to the typical junior sizing found in the rest of the store.  If you only have 15 minutes to spare, this is where you should devote your time.
Now that we've covered where to avoid, and where to focus, let's talk a bit about overall items to look out for, both to avoid and embrace.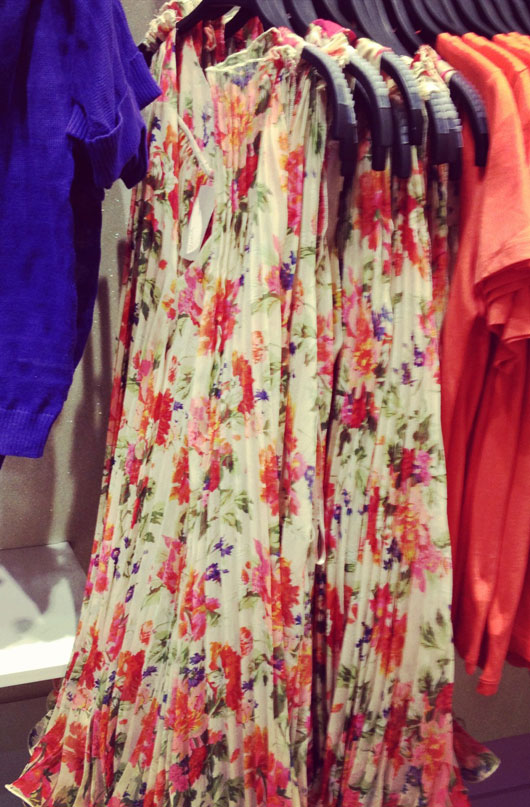 Tip #3 – Don't be afraid to play with color, and in fact Forever 21 is perfect for experimenting with the new color of the season that you're just not sure about.  You love mint or coral on other women, but not sure how it's going to look on you?  This is where you can feel a little less guilty about trying something new.  If you discover you hate the color on you after wearing it, you're not going to feel doubly guilty that you just dropped $80 on a top you'll never wear again.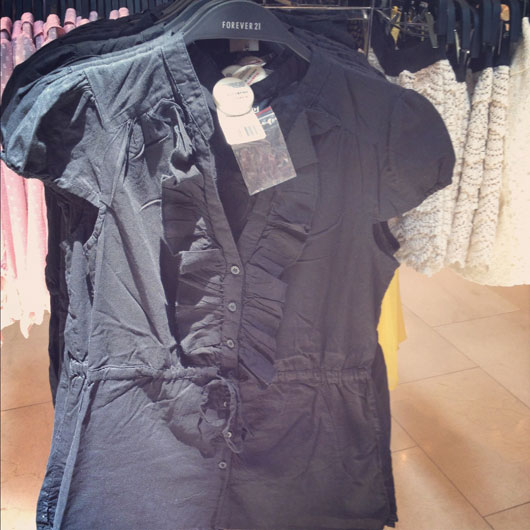 Tip #4 – Fabrication is key!  Clothes at Forever 21 are cheap, so it should go without saying that you're going to get what you pay for and you can't expect to walk in and find the highest quality fabrics and the best construction.  Knowing this, there are a few fabrications I tend to shy away from at all costs because they wind up looking especially cheap after 1 wash.  Cotton knits and brushed cottons, like the top pictured above, will fade and wrinkle almost immediately, and wrinkle so badly you'll never be able to iron them out.  Cotton tops like the one above are especially lifeless and have no substance to stand up on their own, so they end up just sort of swathed over your body instead of being structured and fitted to you.  Knits, whether it be in a lycra knit top or a knitted sweater will pill ridiculously fast and hold no shape after one wear.  You want to get a bargain, but you don't want to look like you're wearing a bargain.
Fabrics that I have decent luck with are a lot of the synthetics; rayons, poly chiffon blends, especially in cute printed skirts, poly silk blends, and just about anything along those lines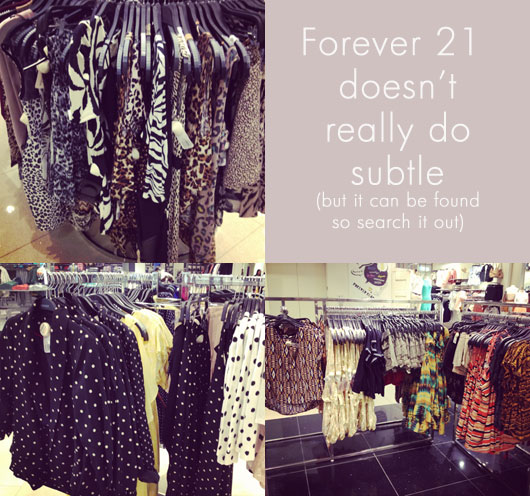 Tip #4 – Be careful buying into the prints.  Oh does Forever 21 love to go crazy with the prints.  Aztec, tribal, floral, polka dots, you name it, Forever 21 does it, and does it bold.  Honestly I much prefer an on-trend print from someplace like Target or Old Navy because they do prints in a more approachable, and even more sophisticated way (
Tip #5
– My final tip for you all is that if Forever 21′s interpretation of a trend is exactly as you remember it the first time around, then move on!  You're older and wiser and know that you're supposed to learn from your mistakes, not repeat them (my friend