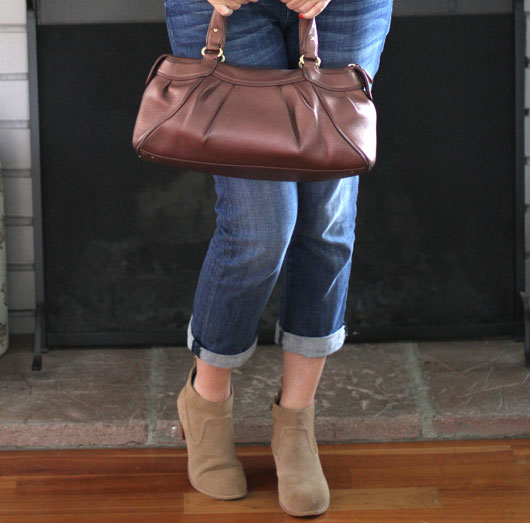 I've loved the ankle bootie with no socks look for a while now.  Truth be told though, I wasn't sure I could pull it off considering my age.  It may sound silly, but I tend to question the age appropriateness of my clothing choices as more and more time passes, since I never want to cross over that fine line of wearing a trend I'm too old for.  But alas, since style truly knows no age boundaries, I decided to give the bootie with no sock look a try after I came across a fabulous sale on these beauties, which can still be found here.
I figured I'd try them on at home, and if I could work them into several different outfits and feel comfortable in them, I'd keep them.  If not, I'd return them.  Shopping tip #1: Never buy shoes from a store with a limited return policy.  I don't like policies that tell me I can't change my mind on something.  I've been able to work them into a few different looks so I thought I'd share some ways to wear these cute booties (or some similar) and still feel very much age appropriate when wearing them.
Tip #1: Go for a more classic and pulled together look, versus the messy boho look that a lot of younger girls sport these booties with.  What does that mean?  Well, wear them with a pair of boyfriend jeans and a more tailored top or jacket, or even with a pretty dress (as seen here) for an unexpected take on the standard dress + heel look.
Tip #2: Don't buy a pair that's heavily distressed.  Some of the vintage looking ankle boots are really very "cool" looking, but try to go for more of a sophisticated cool look, rather than a grungy cool look.  That's why I loved these particular pair so much.  They still looked very polished in the clean suede.
Tip #3: Wear some pretty accessories with your whole look.  This will just solidify the overall classic and pulled together feel versus the boho look.  Today I wore my over sized jade and gold Stella & Dot earrings and kept it simple with a bright pink lip and felt really good without a lot of effort.  The shoes really do add an instant "cool" factor to the outfit.  Does that make me sound old when I say that?  Probably huh?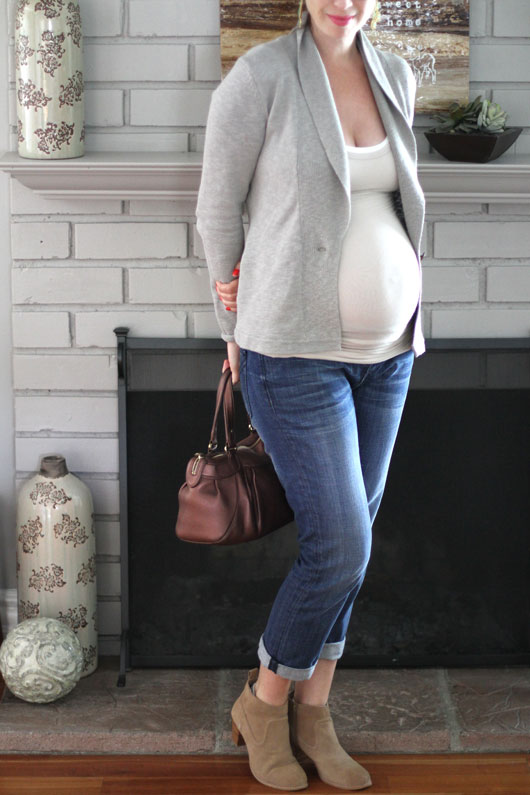 This weekend I'm attempting the ankle bootie with jean shorts look.  Wish me luck 😉  Any fun plans for this 3 day weekend?