I'd be honored if you'd consider "liking" my Facebook page, or subscribing to my RSS Feed. Or better yet, receive some Love straight to your inbox by entering your email in that box to the right! Love is way better than junk mail!
Target launched the latest of their designer collaborations this past Sunday, this time teaming up with Prabal Gurungm the former head designer of Bill Blass, and most well known for recently dressing First Lady Michelle Obama. The launch was per usual, highly anticipated by many fans of Target, who couldn't wait to get their hands on the most recent collaboration. While nothing from the look book really struck my fancy, making me rush into Target at 8 am on a Sunday, I was open minded and still wanted to check it out in person to see how it looked. I'm usually one of the biggest cheerleaders of these collaborations, but was very disappointed when I saw and touched in person, what had come about from this partnership. When I tried the items on in the fitting room, disappointment turned into frustration. Here's a look at what I tried on.
This first dress was fun, with it's bright color and flirty details, but the material was cheap, leaving me feeling rather exposed, especially in the back side where you could visibly see my panties.
This black and white number was a joke. The material was a shiny cotton/synthetic blend that was stiff and ill fitting. I know I'm tall, but it was also awkwardly short. Had it draped better I wouldn't have minded the short length, but it sort of just stuck out, leaving me feeling like a mild wind would have blown it right up.
This dress was the most flattering on. I liked the sleeve length and the nipped in waist sort of helped to hide the pooch. I even liked the nod to the art deco period with it's color blocking. But the color mix seemed a bit off, sort of outdated if you will. And the material was super scratchy, rubbing at my underarms.
This dress was the WORST! For someone so focused on cuts and how a piece drapes on a woman's body, I can't believe he would even allow this to pass the line. The body was this hideous jersey that, as you can see, clung to the worst assets of my body, and the bottom portion was some type of printed charmeuse or chiffon? And the ruffle hit right at my butt. This silhouette couldn't have been more unflattering if it tried. No comment on the print either. You either love it or hate it. It's not for me, but I can see the appeal. It's bright, fun and unique.
This shirt, again, horrible on unles you have a super flat tummy. When we're on the subject of these types of tops, let me also add that if you have a pooch, this is not the way to go ladies. It will only ever hug and accentuate that pooch, never drape over it.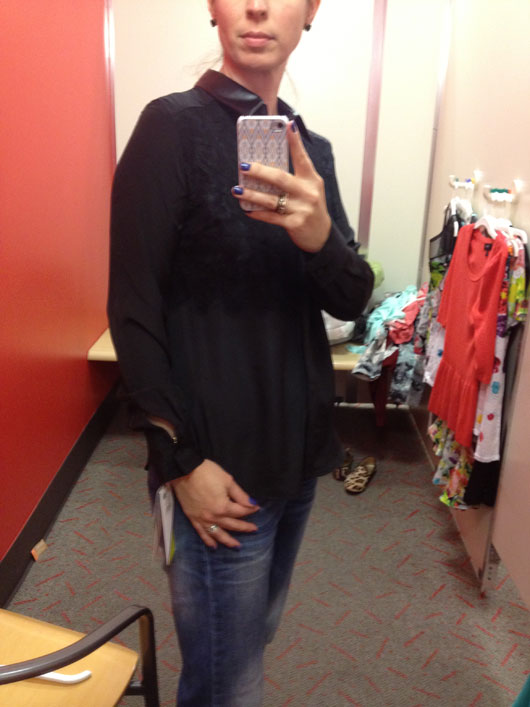 This blouse was horrendous! I can see how this could be beautiful, for the Fall, and in the right fabrics. But this version just looked out of place amongst all the brights, and the faux leather collar looked horribly cheap.
This little top was another disappointment. The yoke was a super scratchy and very stiff type of organza that looked like it maybe was 50 cents a yard. The body of the top was in that same cheap printed jersey material, and it just hung and tugged on my frame.
I'll end on a high note. This was probably my favorite piece. It is in that same flattering cut of the color block dress above, but the fabric seemed a little less scratchy, and it had just a touch of the fun print down the middle. I still wouldn't spend $40 on this but it was cute on.
The bottom line, my overall impression was that it just all looked very cheap. I honestly can't believe Prabal Gurung, who says he believes in quality and craftsmanship, would let these pieces pass through. The fabrics were some of the worst I'd ever seen and felt. If you aren't sure if something is poor quality, the first tell tale sign is to feel the fabric. If it's a cotton and looks too shiny or feels too stiff, or if it is scratchy, then chances are it's of poor quality. At the end of the day, for the prices Target charges for some of these pieces, you're better off buying most of their Massimo items, which are better quality and less expensive. Or be patient and diligent and shop the sale racks at higher end stores. I've got some beautiful and well made dresses for cheaper than these, off the sale racks at Madewell and Anthropologie. Sorry Target, but I think this girl is gonna need you to really wow me going forward, if I'm going to buy into these designer collaborations.
*Also, I hope I didn't offend anyone if you loved the collection. The prints, shoes and accessories were all fun and seemed better made than the clothing. I am just finding that the older I get and the more serious I get about value for my money, the more picky I'm becoming when it comes to clothing. With that being said, did anyone buy anything, and if so, what did you think about it?