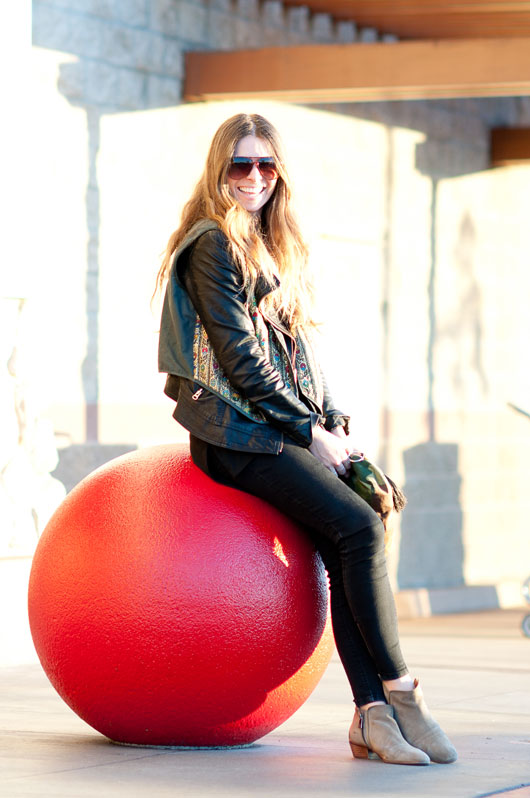 I met Laura of Ascot Friday almost three years ago at the very first Blog Sugar, and got to know her a bit better when we planned the last Blog Sugar together. I helped Rachel and JJ put the whole shebang on, while Laura and her sister Erika did the decor and branding for the event on a shoestring budget, all while recently just having had her 2nd child. Thanks to those two, the event looked and felt flawless. Laura's work ethic is impressive, her taste level impeccable, and her style all her own. And her love for her kids and husband is unmistakable. While our styles may be a bit different, I always look at her and wonder how on earth she manages to look just so cool, while working full time as a Senior Visual Manager for Anthropologie, and raising two beautiful little boys. When I launched For The Love Of and dreamed up Insiders, Laura was one of the first people I contacted to interview, so this post has been almost a year in the making. We met up last week at our local Target and she showed me how she does her thing for Target Does It Again, and we later sat down and chatted about her job, fashion, and just who takes all those amazingly cute Instagrams of her family of 4.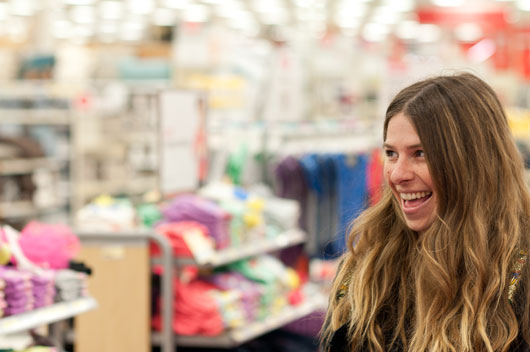 Give me a brief overview of your job at Anthropologie
I'm in charge of everything visual at the store, from product placement to dressing the forms, to creating the windows. As the Senior Visual Manager I work out of one store and direct the visuals, and oversee the visuals for another local store as well.
Tell me about the amazing Anthropologie window displays
We're given general inspiration from corporate headquarters, but it's up to our store to interpret the inspiration and create our own display. I work closely with the Display Coordinator, who usually has an art degree, to plan out and create the windows. We usually work on them for about three weeks from start to finish, and then we rotate them out every eight to ten weeks.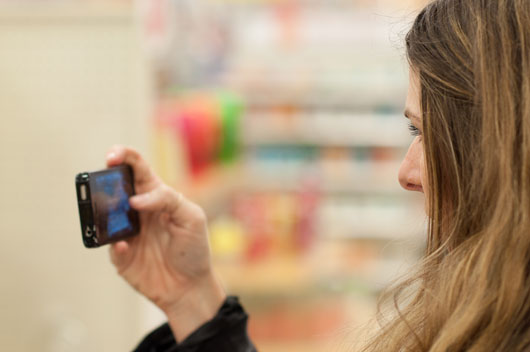 If you could do anything else professionally, what would you do?
I would probably own my own store. It would be a mix of all the things I love from home items to men, women and kids clothes.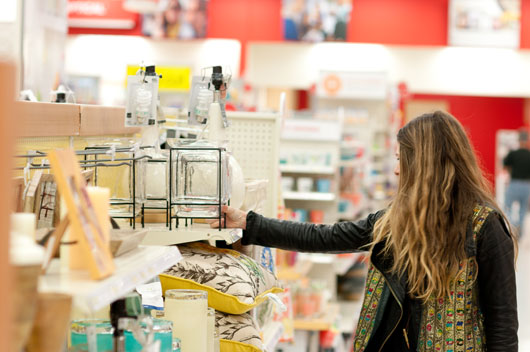 What advice would you give to someone trying to make their way in the fashion industry?
Find a brand or company that you love and resonates with you, and just get in there and soak up that knowledge and do anything they'll let you do to learn.
What's your favorite piece you own right now?
The Sam Edelman Petty booties.
What piece are you coveting?
The Isabel Marant sneakers
Piece you recently regret buying?
I've gotten pretty good at only buying things I love. But there is a piece I regret not buying recently; a full length vintage faux fur coat. My sister talked me out of it.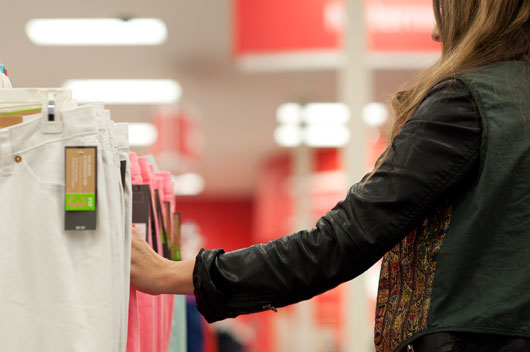 Speaking of vintage, what are some of your favorite vintage stores in the area?
Red Barn and St. Vincents is a new one that's really good on PCH in Long Beach.
You work at Anthropologie, you shop vintage, you love Target. How do you mix all three so well?
It's all about mixing the high and low together. I don't ever wear all Target or all vintage. I blend them all to create my own style.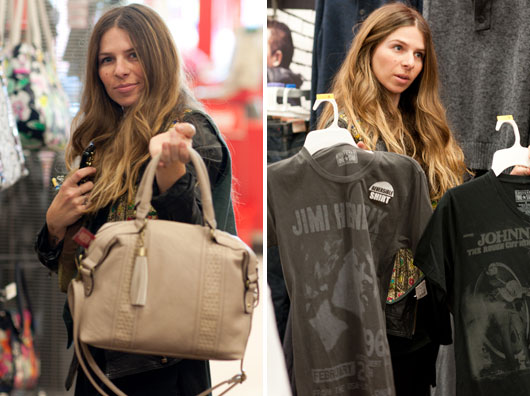 How did you come to start Target Does It Again?
Basically through Instagram. Jen and I followed each other and we both were posting the same things or similar from Target so we decided to start something and see where it goes. So far it's been pretty amazing to see it take off. In four months we've reached about 35,000 followers on Instagram.
Has Target contacted you?
We're on their radar.
With so much good stuff at Target, how do you both decide what to post?
We post the things we both gravitate towards and love, or things that are completely unexpected and you wouldn't think are from Target.
How do you get your boys to wear all those cute clothes?
I bribe them, or strongly talk them into it. I also figure if I buy really cute stuff that I love, even if they pick their own outfits, they're going to look cute.
Who takes the Instagram pictures of your whole family, especially when you're at Target?
Timer Cam Pro. We just set it up and have it shoot for us.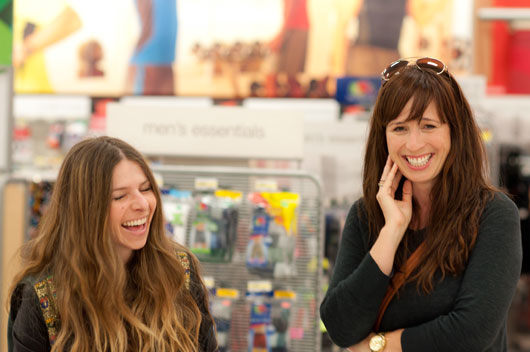 What's your favorite thing about living in Southern California?
Being able to be outside most of the year.
How do you get such perfectly messy hair?
I wash it once a week, then use Bumble & Bumble Surf Spray. I wash it at night, then dry it just a bit up top to give it some lift, then flat iron the ends so they're not perfectly curly.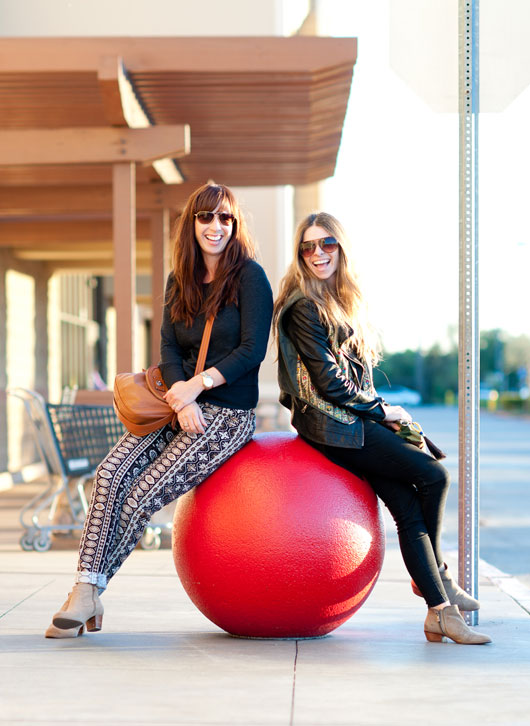 Thanks so much for taking the time to sit down with me Laura, and share a bit more about yourself. It was a pleasure to watch you work your styling magic at Target, and I can't wait to see more from you at your blog and through Target Does It Again. You can find Laura at her blog Ascot Friday, through Instagram @ascotfriday and over at the Target Does It Again Tumblr.
And thank you Miranda of M. Shanti Photo for capturing the afternoon so brilliantly.