I'd be honored if you'd consider "liking" my Facebook page, or subscribing to my RSS Feed. Or better yet, receive some Love straight to your inbox by entering your email in that box to the right! Love is way better than junk mail!
I found out some pretty exciting news the other day, one of my (online) friends, Kelly of View Along The Way, is going to be featured in Better Homes & Gardens in one of their upcoming summer issues! I couldn't have been more excited for such a talented and fun blog friend to be chosen. Kelly has a sincere, funny writing style, and does some amazing DIY projects (check out this Ralph Lauren inspired light fixture her and her husband recently made!). She is also incredibly supportive of her blogging buddies, so when she asked for some styling advice on what the heck to wear in a magazine, I was more than happy to lend my two cents. The photo stylist from BH&G advised her to wear jeans or capris, nothing too loose or with crazy patterns, and something lighter colored, since the issue will be published in Summer. She suggested perhaps a cardigan and tank. I couldn't help but gain some style inspiration from a recent outfit I pulled together to attend the Petunia Pickle Bottom store opening and Spring handbag preview party.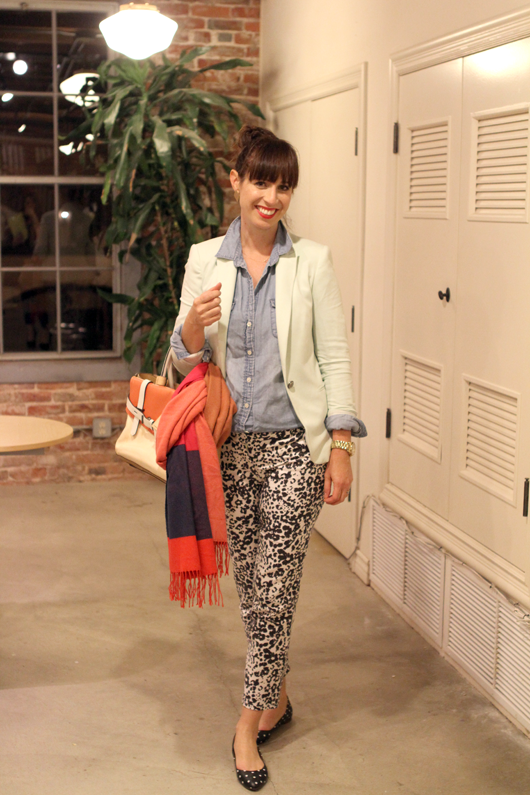 Blazer – Zara; Chambray Shirt – J. Crew; Cafe Capris – J. Crew; Polka Dot Skimmers – Madewell; Gold Watch – Michael Kors; Scarf – Gap; Handbag – Reed Krakoff
Since it was still winter, but on the verge of Spring, I wanted to dress in some lighter colors, but layers to stay warm. I also wanted to look pulled together and chic, since we were going to be meeting the designer and Founder of PPB, DeNai Jones. I brought my favorite blazer from Zara, in mint, out of hiding and wore it for the first time since last spring, but layered it over chambray. To add some fun pattern mixing, I wore it back to some animal print capris and polka dot flats.
I have said it before, I love the blazer as the alternative to the cardigan, so when Kelly mentioned cardigan, I immediately suggested a lightweight blazer, in a light color, instead. It's a piece that looks a bit more pulled together than a cardigan, and in the right fabric, is perfect for Spring and Summer. Think ponte knit, linen, cotton twill and jersey. These are all great fabrics for the warmer months, and the bonus is that they are much more flexible and move with you, perfect for busy moms chasing kids around and coordinating DIY projects.
For Kelly's photo shoot style board, I pulled a crisp white blazer in a soft cotton fabric as her key layering piece. The one button detail will give the jacket more of a casual feel, especially when layered over a simple, light colored tee. I know the photo stylist said no crazy patterns, but a bit of texture is fun. After all Kelly is a Home Decor blogger so it should stand to reason that she'd love a little pattern play. These small dot capris would be perfect. Kelly claims to not be a "capri person", and believe me, I'm not either, but when styled right, capris are charming and comfortable, especially for the warm season. Add in a neutral flat (or she could go for a bold color if she's feeling sassy), and she's almost set. I chose a closed toe shoe as opposed to a sandal because I wasn't sure how comfortable Kelly would feel having her toes showing in a magazine for the whole world to see for all of eternity! But I do love the hole-punch feature, giving these skimmers a lighter, more breezy feel to them. Add in a fun piece of jewelry in a rainbow of colors, a chunky watch and a simple pair of studs, and the look is complete.
1. Kate Spade Studs; 2. Vince Camuto One Button Blazer; 3. James Perse T-Shirt; 4. J. Crew Dot Cafe Capri; 5. Madewell Skimmer; 6. Michael Kors Gold Watch; 7. Kate Spade Flats Necklace
So what do you think?  What would you wear for a shoot in Better Homes & Gardens? Something similar to this look I styled, or completely different?  Any other ideas for Kelly?  Congratulations Kelly, I'm thrilled for you and can't wait to see your beaming face and beautiful home in the pages of BH&G!