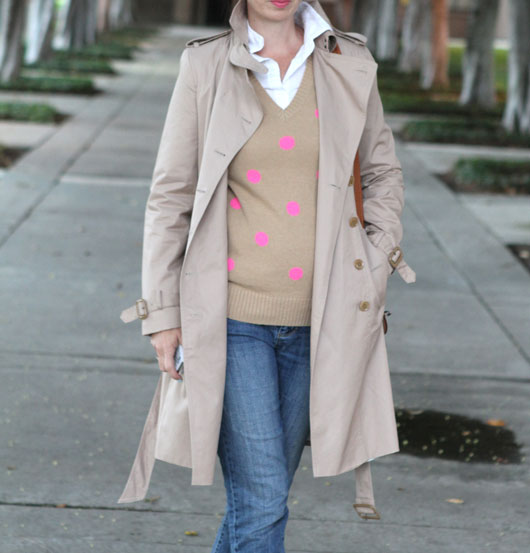 Since I have a bit more time, let's get back to the business of trench coats, shall we?  Last we spoke on the subject, I was in a rush and promised to be back with some thoughts on choosing a trench coat.  Yes, I have thoughts on the whole matter, and yes, I'm sure those not the least bit interested in fashion are rolling their eyes at me right now.  That's okay, I get it.
I still hold firmly that a good trench coat is a piece worth investing in, and this year I finally invested in one from Banana Republic.  It was on a quick trip to the mall for nursing bras soon after Hayden was born, that I discovered that the entire store at Banana Republic was on sale for 40% off.  Now last year I spotted their classic trench marked down to 50% off with an additional 25% off, but alas they were out of my size.  But this year not only did they have my size, but the size that fit was a SMALL!  3 weeks after having a baby I could fit into a Small, and that sealed the deal.  You have got to love vanity sizing (sizing that is fit more generous so that one can usually fit into a smaller size than they normally wear, thus appealing to ones vanity).
While I have had visions of living in places that get more than on average, 10 inches of rain a year, justifying an extravagant purchase of a Burberry trench, for now this BR trench suits me, and the climate where I live, just fine.  Some things to keep in mind when investing in a trench.
Is this strictly a "style" purchase to add to your arsenal of coats, or do you need your coat to be functional and double as a rain coat and to protect you from the elements?
If it needs to be functional, confirm if the material is water repellant and if there are added features like a removable liner for colder climates.
Do you prefer your trench to have added details like the traditional storm flap, epaulets, pockets that close and buckles at the wrist?  Or are you looking for a more streamlined look with clean lines and silhouette?  Do you want the traditional double-breasted look or do you prefer a single button up?  All questions to keep in mind as there are a myriad of styles out there.
While the traditional color of a trenchcoat is khaki, there are other colors available.  I prefer khaki myself, but I'm more of a trenchcoat purist.  Don't be afraid to venture out if you dare.
Once you've narrowed down what you're looking for, consider how much you are willing to spend and how long you are willing to wait for the right coat to come along?  By January just about every single coat across America is marked down to clearance to start making room for bathing suits, so if you can get through December, you will most likely find a great deal on a coat.  Regardless of your budget however, keep in mind that a trench is a classic item that you should be able to hold onto for many, many years since the style really doesn't change.  This then is an item where you should buy the most expensive trench your budget will allow.  Don't try and scrimp because the one at Forever 21 looks cute and seems okay quality wise, although I did include a Forever 21 option below just to play along with the whole low-high thing.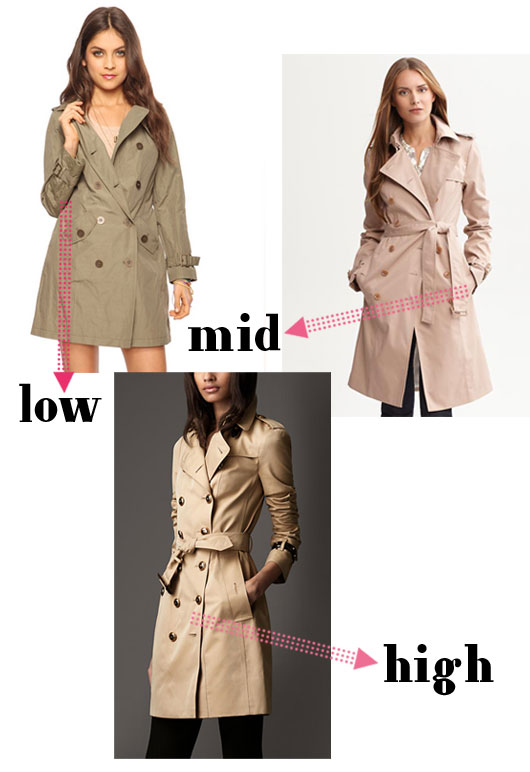 low – $24.20 Forever 21; mid – $198 Banana Republic; high – $1695 Burberry