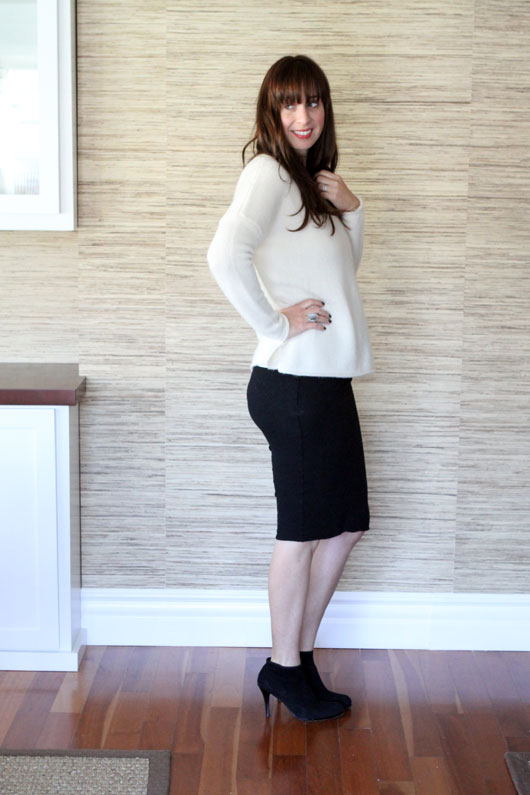 I've heard quite a bit lately that I look great, and I don't even look like I just had a baby 4 months ago.  I always say thank you and appreciate the compliment, but I am always a bit perplexed when people say I don't look like I just had a baby.  I always wonder what discerning factor tells those of us that gave birth in the last year, apart from those that have not, besides the little baby in our arms.  I'm still about 20 pounds overweight from my prepreganncy weight, I still have a very obvious pooch, and my prepregnancy button up pants still don't fit, but either way I'll take the compliment.  All swelling has gone down in my tummy though, so at this point, this is the body I have for the time being, so this is the body I'm going to make the most of, whether I lose anymore weight or not.  So when I get compliments that I don't look like I just had a baby, I would politely beg to differ and tell people that I have just learned to dress my body in its current state to hide some of those obvious tell tale signs.  What does that mean?  Accentuate the positive, of course.  Let me give you an example.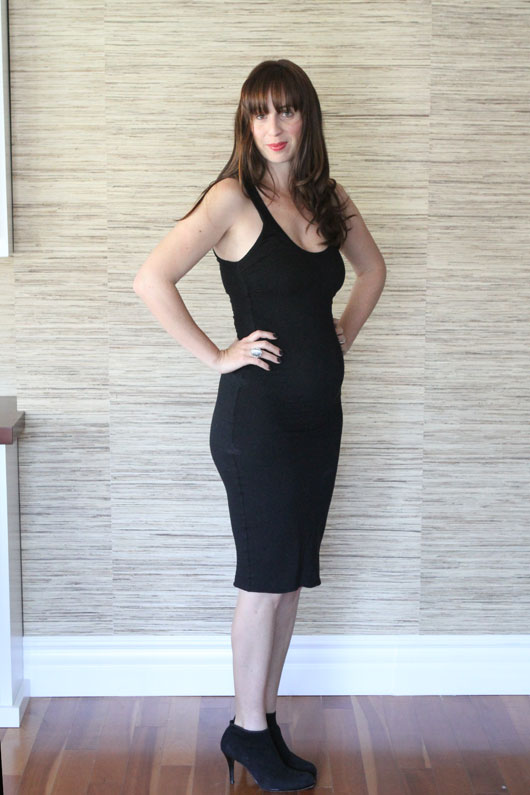 The tank dress; I've had this one in my closet for the last couple of years, and while it's admittedly not the easiest style to wear, I wanted to use a bit of an extreme example to start off.  From the front view it doesn't look so bad, right?  But then I turn to the side, and whoa, look at that pooch!  I easily look 3-4 months pregnant here, and while in my book it's still perfectly acceptable to look this way, especially since I'm still breastfeeding, it's not acceptable to dress in a way that will flaunt those "trouble" areas.  So let's see what we can do to correct this situation a bit, shall we?
The first thing I'll do is add a long layering tank.  I'm not sure why these work so well, but long tanks perform some sort of magic when it comes to helping to hide a tummy.  It's like an extra layer of defense, or a deflection tactic.  You can't even see that I have it on, but it gives me an extra bit of security knowing that if I raise my arms you'll see the tank.  Call me strange.  Anyhow, once I have my layering tank on, I'll add a loose fitting sweater.  But the key to this look working is to have your top layering piece, such as this sweater, be loose, but also form fitting in the arms and to have a bit of a lower neckline.  Why?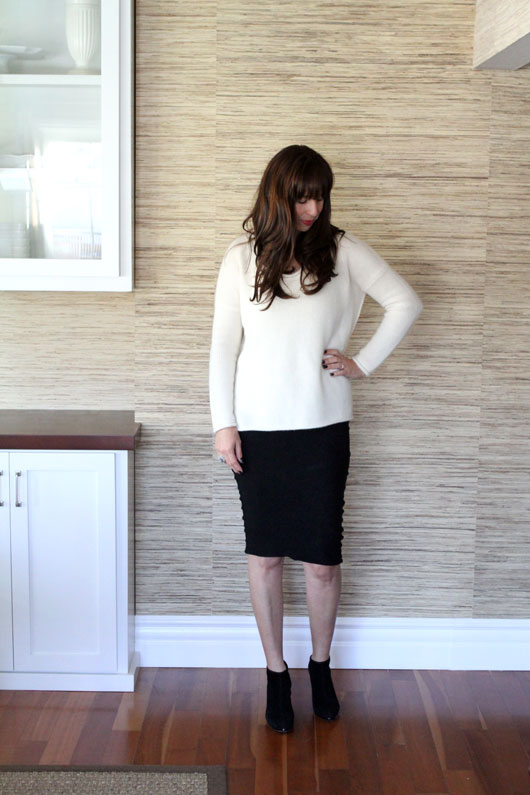 The form fitting sleeves elongate the arm and make them look overall more slim.  It also gives the look a less bulky feel.  The slight scoop in the neckline shows off a bit of skin and again, makes the sweater look less overpowering.  The loose silhouette in the body drapes right over that tummy and pretty much hides it entirely, and the length is long enough to cover the tummy, but short enough to show off a bit of my bum, which I still consider to look pretty decent for a 36 year old mom of 3.  Accentuate the positive right?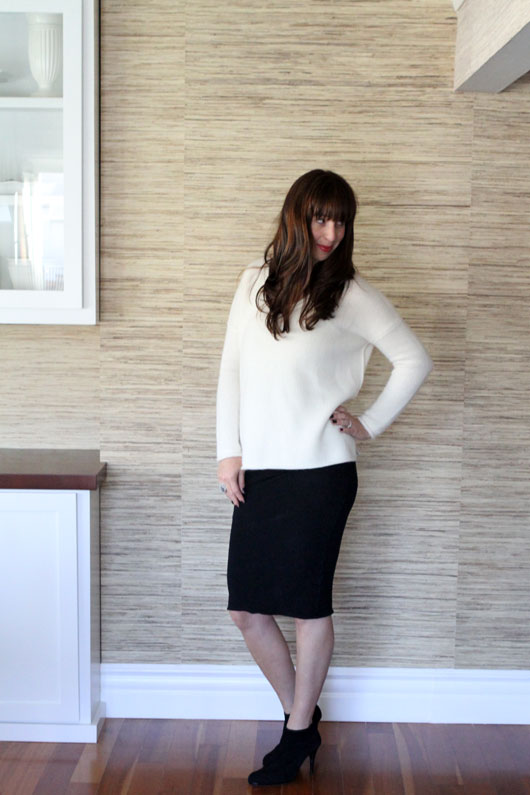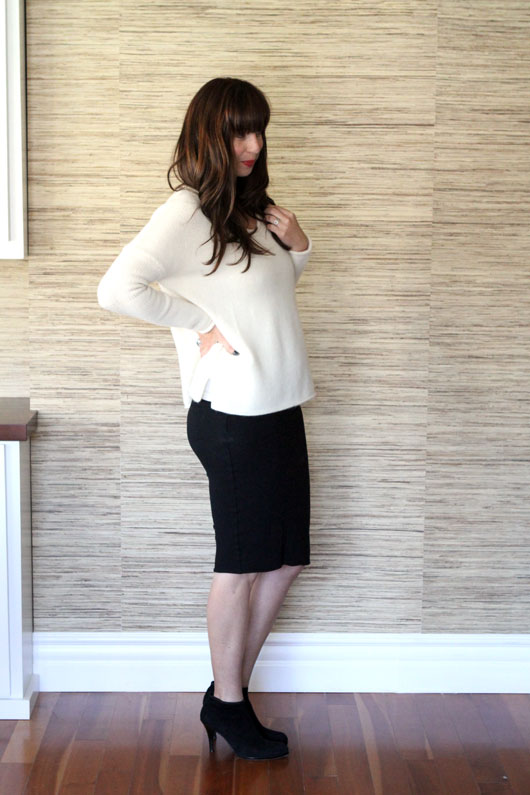 And while I'll admit that a form fitting tank dress is a tough look to pull off, I think this is a great example of making any piece work in your closet (that fits, that is!) work for your postpartum phase.  With some creativity and experimenting, you can make the most out of what you've already got in your closet, instead of having to rush out and buy a bunch of new clothes for your new body.
My arms and my tummy are right now, my problem areas.  I plan to do a few of these series in the future, showing different staples to choose to help with these problem areas, focusing on dresses and tops.  But are there any other "trouble areas" you'd like me to consider and work with?  I'd love your feedback and questions, if you have any!