I'd be honored if you'd consider "liking" my Facebook page, or subscribing to my RSS Feed. Or better yet, receive some Love straight to your inbox by entering your email in that box to the right! Love is way better than junk mail!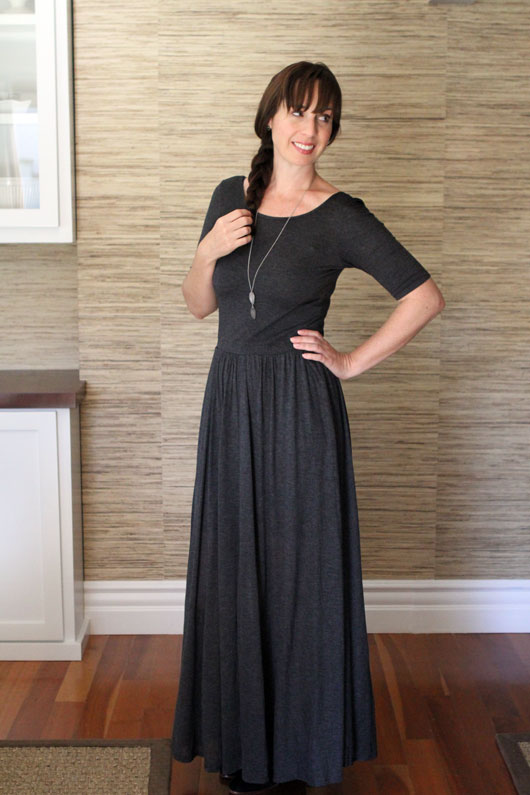 For the second installment of making clothes work for you, I wanted to touch on something near and dear to my heart; the maxi dress, and more specifically, the jersey maxi dress. In fact I think it would be quite interesting to do an entire series of posts dedicated to jersey alone, since it is such a beloved fabric of so many. Walk into any Gap, Old Navy, Target and you'll see rows of jersey dresses lined up like little soldiers.  It's inexpensive to produce, it holds color and print extremely well so that you can have all sorts of fun prints and bright colors, and it feels comfortable. But it can also accentuate one in all the wrong places if you're not careful. So today I wanted to do a little comparison of a couple of jersey maxi dresses (that I in fact own) and give you a breakdown of why each dress works and doesn't work. So shall we start with my favorite one of all?
I fell in love with this dress when I first saw it on the Anthropologie site months ago when I was still pregnant. When I recently found it marked down 70% off I was skeptical if it would work for me and my postpartum frame. It was such a spectacular deal though I had to give it a try and it ended up fitting quite well and accentuated just the areas I wanted to feel good about, and hid the problem areas of my tummy and thighs.
Why does this dress work so well? First, the waist is actually elasticized so it is forgiving. One would think that the addition of the tiny little pinch pleats around the waist would add bulk, but it instead hides the tummy by draping over the area and concealing it. The flowing jersey fabric continues to drape nicely, right over the hips and backside. The 3/4 sleeves are very slimming on the arm, and the slight scooped neckline and fitted top makes the girls look not half bad, hugging them in just the right spot. My favorite part of all though is the dipped back, showing off what I think is the prettiest part of the back, but still covers up bra straps.

Now let's talk about why this dress doesn't work at all. It actually looked quite cute when I was pregnant, but now that I still have a bit of a pooch it continues to accent it but it's not so cute anymore now that there's no baby inside that pooch.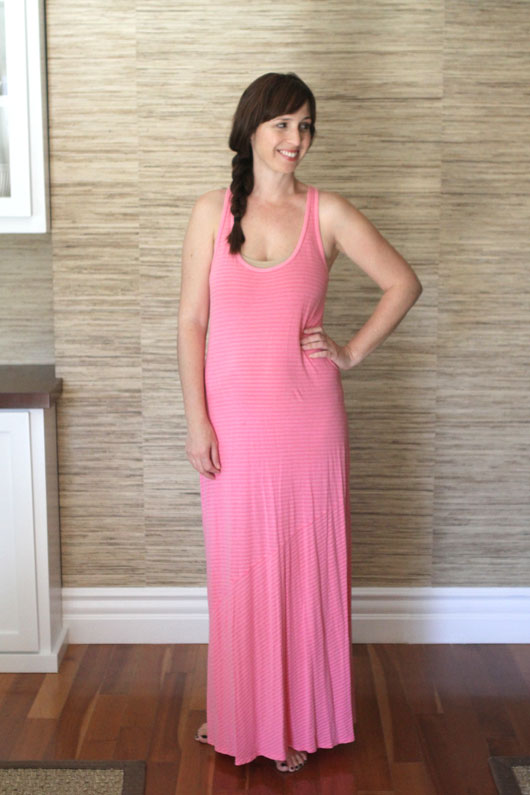 The neckline does nothing for my bust line, literally just hanging there. And because there's no type of waist, it hugs the tummy, hips and thighs instead of draping over them like the first dress does.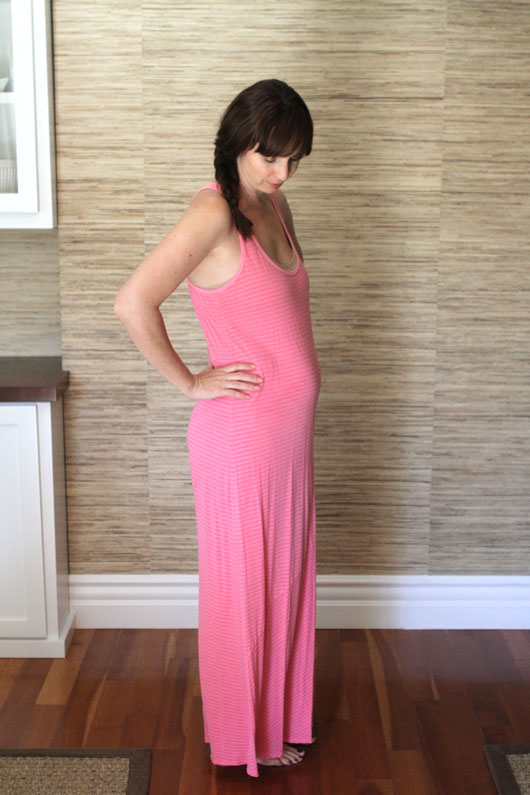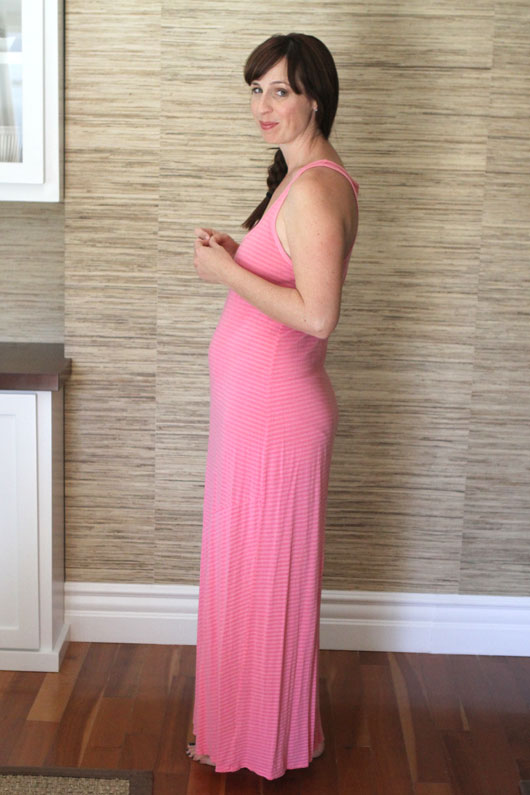 And the racerback makes my back look thicker than I think it actually is. Or maybe it is in fact that thick!

You may be saying to yourself, duh Andrea, this dress obviously looks horrible on you, what person in their right mind would wear it like this? And you're right, it is obvious, but as I did with the last post, I wanted to go with the obvious, more extreme example to really highlight just how drastically the right silhouette can change how you look, especially when it comes to a tricky fabric like jersey.  It is comfortable and lightweight and easy to care for, but if you don't choose carefully, you may end up not looking as great as you could.  There's just a few things to pay attention to the next time you're out shopping.
You want a dress with some sort of a gathered waist line so that you can make the fabric hug your body where you want it to hug you instead of hugging you in the wrong places.  You've gotta tell the fabric what to do, not the other way around.  Second, you want a flattering neckline that will highlight your chest, not flatten it out.  A slight scoop or v-neck is always nice, and you want the bodice to be fitted, not loose or else it will just hang there like the pink dress above.  Third, the arms are important!  If you're self conscious of your arms look for short sleeves or better yet 3/4 sleeves and avoid thick straps that add bulk or cap sleeves.  Spaghetti straps can be good if they go with the overall feel of the dress. Lastly, with jersey especially, you have to watch how it hugs you at the hips and thighs because jersey likes to cling to those hips like no other.  That's why a flowing waistline is so important for not only the waist but the hips as well.
I know this post was very specific but hopefully it's still helpful.  Fabrication and silhouette are so key in picking out clothes that will flatter your body.  As you can see, the wrong silhouette in a tricky fabric will leave you looking blah when you could be looking your best.