It seems like between me and the kids, we're always visiting someplace interesting or fun, and so I thought I'd start sharing some of those places with you all.  Most of our favorite spots are of course local, but there's always a treasure to be found while traveling about too.  Today I'd like to share a place that I enjoy visiting to pick up unique beads and jewelry findings in bulk at very reasonable prices; The Bead Factory in Downtown Los Angeles.
The Bead Factory is on a street lined with many other jewelry supply stores, but this one in particular I found on yelp and it had some pretty good reviews.  I've always been happy with their selection and prices so I just keep going back, but one of these days I plan to browse the competition to see what else I can find.  For now though this place works just fine for me.
Some trips I go in with a specific idea in my head and I know straight away what I'm looking for.  Other times, like this day, Miranda and I had some time to kill before our interview with Kay, so we just had fun browsing and picking up odds and ends.
My advice when visiting a large warehouse supply store like this place is if you're a novice, have a basic list of items you will need and know them by name, or at least what purpose they serve.  Jump rings, lobster claw closures, crimp beads, etc.  The employees are helpful enough to point you in the right direction, but not so helpful that they're going to give you a lesson on bead stringing if you've never done it before.  Speaking of which, would it be helpful to write a post about basic jewelery making supplies that I commonly use, and identify them so you can speak like a pro?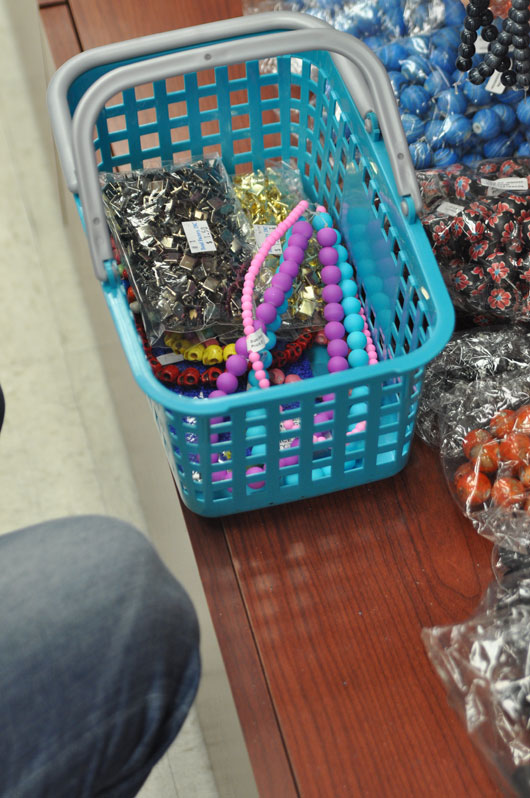 Supply stores like this usually carry a wide range of beads in many different shapes, sizes, colors and materials.  Touch and feel to make sure you know what you're getting.  The colorful beads below looked like regular matte plastic, but were actually made of polymer clay.  Very cool.  In addition to beads you can usually find grommets, spikes, chains, and just about any of the latest trendy items so you can DIY it like the cool kids.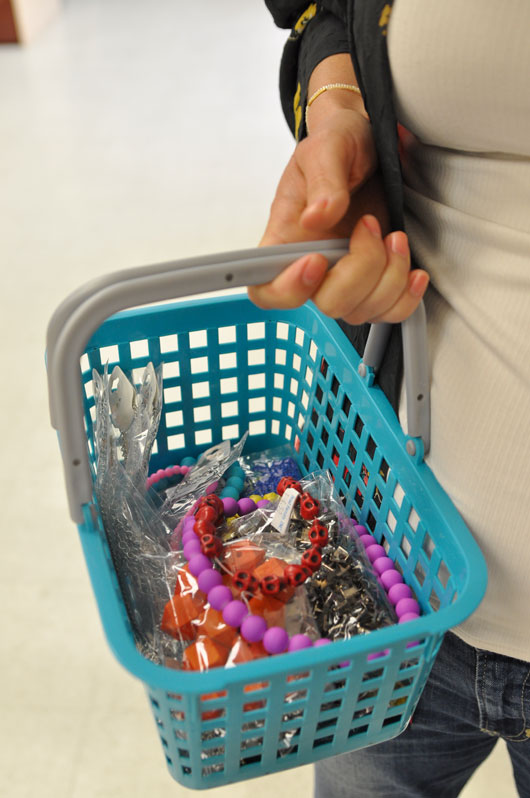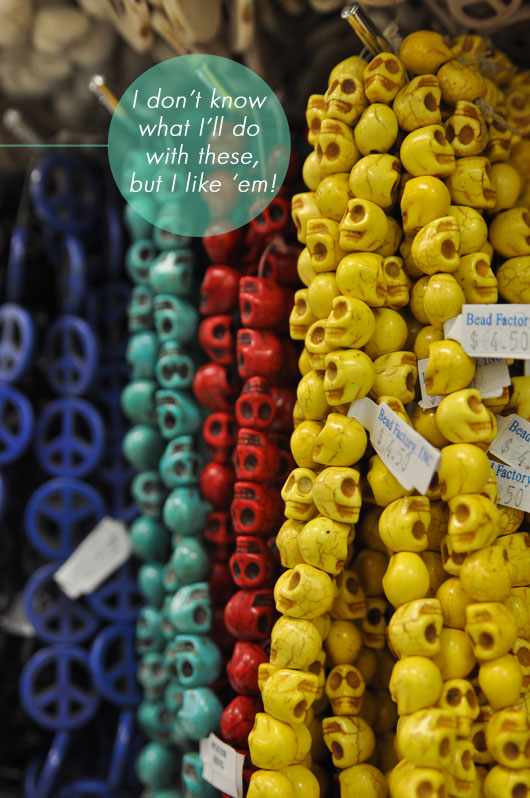 Sometimes I'll admit I get carried away when shopping for supplies and even though the prices are cheap, it's deceiving.  Before you know it your bill can quickly add up to $50.  I bought several strands of these skull beads and I have no idea what I'll do with them yet.  I know I can make the usual necklace/bracelet piece, but I'm trying to think of a DIY that's a little bit more me…if colorful skulls are even me at all…
The Bead Factory has a pretty basic website that you can order from found here, or if you live locally and would like to visit, they can be found at: 810 S. Maple Ave. Los Angeles, CA 90014 – 213.624.2121.  There's parking meters that take credit card or coin right on Maple, or you can park at one of the nearby lots and the rates are usually between $5-$10.
What are some of your favorite places to find DIY supplies?  Both online and in your area?