I have a confession, I'm not hosting Thanksgiving this year, yet I still wanted to play around with putting together a table setting, because I'm strange that way.  Right after Halloween, these pretty fantasy pumpkins were marked down to $1, so I scooped up a few knowing that I could use them around the house as simple Thanksgiving Day decor, and as a Thanksgiving centerpiece seemed like the perfect place.  You all know my love for neon runs deep, so I thought I'd play around with adding little touches of it for Thanksgiving, nothing too overboard, just a bit here and there. 
I loved the idea of using other garden items I already had at home instead of spending money on fresh flowers (especially since this was just an experimental table setting), so I transplanted some succulents we have in big pots outside into smaller terracotta pots.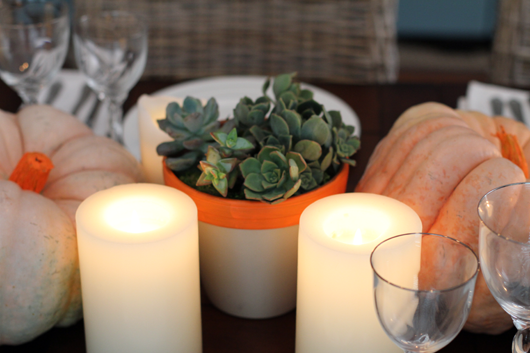 I added some paint to the terracotta pots and pumpkin stems to give them a little pop of color, and layered in lots of candles.
I experimented with painting a white pumpkin, but really they are so pretty all their own I decided to just paint the one and let the rest stay as is.  I added little bits of moss to succulents planted in votive holders as well.
I'm still in love with the table we got for a fabulous price at World Market, so I didn't want to fuss it up with placemats and chargers.  Just simple white herringbone napkins.  By the way, I know my place settings are completely wrong, forgive me.  I threw this together in 20 minutes while baby napped, proof that a pretty table can be pulled together in a pinch.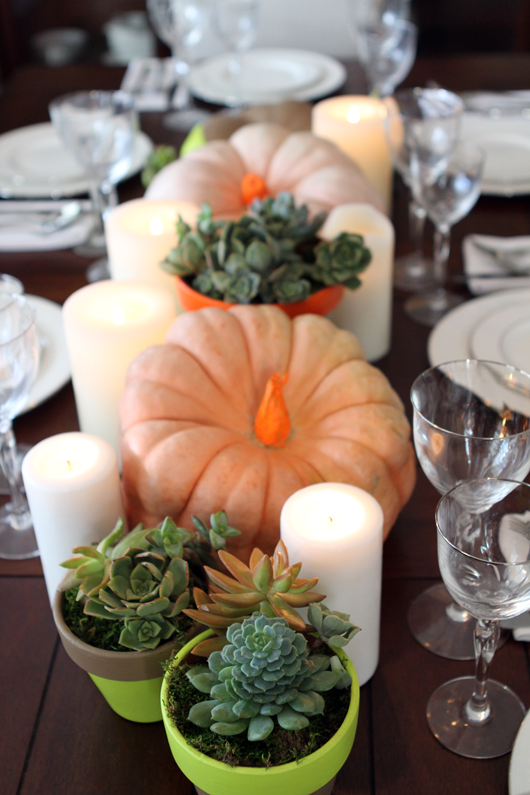 The paints I used were the Martha Stewart Multi-Surface Acrylic Craft Paints in Putty, Sycamore Bark, Granny Smith and Neon Orange.  Her paints are the best on the market without a doubt.  Complete thick coverage in 1-2 coats.
I know this table setting isn't for everyone, but I love how perfectly it represents me and the things I love so much; succulents, pretty pumpkins and bits of neon.  I also love that the pots of succulents can easily be added to the decor in the rest of our house, to use long after Thanksgiving has come and gone.  Pretty soon I think every room in our house will have a succulent in it, and that's just fine by me.  Have a great weekend everyone.
To see how deep my obsession with Neon runs, please visit here.