I'm currently about 20 pounds over my pre-pregnancy weight, which at 12 weeks postpartum I'm okay with.  What I'm not okay with however, is a) not having any button-up pants that fit, specifically jeans; and b) spending a fortune on a pair of jeans that fit me now, but will, fingers-crossed, not fit me in a year when I'm back to my pre-pregnancy weight.  So I set out in search of some reasonably priced skinny jeans that I could wear during this postpartum period.  I chose skinny jeans because they go with everything, especially boots, and now with Fall hitting, boot wearing is essential.  I gave a shout out to my friends on the FTLO Facebook page and asked for their recommendations for a reasonably priced pair of skinny jeans and the answers were so varied it was dizzying.  So I decided to take on the challenge, and try on as many pairs as I had time for, and find the best pair of postpartum jeans around.  Let me also say that while these challenges are not limited to just the postpartum time frame.  I think I can safely say that a lot of women, weather they just had a baby 5 months ago or 5 years ago, can relate to the need to find a good fitting pair of skinny jeans for a real women's body with curves and bumps.
I developed a 5 star rating system, and simply gave 1 star for each category that the jeans met.  The 5 categories were:
Fit – overall fit of the jean.  This is crucial for a pair of skinny jeans on a postpartum figure.  For starters, most of us carry our weight in our mid-section and our hips when we get pregnant, and that's where we tend to hold onto it.  Once the usual swelling goes down, our calves and ankles go back to normal, but the thighs and mid-section require a bit more work and time.  Therefore in a skinny jean, we need a pair that will be forgiving at the waist and hip, but still fit like a skinny jean where it is most important; the calf and ankle.
Comfort – Of course this is a high priority.  We don't want to feel like we're being squeezed in like a sausage.  The jeans need to have a somewhat stretchy waistband (some jeans pinch in while some waistbands feel like they have some give to them).  We also need some give in the actual denim, and most importantly the jeans need to pass the sit test.  Sit down in them.  DO you feel like you're being pinched in all the wrong places and you can't breathe?  If so, that's not the pair for you.
Styling – After comfort and fit, this is most important to me.  I look at the color of the wash, the distress marks, if any, the hem length, the fit on the ankle and the inseam, the color and width of the stitching.  And for goodness sake, you've gotta be mindful of any designs on the pockets.  Nothing over the top, no sparkles or sequins, not swirly weird designs for me.
Value – I'll drop $125 on a good pair of designer jeans, but no way am I willing to spend that for a pair of postpartum jeans that will only fit me for a limited time.  I was looking for jeans under $50 (The Gap pair made it in here even though they are $69 at regular price, for the sole reason that the Gap has a sale about every other week and you should be able to snatch up a pair on sale).
Flattering – In other words, how do these jeans make my butt look?  Because that is always the most important thing about a pair of jeans, right?  🙂  Pocket placement and size of pocket is key!  The pocket can't sit too low on the butt or it makes you look like you have a slouchy butt, and if they're too high and it flattens you out.  I find that for my rear, the pockets need to fall right at the top of the crease of my rear.  The stretch and give of the denim is also important here.  If the denim is too stretch, I find it makes my hips look bigger.
So let's get started shall we?
I started out at Ann Taylor Loft and tried on the Modern Skinny and the Curvy Skinny.  At $69.50 these were one of the more expensive pair I tried on, but since the Loft tends to have lots of 40% off sales, I included them in here.  I did not like either of these jeans at all and only gave them 2/5 stars for Comfort and Value because when purchased at 40% off, you can grab a pair for about $40.  The denim was too stretchy so I felt it make my hips look really wide, and the fit at the calf was way too loose.  I also didn't like how short and loose they were at the ankle.  I tried on the Curvy to see if it would fit my hips better and instead the overall fit of the leg just got bigger, as you can see in the bottom right photo.  Overall these were not flattering to my body at all.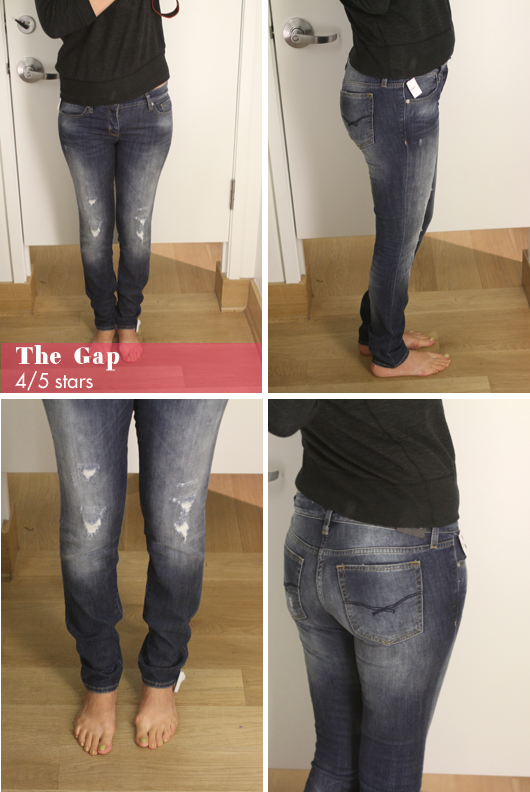 Next I went to the Gap and tried on their Deconstructed Always Skinny jean.  I really liked these jeans a lot and loved the styling and pocket placement of these, although I wasn't in love with the design on the pocket.  They fit nice and slim throughout the whole leg and were tight at the ankle, but not too tight that I couldn't roll them up for a cute peg legged look.  The length was nice and long too.  They passed the sit test and felt like they were just slightly confining at the waist, but maybe 2 more pounds would release that feeling 😉  The only reason I gave them a 4/5 was for value, being that they were $79.95.  If snagged during one of their 30% off sales, it would have brought them down to about $55, but still over my $50 threshold.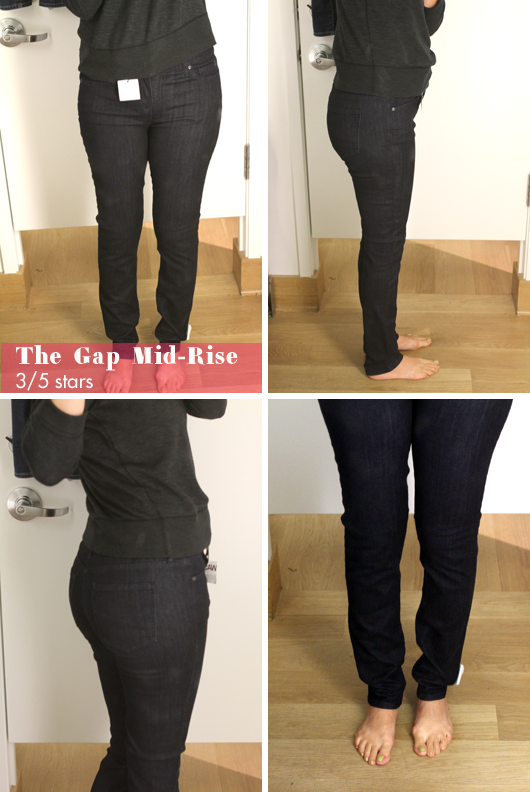 Next I tried the Gap Always Skinny Mid Rise, which have the same fit as the Always Skinny, but come just a little higher at the waist.  I loved the fit and comfort factor of these jeans, but I knocked them down for the coloring.  I'm just not into the dark denim right now and this is the only option in this fit.  They were also slightly looser at the ankle and calf, which was a bummer.
Lots of rave reviews came in for the Target skinny jeans, but for me I just didn't love them.  Massimo offers several fits in their denim so I tried on Fit 3 and Fit 4, pictured here.  Fit 4 comes in a little higher at the waistline and is curvier through the leg.  These actually did fit great, but I knocked them down in the overall styling and flattering department.  I didn't love the pockets or the bright yellow stitching trailing all the way down on the very dark denim.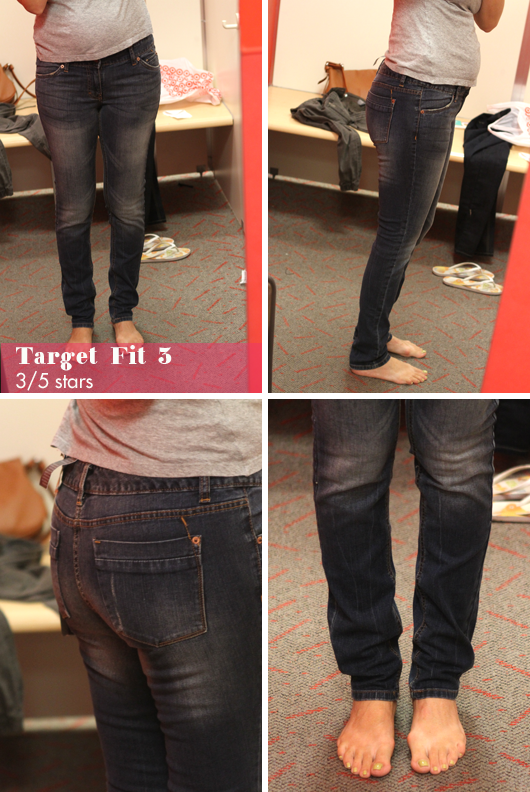 Fit 3 still has a mid waist rise, but has a straighter fit through the leg and hip, which I liked more than Fit 4.  I also liked the wash of this style more, but I thought the pockets were sort of strange and the stitching details around the pocket.  The waist also pinched a bit, so overall I gave this jean a 3/5 stars.  Not a bad option, but not perfect either.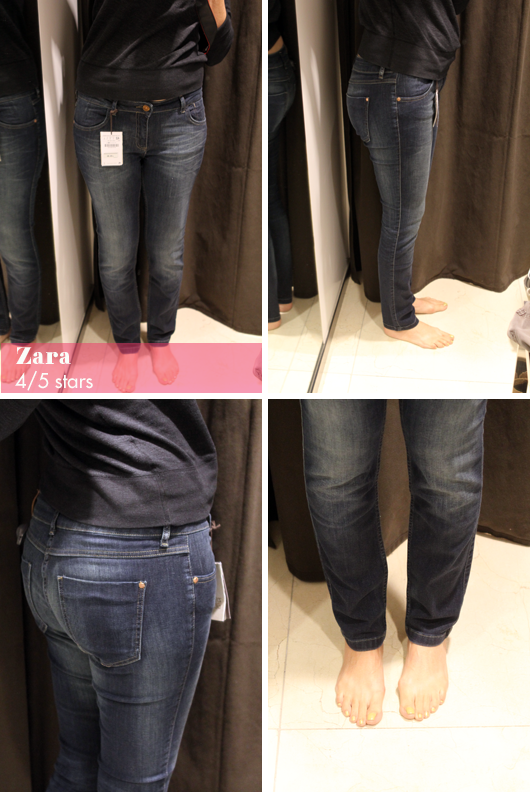 The Zara Dark Wash Skinny jeans were pretty near perfect.  I loved the super stretchy fabric, which was also very soft and comfortable.  The waistband had just the right amount of give so they didn't squeeze in my muffin top, and the fit through the leg was great.  The $49 price tag was pretty great too.  They could have been a little longer but not a huge factor, as they were long enough.  My only complaint about these jeans were the strange pocket and wide hem at the bottom.  Looking at their website, it appears they have the same jean with different pockets and hems, but I wasn't able to find them in the store, which can be a little crazy at times.  I asked a salesperson for help finding skinny jeans and a dude just pointed me in a general direction.  I'm pretty good at finding stuff on my own when shopping retail, but when it comes to a store's huge selection of jeans, some help and guidance would have been nice.
So which jeans did I choose?  Did I ever find the perfect pair?  Well yes I did!  And at the place I least expected it, Kohl's!
A reader recommended the Lauren Conrad skinny jeans, referred to as the Kate and I have to say I was a bit skeptical.  What would a reality show star in her 20's know about designing denim jeans for a real women's body?  But I have to say I was completely and pleasantly surprised.  Not only did these jeans look great, with a nice distressed wash and very subtle rips, but they fit fantastic, and the quality seems fairly decent!  I did have to size up to a 10 to accommodate my muffin top, but the difference between the 8 and 10 did not change the fit in the leg, which was important.  I love the fit through the leg and ankle, and the length is perfect.  I currently have these cuffed twice and they look so cute with my loafers, the perfect ankle skimming length.  And can I just say, I like the way my butt looks in them too.  The best part of all though?  They have them on sale pretty much 100% of the time for $31.99, and with a $10 coupon I got in the mail, I paid $21.99 for these jeans!  So not only did they fit and look as good as the Gap pair, but they were also a fraction of the cost.  I am a sold believer.
So what did we learn from this all?  Well first off, I know my experience will not be the same for everyone.  You may end up hating the LC jeans and love the Target ones, but if anything I hope this gives you some ideas of where to start, and things to consider besides just cost and fit.  Second, don't feel like you need to put off buying yourself something until you lose the weight or get to the place you want to be.  No one should have to wear pants that don't fit, and as you can see, there are affordable, cute options out there.  You just have to be patient and persistent in finding a pair you feel good in.  Don't settle!
Lots of friends recommended going to TJ Maxx or Marshalls for a better pair of designer jeans, and I thought about doing so.  But first, I didn't ever have the time to stop and sort through all the racks.  And second, I figured the selection at each store is so varied that I thought I'd focus on brands and styles that can be found across the country and online.
So what do you think?  Have you tried any of these jeans and what were your results?  Do you think I made the right choice?  I would love to hear any of your feedback on finding good skinny jeans and share any advice you'd have for a different body type than mine.