Forgive me but this week I'm distracted a bit.  We've decided to set up a nursery for the baby, I have about 10 DIY projects bubbling and brewing, which will all be posted next week, and I just can't think of many "style" related topics to cover today when all I can think of is baby, baby, baby.
So in the mean time, I thought I'd share with you a picture of the cutest little photo bomber ever.   This picture cracks me up and makes me smile every single time I look at it. 
I also wanted to share with you one of my favorite things to eat on the whole planet; the granny smith apple fries from Legoland.  Unbelievable! 
If you've never really read my other blog, you may think my DIY's are limited to jewelry and accessories, but I get crafty with the kids quite often as well.  Here's the latest project I posted over at Four Flights of Fancy; Iridescent Watercolor Paper Lanterns.  The kids made all of these, but aren't they sophisticated enough for a grown up backyard party?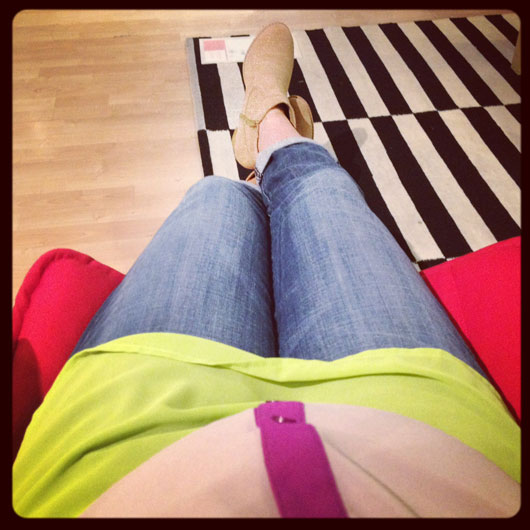 Lastly, today I drove down to Ikea to test out the Poang rocking chair.  I love the look of it, the price and it ended up being rather comfortable.  For $139, you can't beat the price, especially for something that will be used every day for the next year or two.  If you have any interest on what else I'm pinning, you can find me here, username FourFlights.
I'll be back to posting fabulousness in the next day or two.  I just need a bit of time to linger in the fact that I only have 10 weeks left in this pregnancy.  While I'm excited to meet he or she soon, I'm also really enjoying this time in my life and trying to soak it all in.  Thanks for understanding 😉