My hands are itching to make some jewelry, or sew something. Gosh I'd love to bust out my sewing machine soon. But the truth is I barely have any time to complete a project, and since my dining room table is my craft room, the thought of starting something and leaving it there to linger until I can finish it sounds horrible, I'm sticking to under an hour projects. Those are super easy DIY projects that are quick to finish, and also require very few tools, so less mess. A perfect example is this embellished studded blazer.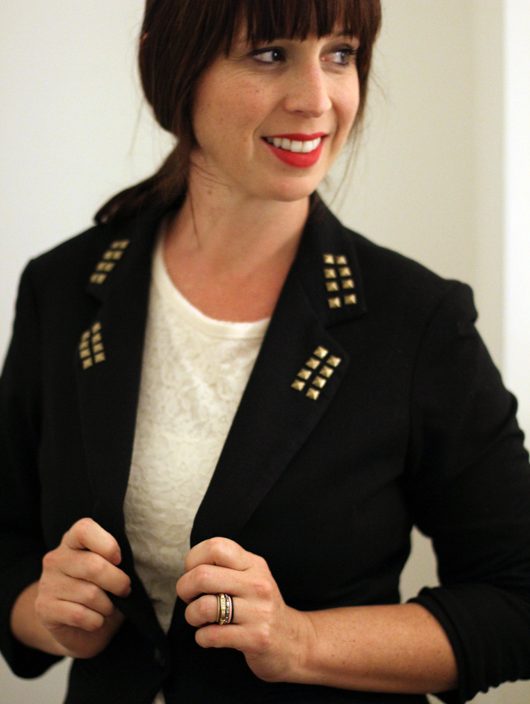 Studs continue as a huge trend for Fall 2012 and are embellishing everything from shoes to jeans to blazers.  I've had this blazer for over 2 years now, and the 3/4 ruched sleeves make it a little less classic and a little more trendy, so I figured it was the perfect piece to add the stud embellishment to.  Had it been a really nice, classic blazer that I would plan on wearing for years to come, I probably would not have added this treatment, but since it wasn't, I figured why not?  All you'll need are some pronged studs that can be found at most craft or jewelry supply stores, a pair of pliers or some other tool to help you push the prongs closed, and a blazer!  Follow the steps below and in less than an hour you'll have yourself a studded lapel blazer!
A few tips that you may find helpful…Use a blazer that is some sort of knit, as opposed to a heavy twill or wool.  This will allow you to easily push the prongs through the fabric.  This particular blazer is made of a ponte knit and was the perfect weight to easily apply the prongs.  Also, lay out your studs on your jacket first, before applying, to see what type of pattern you want.  Lastly, go for a simple, easy to replicate pattern.  I initially tried to apply them in a random fashion for a cool all-over look, but it ended up looking sloppy and it would have taken forever to finish.  Save your fingers and just apply a few.  I firmly believe less is more when it comes to studs anyhow!   Have fun and happy crafting!